Sandoval's first veto of 2017 session rejects voter registration initiative
Updated March 21, 2017 - 5:59 pm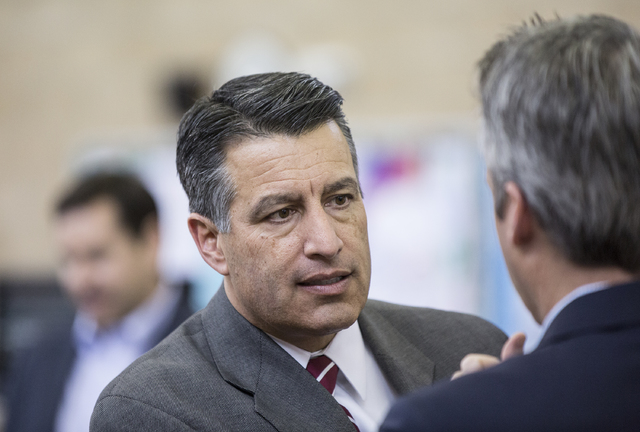 CARSON CITY — Republican Gov. Brian Sandoval vetoed his first bill of the 2017 legislative session Tuesday, rejecting a citizen initiative to automatically sign up people to vote when they get a driver's license.
It now goes to voters on the 2018 general election ballot.
In his veto message, Sandoval said the measure "extinguishes a fundamental, individual choice — the right of eligible voters to decide for themselves whether they desire to apply to register to vote — forfeiting this basic decision to state government."
Sandoval added it "would create an unnecessary risk that people who are not qualified voters may unintentionally apply to vote, subjecting them to possible criminal prosecution, fines and other legal action."
The Automatic Voter Registration Initiative, or IP1, was sent to the governor last week after it received final legislative approval by the Democrat-controlled Senate and Assembly. The votes were along predictable party lines.
The measure requires the Nevada Department of Motor Vehicles to forward to the secretary of state information for voter registration applications when someone applies for or renews a driver's license or identification card, or makes a change of address.
UPSETTING THE BALANCE
The secretary of state would then forward that information to county elections officials to verify and complete the voter registration process.
Supporters said it would increase voter rolls in Nevada and engage more people in the election process.
Opponents countered that the registration system works fine and that the initiative could lead to voter fraud.
Sandoval agreed, saying the current DMV voter registration process "provides the necessary balance for voluntary and informed voter registration."
"IP1 upsets that balance, removing the element of allowing an individual to initiate the voter registration process, and increasing the possibility of improper registration."
Existing law allows people who go to the DMV to opt in to register to vote. Under the initiative, the registration application would be automatic unless someone specifically opts out by checking a box.
The initiative's backers gathered enough signatures last year to send the proposal to the Legislature. With the governor's veto, it now goes to voters next year.
A bill introduced in the Legislature essentially would enact the same provisions, though given Sandoval's veto of the initiative, it is likely to meet the same fate if passed. Democrats lack the majorities needed to override a veto.
Contact Sandra Chereb at schereb@reviewjournal.com or 775-461-3821. Follow @SandraChereb on Twitter.
IP1 veto letter from Gov. Sandoval by Las Vegas Review-Journal on Scribd