Senate bill would ease smoking restrictions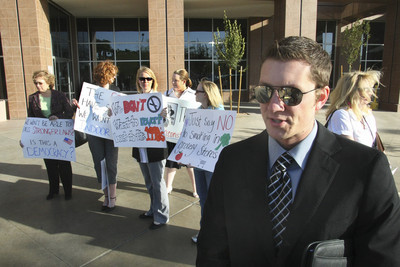 CARSON CITY — Bar and restaurant representatives told legislators Friday their customer base and profits have declined dramatically and they've been forced to lay off workers because of a smoking ban approved by voters in 2006.
The ban has also cost the Las Vegas Convention and Visitors Authority $41 million in business, Senior Vice President Terry Jicinsky testified.
Jicinsky said his organization lost cigar and smoking industry trade shows to New Orleans because of the law that prohibits smoking in most public places that children can frequent. But he added he has a commitment from the trade shows to return to Las Vegas if legislators pass Senate Bill 372.
Critics of the bill said public health takes precedence over smokers' rights.
The proposal would modify the Nevada Clean Indoor Air Act, passed by voters in the November 2006 election.
Under the Clean Indoor Air Act, smoking is not allowed in most public indoor venues, including grocery stores, restaurants and bars that serve food. Casino gaming floors and bars that do not serve food are exempt from the ban.
Witnesses told the committee the ban is responsible for the closing of 47 bars in Clark County and has cost people hundreds of jobs. They said profits are off 15 percent to 50 percent and their customer base has dropped by about 25 percent.
If legislators pass the bill, then adults could smoke in bars and restaurants and other public places, as long as people under age 21 cannot enter the smoking areas. The smoking areas in these businesses would be closed off from other parts of the business that would be open to children as well as those who prefer not to smoke.
"This will continue to protect our children," said Sean Higgins, a representative for Herbst Gaming. "It will provide a choice for adults. Smoking will be limited only to places people 21 and older can frequent. Last time I looked, smoking was not illegal in the United States of America. "
Another proponent of the bill included lobbyist Jim Wadhams, representing Golden Gaming which operates casinos, taverns and slot routes. He said the 2006 act has "just become a nightmare" because of its lack of clarity.
Wadhams added that SB372 "is not a repealer, it is not a dismantling, it is a refocusing and leaves the basic principle of the (2006) act intact. There are places were you can smoke and places where you can't."
The state constitution does not allow the Legislature to tinker for three years with laws put in effect through a vote of the people. Consequently, if the bill is passed, the change would not occur before this December.
The state Supreme Court is scheduled to conduct a hearing Monday on the constitutionality of the 2006 smoking ban.
Judiciary Chairman Terry Care, D-Las Vegas, did not take a vote on the bill, but reminded members that if the committee does not approve it by a legislative deadline next Friday then it would be considered dead for the remainder of the 2009 session.
Care expressed concern about how smoking bans would be enforced if the bill becomes law.
As the bill is written, the duty of enforcing the smoking ban would fall on the state's little known Frontier and Rural Health Program, an agency that does not even have employees in Clark and Washoe counties.
Dr. Mary Guinan, the state's health officer, said the agency would need to hire five employees at a cost of $315,000 a year to enforce smoking bans.
The smoking ban now is under the purview of the health district in Clark County and law enforcement officers in other counties.
Care asked health officers whether the state should protect adults who smoke and seemingly are aware of the dangers of second-hand smoke.
"Does the state have a duty to protect smokers from themselves?" he asked.
Dr. Mary Anderson, the health officer in Washoe County, said that was a civil liberties question that she would not answer since in her opinion no one should smoke.
Michael Hackett, who represents the American Cancer Society and other health organizations, said there is no ventilation system available today that catches all second-hand smoke.
Even if restaurants and bars closed off smoking areas, Hackett said smoke still would escape and be inhaled by children and non-smokers.
Hackett said it was unfair for tavern and bar owners to blame the smoking ban for their losses when business is down everywhere because of the recession.
"The one thing I have not heard is proof that their business losses were caused by the Nevada Clean Indoor Air Act," he said.
Larry Matheis of the Nevada State Medical Association, representing the Nevada Tobacco Prevention Coalition, termed the initiative "arguably the most successful health legislation adopted in Nevada in two generations."
Matheis said Nevada has always been one of the top states in terms of smoking and now, according to federal reports, has dropped to about 16th place. He said approval of SB372 would make the 2006 initiative "toothless," and added that lawmakers shouldn't "embarrass" the state by approving the bill.
The Associated Press contributed to this report.
Contact Review-Journal Capital Bureau Chief Ed Vogel at evogel@reviewjournal.com or 775-687-3901.