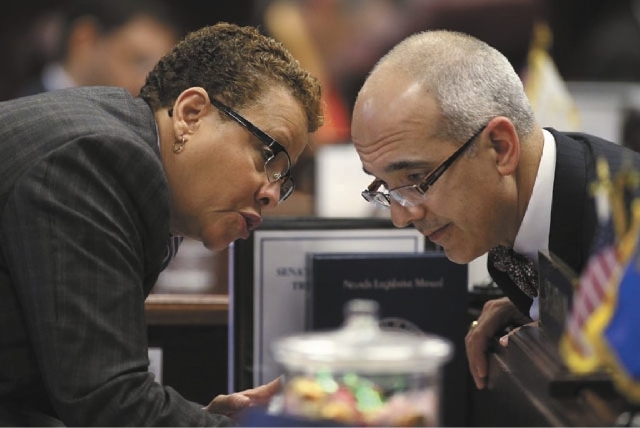 CARSON CITY — The importance of Democrats holding a one-vote majority in the Senate was clearly demonstrated Thursday night when they passed three straight bills by 11-10 margins.
Two of the bills are designed to increase voter turnout, a step that generally is thought to benefit Democrats.
The bills also passed the Assembly on party-line votes and now go to Republican Gov. Brian Sandoval.
While Sandoval has not yet vetoed any bills this session, the two election bills could be his first. The governor usually does not signal whether he will sign or veto a bill until it reaches his office. He has five working days to decide during the legislative session. His office did not respond Friday on whether he would veto the bills.
During the floor debate, state Sen. James Settelmeyer, R-Minden, complained that Assembly Bill 440 could lead to voter fraud and was not necessary because of rising voter turnout in Nevada under the current registration system..
Under the bill, people could register in person at a registrar's office or over the Internet until 5 p.m. the Friday before a Tuesday election. That means that they could register and immediately vote during the early voting conducted in the two weeks before elections.
Settelmeyer noted that most people now vote early and extended registration periods are not necessary.
During hearings, the secretary of state's office stated that 7,000 people who registered after the deadlines last year could not vote in the presidential election.
Democrats also passed Assembly Bill 441, which would allow county registrars to open voting centers on election days. Instead of having to vote at their precinct voting place, people could vote at these centers, which would be near major work sites such as the Strip or the Nevada National Security Site.
Settelmeyer argued that voting fraud could occur and people might vote twice. He said the double voting would not be caught until after the election.
But state Sen. Patricia Spearman, D-North Las Vegas, argued that because of electronic voting any attempt to vote multiple times "will be caught immediately."
The other 11-10 vote Thursday night vote came on Assembly Bill 391, that would grant the Public Utilities Commission the authority to oversee contracts negotiated by electric co-ops.
Settelmeyer contended the PUC already can take steps to oversee the co-ops, the small electrical power providers in rural Nevada. But state Sen. Kelvin Atkinson, D-North Las Vegas, said the PUC asked the legislators for "help from us."
In the Assembly, every Republican except James Oscarson of Pahrump, voted against the bill. He did not cast a vote.
Records of legislative hearings show Valley Electric Association opposed the bill and said in an April 10 letter that it appears the bill was a "direct reaction" to the association's winning a contract to purchase, maintain and operate the electrical distribution infrastructure at Creech Air Force Base in Southern Nevada.