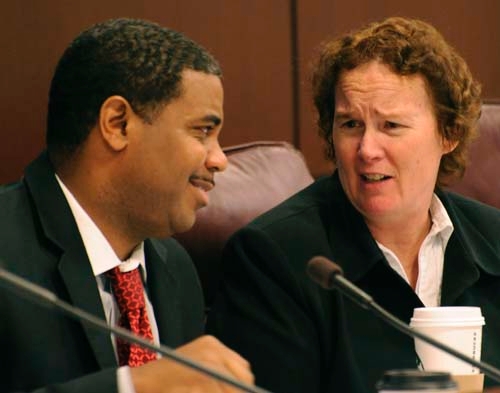 CARSON CITY — The Senate voted 15-6 Monday to pass the bill that would extend for two more years $620 million in taxes needed to balance the state budget.
The taxes — on business payrolls, retail sales and car registration — had been set to expire June 30.
Since the Assembly approved Assembly Bill 561 on a 36-6 vote Sunday night, the bill now goes to Gov. Brian Sandoval for his signature.
His approval is certain since the tax increases are part of the budget agreement he reached with legislative leaders Wednesday.
With the Senate's defining vote coming on the 120th day of the 2011 session, all major budget and tax bills have been passed and the Legislature can complete its 120-day session late Monday night.
Sen. Barbara Cgavske, though, and a small group of fellow Republicans opposed continuing the so-called sunset taxes.
"Voters believed me when I said I would not extend the tax increases," the Las Vegas resident said. "We are here to serve the people. When we give our word, they expect us to keep it."
Cegavske, who could become the Senate Republican leader in the 2013 session, and five of her Senate Republican colleagues, along with six Republicans in the Assembly, voted against AB561. Their no votes made little difference.
Sandoval decided last week that he had no choice but to break his own no-taxes promise after a May 26 Nevada Supreme Court decision. That decision, the governor decided, meant he could not use $657 million in local government and school district money to balance his budget.
Sen. Michael Roberson, R-Nev., disagreed. On the floor Monday, he insisted the court decision meant the state could not take $62 million in Clean Water Coalition funds from Clark County, not all $657 million.
"We could close this budget without tax increases," said Roberson, a lawyer. "To raise taxes by more than $600 million in anticipation that we may be sued down the road is speculative at best."
He went on to say that what legislators did is take $600 million out of the private sector and put it in hands of the public sector.
"We will do nothing to turn our economy around. This tax increase will not pull us out of the recession," he said.
Geoff Lawrence, an analyst for the Nevada Policy Research Institute, a Las Vegas-based conservative think tank, said the decision to vote no by the 12 Republicans might not have been a "great political move" since Sandoval is the "unquestioned leader" of the Republican Party.
But ultimately their allegiance should be to the people who helped them win their seats, rather than to the governor, Lawrence said.
In speaking for the tax increases, Senate Majority Leader Steven Horsford, D-Las Vegas, said they are necessary to fund education and other vital services.
Horsford added the tax extensions will cost the average Nevada family $3.67 per month, or $44 a year.
"This is not a perfect solution, but the final responsible thing to do is fund the budget we sent to the governor," he said.
Voting against the tax bill in the Senate were Republicans Elizabeth Halseth of Las Vegas, Don Gusatavson of Sparks, James Settelmeyer of Minden, Greg Brower of Reno, Cegavske and Roberson.
In the Assembly, no votes were cast by Republicans John Hambrick, Richard McArthur, both of Las Vegas, John Ellison of Elko, Pete Livermore of Carson City, Ed Goedhart of Amargosa Valley and Cresent Hardy of Mesquite.
Contact Capital Bureau Chief Ed Vogel at evogel@reviewjournal.com or 775-687-3901.