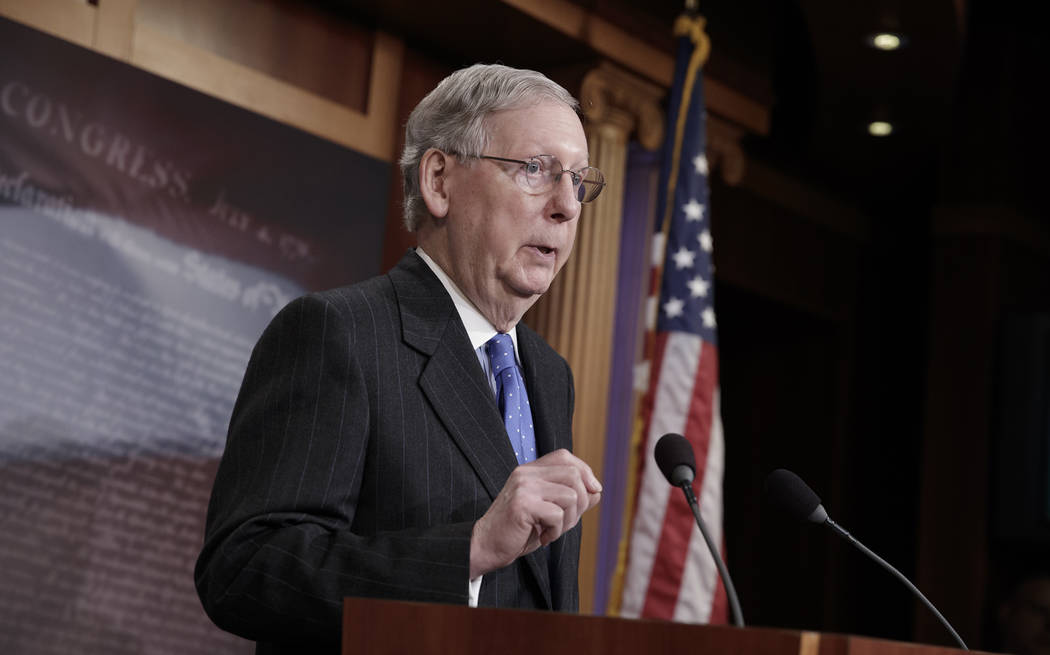 WASHINGTON — States that expanded Medicaid — like Nevada — will have a voice on the Senate panel writing legislation to overhaul the health care system.
But Republicans in charge of the repeal and replacement of Obamacare have included conservatives who favor strict reforms included in House legislation and left out moderates who could pose problems for passing a sweeping bill.
A 13-man panel made up of all GOP lawmakers and no women has been created to help write legislation that would scrap the Affordable Care Act, commonly known as Obamacare.
Senate Majority Leader Mitch McConnell, R-Ky., dismissed criticism about the makeup of the panel. He told reporters that all 52 Republicans in the Senate would take part in putting together a bill that can pass.
"This is a big issue," McConnell said. "Everybody is interested in finding a way forward."
But Sen. Patty Murray, D-Wash., said there are issues specific to women that must be addressed by legislation.
"We know it makes a difference when women are in the room," she said, adding that without their inclusion, those issues "won't be brought up."
House Republicans passed a bill last week, touted and celebrated by President Donald Trump, that would roll back Medicaid spending to states, defund Planned Parenthood and allow states to obtain waivers to a mandate requiring insurance companies to accept applications for patients with pre-existing conditions.
The non-partisan Congressional Budget Office found a first version of the House bill would increase the number of uninsured in this country by 24 million over the next decade, and save $880 billion in Medicaid costs.
Senate Republicans have dismissed the House bill, are awaiting a new CBO analysis and expect to write their own legislation that can pass a Senate with a slim 52-48 majority. A defection of two or more senators could doom the bill's chances.
Democrats have opposed GOP efforts to rewrite the 2010 law that provided health care insurances to millions.
Sen. Catherine Cortez Masto, D-Nev., joined the entire Senate Democratic Caucus in sending a letter to Republicans to stop the attack on the ACA.
Cortez Masto said House Republican proposals would be harmful to women and those with pre-existing conditions, and would erode consumer protections. Meanwhile, she said, the Trump administration is working to destabilize the current health care market so it can justify the need to replace the system.
Senate Democrats urge Republicans "to discourage these efforts that only hurt Americans and set reform efforts back," she said.
The law allowed 31 states and the District of Columbia to expand Medicaid coverage through eligibility rules, according to the Kaiser Family Foundation. Nationally, more than 11 million people were covered under the expansion, including 400,000 in Nevada.
The federal government picked up 100 percent of those costs initially, and the funding formula is reduced in 2020 to 90 percent.
House Republicans, in their bill, eliminated Medicaid expansion and cut future funding formulas to either block grants to states, or per-capita funds. Governors from expansion states, including Nevada Gov. Brian Sandoval, a Republican, are concerned more of the cost of Medicaid would be shifted to states.
Sen. Dean Heller, R-Nev., cited Medicaid in his opposition to the House bill passed last week, saying the changes would "pull the rug" out from states like Nevada that extended the program.
Heller , considered one of the two most vulnerable Republicans seeking re-election in 2018, was not selected by McConnell to serve on the panel. But GOP lawmakers from other states that did expand Medicaid — Arkansas, Colorado, Ohio and Pennsylvania — were.
Sen. John Cornyn, R-Texas, the Senate Republican whip, said the panel will work with the all GOP members in the Senate to write a bill that can be passed with a slim majority.
"Republicans are going to be working with 52 Republicans to get this bill passed," Cornyn said.
McConnell said Senate Republicans would meet continually to address issues and write legislation that is expected to take months.
He said the Senate has no alternative, because Obamacare is faltering.
"The status quo is unsustainable," he said.
But Senate Minority Leader Chuck Schumer, D-N.Y., said progress has been made with the ACA and said Republicans should not repeal the law to provide tax cuts to the wealthy.
And he said to write the bill with a small group of men, behind closed doors, "is so wrong. It sends a bad signal."
Contact Gary Martin at 202-662-7390 or gmartin@reviewjournal.com. Follow @garymartindc on Twitter.
Senate working group 0n health care reform.
Senate Majority Leader Mitch McConnell, R-Ky.
John Cornyn, R-Texas
John Thune, R-S.D.
John Barrasso, R-Wyo.
Lamar Alexander, R-Tenn.
Mike Enzi, R-Wyo.
Orrin Hatch, R-Utah
Ted Cruz, R-Texas
Mike Lee, R-Utah
Tom Cotton, R-Ark.
Cory Gardner, R-Colo.
Rob Portman, R-Ohio,
Pat Toomey, R-Pa.