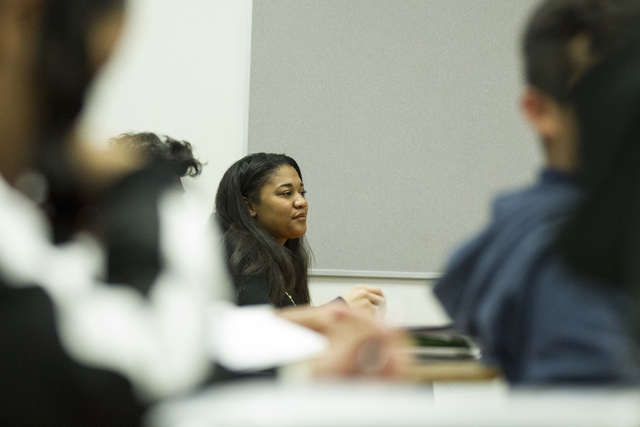 Special education students and teachers will have more protections if a proposal laid out in the Senate education committee meeting moves forward.
Sen. Becky Harris, R-Las Vegas, introduced Senate Bill 224 on Tuesday afternoon. Harris' bill would require school districts to install and maintain security cameras in classrooms that serve students with disabilities, particularly those who are non-verbal.
"These students are highly vulnerable and typically lack the skills to communicate," Harris said.
John Vellardita, executive director of the Clark County Education Association, praised Harris' sensitivity in balancing the needs of the students and the teachers.
"It also gives the needed protection, in our opinion, for the staff," he said.
The Clark County School District proposed an amendment that would include a two-year phase-in process for elementary classrooms and another two-year phase-in for middle and high schools.
The bill applies to traditional public schools and charter schools. The bill is considered an unfunded mandate, as there is no money available for the districts to purchase and install the cameras.
The absence of funding is why Washoe County couldn't fully support the bill, said Lindsay Anderson, the district's director of government affairs.
Bathrooms or areas where students might change their clothes would be exempt from Harris' bill, and anyone who could be taped would have to be notified in advance by the principal, according to the bill.
Recordings of the classrooms would need to be kept on file for 120 days or until the end of an investigation into a complaint, whichever is longer, according to the bill.
The tapes would be exempt from public record in most circumstances. Parents or legal guardians who file a complaint with the Department of Education or file legal action would be allowed a copy of the tape, as would employees or law enforcement officers investigating incidents.
Nobody spoke against the bill. The committee took no action on it Tuesday.
Contact Meghin Delaney at 702-383-0281 or mdelaney@reviewjournal.com. Follow @MeghinDelaney on Twitter.