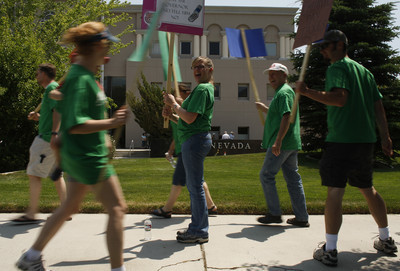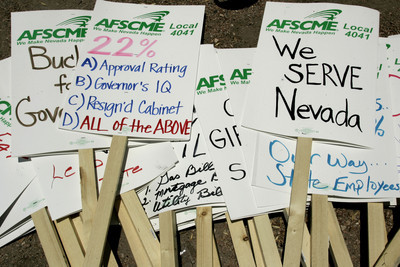 State workers and their supporters rallied Friday to warn state leaders not to cut cost-of-living raises for public workers, even though officials have said that the raises are protected in a plan to reduce state spending to meet budget shortfalls.
Gov. Jim Gibbons said Thursday that it "wouldn't be responsible" to hold back the raises when the state is trying to recruit teachers. Assembly Speaker Barbara Buckley, D-Las Vegas, said doing so would "send the wrong message" to teachers and state workers.
Still, about 100 people braved the noonday sun in front of the Grant Sawyer Building on Washington Avenue to make doubly sure their point was made.
"At the speech we heard yesterday, he didn't even mention that the COLA (cost-of-living-adjustment) is not going to be touched," said Lalo Macias of the American Federation of State, County and Municipal Employees. "I believe that state workers would be willing to take a cut, but the Legislature and the governor would not even respond to our phone calls. They don't give a guarantee … so regardless of what he said yesterday, we're still out here."
Union members were joined by other organizations, including the AFL-CIO, the Clark County Education Association, Southern Nevada NOW and about two dozen students from the University of Nevada, Las Vegas.
State Comptroller Kim Wallin was there too and asked for people to send in ideas on where to trim state spending without touching the cost-of-living adjustment.
"There are so many other areas that we can cut and save money in the state," she said. "All we need to do is ask you guys where we can save the money. Send me your ideas, please. I'll pass it along.
"We don't need to be doing it by cutting out your COLA, laying people off."
Adam Cronis, president of the UNLV student body, said students attended the rally to show support for university employees.
"A lot of those workers represented by this union are UNLV employees," he said. "They have some similar concerns about whether their cost-of-living increase is going to take place and whether they can keep up with inflation."
While it's "a positive step" that COLA cuts are off the table, he said it's still important for workers to rally.
"We can't take anything for granted at this point," he said. "Whether it's going to be avoided now or in the future if it were to come up again, doing something like this — even if it's off the table now — shows a strong message that, 'Hey, in any circumstance, we want to see this avoided.' "
Most of the criticism Friday was aimed at Gibbons, with marchers chanting, "Governor says take away? We say no way!" and holding up signs urging Gibbons to take a pay cut or leave office.
"We believe the governor never opened up his books until almost the end, and there's still doubts about the budget," Macias said. "That's why we're out here. The public is the one who's going to end up suffering, because we provide for the public."
Contact reporter Alan Choate at achoate@reviewjournal.com or 702-229-6435.