Threatening letter left at Sen. Dean Heller's Las Vegas office
Updated July 17, 2017 - 6:38 pm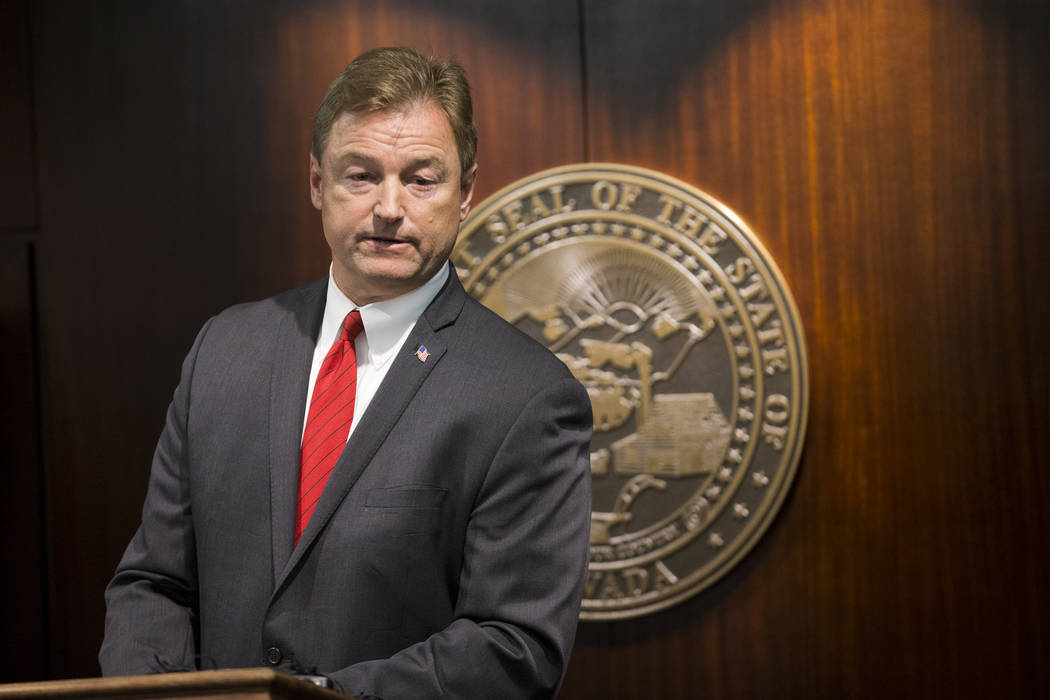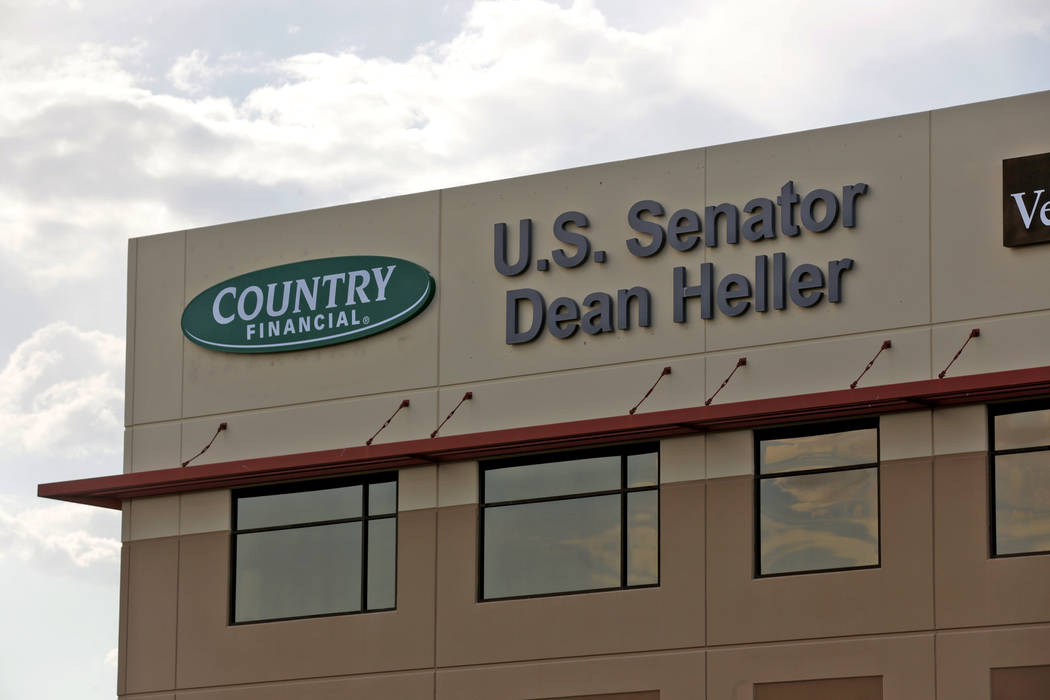 Tension over a Senate plan to repeal and replace Obamacare became personal for Sen. Dean Heller, a Nevada Republican whose office was targeted by a threatening note, officials said Monday.
The action targeting Heller comes as lawmakers have become the object of protests over the health-care bill and threats that have drawn concern from Republican and Democratic leaders alike.
Las Vegas police said Monday that a threatening letter was left behind at Heller's office on Sunday morning. The Metropolitan Police Department would not specify what was in the letter, citing an open investigation.
Police found the note after a burglary alarm went off just after 9 a.m. Sunday at the senator's office at 8930 W. Sunset Road.
Initial reports indicated there had been a break-in at Heller's office. However, a preliminary investigation determined that a burglary did not occur and nothing was stolen. The note addressed to Heller was found near the door to his office.
"Due to the open status of the investigation, the content of the note will not be disclosed at this time," police said in a statement Monday.
A spokeswoman for Heller referred all requests about the incident to police, citing the ongoing investigation.
Asked about the note after a groundbreaking ceremony for a veterans home in Sparks, Heller said he could not discuss the letter's contents.
Heller acknowledged in Sparks that he is at the center of an ongoing Senate battle over the Republican health care plan.
Republicans hold a 52-48 margin in the Senate and need 50 votes — plus a tie-breaker from Vice President Mike Pence — to move the health-care bill to the floor.
The bill appeared to collapse late Monday when Sens. Jerry Moran, R-Kansas, and Mike Lee, R-Utah, said they would oppose the legislation. They joined Sen. Susan Collins, R-Maine, and Sen. Rand Paul, R-Ky., who came out against the bill for differing reasons last week.
Heller, who opposed an earlier version of the bill, has not said whether he would vote for a revised version. The White House and Republican leaders have actively courted Heller over his concerns about $772 billion in Medicaid cuts in the bill.
He said last month, at a news conference in Las Vegas, that he could not vote for a bill that takes away health care from millions of Americans and tens of thousands of Nevadans.
More than 200,000 people in Nevada became eligible for Medicaid when the program was expanded under Obamacare in 2010. The Senate bill would also alter reimbursement, shifting more costs to states.
Heller said the Senate bill has a "lot of moving parts" and discussions will continue.
"I don't worry about how I'm treated," Heller told reporters in Sparks. "It's not about me; it's about the state of Nevada."
Heller has been targeted in political ads by special interests who saw him as a pivotal vote and by Democrats and left-leaning groups who saw him as vulnerable in the 2018 election when he faces re-election in a state that Hillary Clinton carried in 2016.
U.S. Rep. Jacky Rosen, D-Nev., is seeking the Democratic nomination to oppose Heller in the Senate race, and he could still draw Republican opposition.
Another senator facing re-election, Jeff Flake, R-Ariz., is also undecided on the health care legislation.
Last week, a protester was arrested at Flake's office in Tucson.
And last month, a gunman opened fire on Republicans attending a congressional baseball team practice in a Washington suburb. U.S. Rep. Steve Scalise, R-La., the House majority whip, was critically injured in the shooting.
Contact Wesley Juhl at wjuhl@reviewjournal.com and 702-383-0391. Follow @WesJuhl on Twitter. Contact Gary Martin at gmartin@reviewjournal.com or at 202-662-7390. Follow @garymartindc on Twitter. Review-Journal staff writer Ben Botkin contributed to this report.