'Too early': Some Nevada GOP leaders wait to back presidential candidate
Updated July 28, 2023 - 10:30 am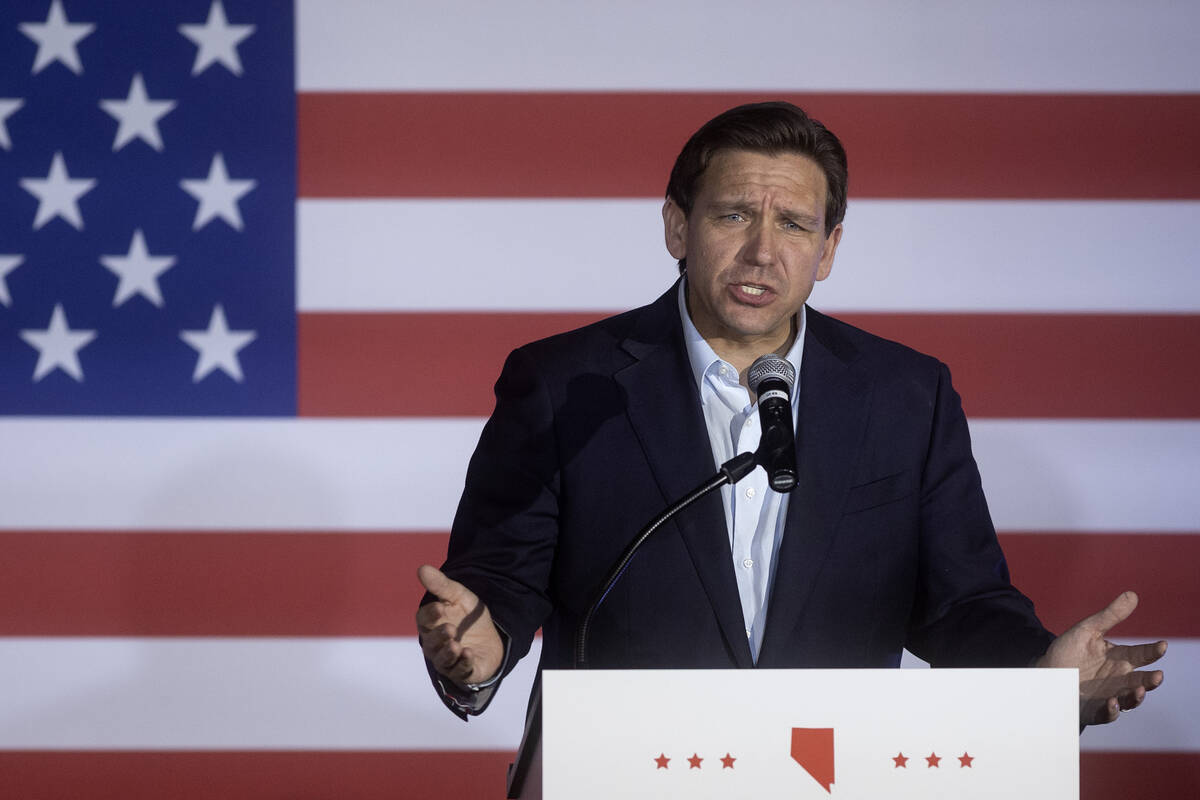 With fewer than 200 days to go until the Republican presidential primary and caucus, some Nevada leaders have thrown their support toward a particular candidate, while others are waiting to see what plays out as the election draws near.
The political action committee backing Republican presidential candidate and Florida Gov. Ron DeSantis' campaign announced 24 endorsements from current and former Nevada elected officials last week.
The list included Controller Andy Matthews, Sen. Carrie Buck, Sen. Jeff Stone, Assemblywoman Jill Dickman, Assemblywoman Danielle Gallant and several county commissioners in the state.
Matthews told the Las Vegas Review-Journal that when he looks at the challenges facing the country today, and DeSantis' record of accomplishment, "I just think he's the leader that this moment requires."
He mentioned the success he believes Florida had under DeSantis' leadership, such as a low unemployment rate and many people moving to the state. He also thinks DeSantis handled the COVID-19 pandemic well by protecting the most vulnerable people while also safeguarding people's freedoms, even though he was criticized for his decisions.
"It's not easy sometimes for public officials to stand by their convictions under that kind of pressure," Matthews said. "I think he passed a very critical test there. I think we would be well served by that kind of leader."
'Our country needs some stability'
Gallant, R-Las Vegas, said she is supporting DeSantis because she thinks he had a good balance between protecting the public and balancing the economic needs of Florida. She thinks Trump became polarizing and distracting, and that almost every candidate he endorsed in the last midterm cycle did not win.
"I also feel like he requires this blind allegiance, and there's no room for saying, 'I agree with you 80 or 90 percent of the time,'" Gallant said. "He requires 100 percent of the time, and I don't think that's the spirit of the Republican Party."
She likes DeSantis' messaging, but she also likes the fact that if he wins, he could serve two consecutive terms.
"I think our country needs some stability, a good solid eight years to get our country back on track," Gallant said.
While Trump's campaign has not released an official list of Nevada endorsements, UNLV politics professor Dan Lee said Trump won the Nevada caucus in 2016 without many endorsements, running on name recognition. Trump won the Republican caucus in Nevada with 45.9 percent of the votes, about 22 percentage points ahead of the other candidates.
Some leaning toward Trump
Still, some legislators told the Review-Journal that Trump has their support.
Assemblyman Ken Gray, R-Dayton, said that at this point he is supporting Trump, but he will respect and support whichever Republican candidate wins the primary.
"He's got some unfinished business that we need to finish as a country," Gray said. "He's proven that he's a strong leader."
Gray said Trump's leadership helped Nevada through his Opportunity Zones, which were special investment zones that provided tax credits for people who invested in low-income communities.
Assemblyman Toby Yurek, R-Henderson, said that if Trump were to ask him for an endorsement, he would give it.
"I believe the Trump presidency has a track record," Yurek said, adding that while he wished his approach to implementing policies were a bit more refined, he thinks Trump's actions speak louder than his words.
Assemblyman Gregory Koenig, R-Fallon, said he is holding off on officially supporting a candidate, but if he had to choose, he is leaning toward Trump.
"But I want to see what happens with all of these legal issues," Koenig said, adding that he also is impressed by DeSantis so would probably be happy with either choice.
Assemblyman Brian Hibbetts, R-Las Vegas, also is not backing a particular candidate. He said it's "way too early."
Assemblyman Phillip P.K. O'Neill, R-Carson City, has a similar stance. He wants to see how the debates go and how the candidates conduct themselves and present their plans. The first debate, hosted by Fox News in Wisconsin, is scheduled for Aug. 23.
"I don't see a big rush right now to endorse anybody," O'Neill said. "I really want to look and examine the candidates and what they're proposing."
Contact Jessica Hill at jehill@reviewjournal.com. Follow @jess_hillyeah on Twitter.