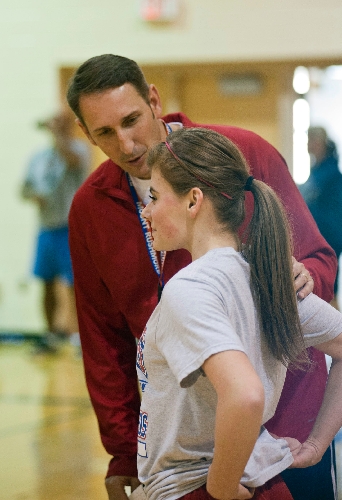 Editor's note: With more new legislators than ever before, Nevada will have some of its freshest political faces coping with the state's greatest problems. In an occasional series, the Las Vegas Review-Journal introduces the newly elected lawmakers who are about to take office in Carson City. By BENJAMIN SPILLMAN
LAS VEGAS REVIEW-JOURNAL
Nevadans will be hard pressed to find someone who has traveled a longer path to Carson City than Scott Hammond.
Hammond, newly elected in Assembly District 13 in Clark County, was born in Syracuse, N.Y., and lived in Portugal, Chile and rural Alaska before moving to Las Vegas in 1993.
More important to Hammond than distance traveled, however, are the lessons learned along the way.
They're lessons he seeks to put into practice in his day job as a Spanish teacher and girls basketball coach at Indian Springs High School and during his upcoming term in the state Legislature.
First and foremost, Hammond says, he wants to help families, particularly girls, make good choices to avert the domestic violence and emotional turmoil that plagued his own childhood.
"As a kid, I lived in what people might call a poverty environment," said Hammond, 44. "There was a time when my mom was trying to raise four kids on her own and having a very difficult time."
Things were roughest when the family was living in Delta Junction, Alaska.
That's when his mother broke up with her second husband, Hammond's stepfather, before his Army deployment from nearby Fort Greely.
She later married another man who drank excessively. The marriage ended after his mother was brutally beaten, Hammond said.
"The level of violence was escalated after a long drinking binge, and she left him," said Hammond, who moved in with his basketball coach while his mother recovered.
That period included a series of moves around the community that included homelessness and a period spent living in another family's barn.
"We were trying to make it weatherproof but it just never happened," Hammond said of living during cold months in the structure.
It wasn't all anger and turmoil, though.
Hammond describes his mother as charismatic and intelligent.
And he also gained strength from relationships with his basketball coach and the family of Neil and Maureen Wold.
The Wold family provided a stable home and an introduction to the Mormon faith. While with the Wolds, Hammond converted to the Church of Jesus Christ of Latter-day Saints. He also attended the University of Alaska, Fairbanks and played on the basketball team.
Hammond learned Portuguese and went on a mission to Porto, Portugal. He later went on a study abroad program in Chile.
Hammond moved to Las Vegas, where he earned undergraduate and graduate degrees in political science from the University of Nevada, Las Vegas after his wife landed a job at the Thomas & Mack Center.
Since then Hammond has turned his attention to teaching and family. He and his wife have three children, two of whom were adopted.
And he's trying to help students in Indian Springs gain the skills and confidence they need to avoid choices that lead to destructive relationships and lifestyles.
"There is a reason I coach girls. It stems back to when I was a kid," Hammond said. "I always felt that someday that's what I was going to do, help make sure that the women I was around always felt that confidence."
Hammond, a Republican, says much of his political philosophy is rooted in the positive and negative experiences he had in Alaska.
"It really was ingrained in me you really have to work hard for something and hold onto it and make sure you are taking care of your family," he said.
Hammond will need that independent spirit if he intends to keep his promises to stand up to entrenched interests in Carson City.
His criticism of the Nevada State Education Association, which represents the state's teachers and education support professionals, is one stance that probably will lead to backlash, including some from co-workers in Indian Springs.
Hammond doesn't think a tax increase is needed to improve schools. He favors reforms that include a voucher system and more accountability for teachers, including the elimination of tenure.
Hammond says the Nevada education system is too inwardly focused.
He thinks it will take pressure from outside the system to implement new ideas such as vouchers, the elimination of teacher tenure and other accountability measures.
"I was always pushed as a basketball player when I saw people who were better than I was," Hammond said.
Those stances put him at odds with official union positions.
"I'm going to be hated among my colleagues for a while; but in all honesty there are a lot of my colleagues who see that, too," he said.
Contact reporter Benjamin Spillman at bspillman@ reviewjournal.com or 702-477-3861.
SCOTT HAMMOND
Age: 44
Party: Republican
Office: Assemblyman-elect
District: Clark, 13
Constituent contact: hammond4nevada@gmail.com, 523-9055
Occupation: Spanish and government teacher, Indian Springs High School
Education: Bachelor's and master's degrees in political science from UNLV, 1995 and 1997
Family: Wife, Tonya, three children, Tomás, 11, Olivia, 5, Sofia, 3
Notable: Hammond went on a Mormon mission to Porto, Portugal. He speaks Portuguese and Spanish in addition to English.
Quotable: "It really was ingrained in me you really have to work hard for something and hold onto it and make sure you are taking care of your family."