US Supreme Court closes book on Wayne Hage, Sagebrush Rebellion court case
October 26, 2016 - 2:59 am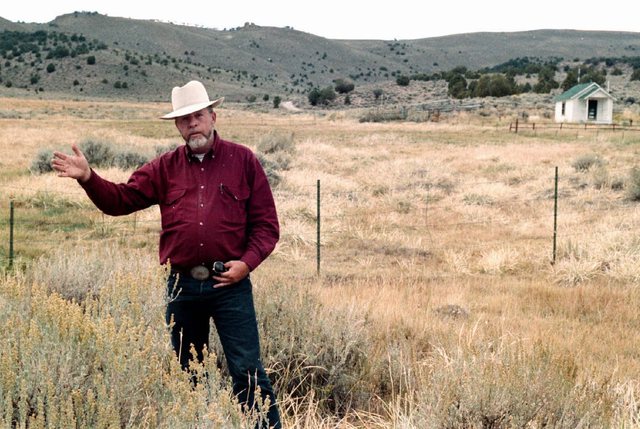 CARSON CITY — The U.S. Supreme Court has declined to hear an appeal of an appeals court ruling issued earlier this year in favor of the federal government in a long-running dispute with the late Nevada rancher Wayne Hage.
The high court's decision means that the 9th U.S. Circuit Court of Appeals ruling that overturned a lower court ruling in favor of the Hage family stands.
The Supreme Court on Oct. 17 denied a petition for the court to hear the case, Estate of E. Wayne Hage, et al. v. United States.
Hage died in 2006, and the fight has been carried on by his family and son, Wayne N. Hage Jr.
The U.S. government filed suit in U.S. District Court in Las Vegas, alleging that between 2004 and 2008, the Hages grazed cattle on federal land without a permit.
The decision brings to an end a decades-long dispute that centered on the Hage family's Pine Creek Ranch near Tonopah. The case is well known in the West and among property rights advocates who continue to maintain that the federal government exercises a heavy hand in relations with those who make their livelihood off the land.
The ruling is the latest chapter in a feud that dates to the days of the Sagebrush Rebellion. The government charged the Hage family, along with rancher Benjamin Colvin, with trespassing by grazing cattle without a permit on Bureau of Land Management and U.S. Forest Service land.
The Hages won a victory in May 2013 when U.S. District Judge Robert Clive Jones issued a 104-page opinion detailing what he called the federal government's vindictive actions against the ranching family.
"The government's actions over the past two decades shocks the conscience of the court," Jones wrote in his opinion.
Jones ruled against the government by finding that the Hages' water rights provided a defense to the government's claims of trespass.
But on appeal to the 9th Circuit, the court found in favor of the government claims that Hage was trespassing on public lands by grazing cattle without a permit. The 9th Circuit said that ownership of water rights has no effect on the requirement that a rancher obtain a grazing permit.
The court also criticized Jones, who is now on senior status.
The 9th Circuit opinion, written by Judge Susan Graber, said: "Defendants openly trespassed on federal lands. Rather than simply resolving the fact-specific inquiries as to when and where the cattle grazed illegally, the district court applied an 'easement by necessity' theory that plainly contravenes the law."
Contact Sean Whaley at swhaley@reviewjournal.com or 775-461-3820. Follow @seanw801 on Twitter.