Viewers hoot over Nevada's nesting owl livestream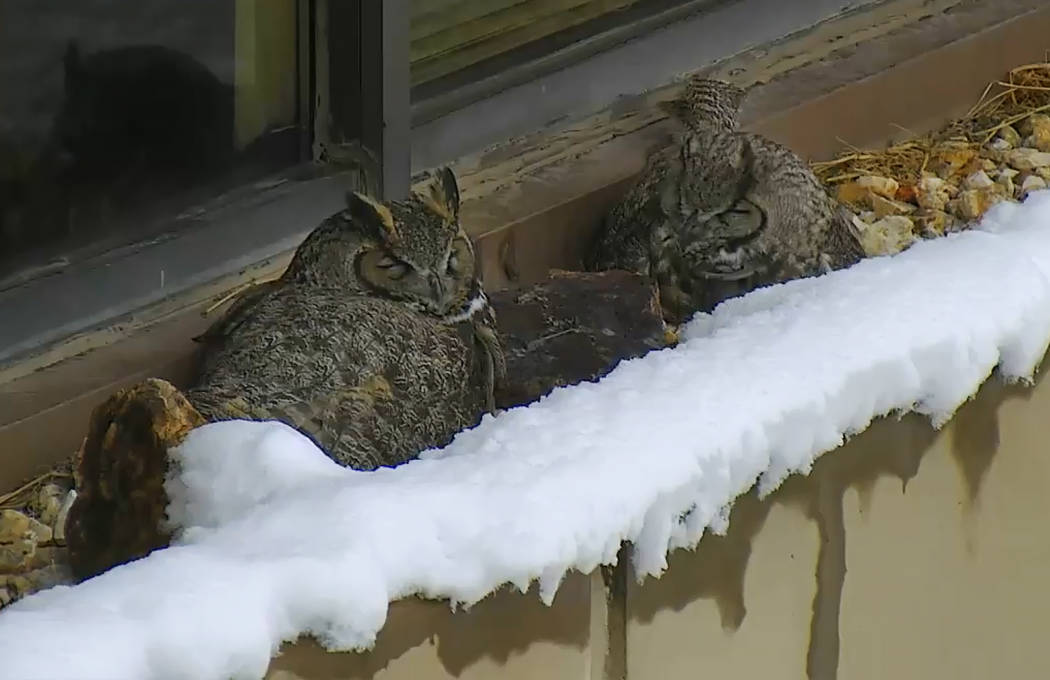 The Nevada Department of Wildlife's new reality show is sort of like "The Real Housewives of Reno," only with feathers.
State wildlife officials have installed a webcam so anyone with an internet connection can spy on a trio of great horned owls nesting on a second-story ledge at the Desert Research Institute's offices in Reno.
It's actually two adjacent nests with a female in each and a male go-between.
"To have these two female owls lay eggs less than a foot from each other, in the rocks of a ledge 30 feet above the ground, right against the window of an office is very unique," Department of Wildlife biologist David Catalano said in a statement.
The department and DRI, the research arm for the state's system of higher education, established the livestream on YouTube, titled "DRI Owl Cam," so people could observe the nest without disturbing the birds.
Catalano checked on the nest to make sure there were no problems before the camera was installed and switched on this week.
Since then, the owls have drawn viewers from across the United States and as far away as New Zealand and Great Britain.
"We knew this live feed would get some attention, but I don't think anyone thought it would blow up like this," said Aaron Keller, the department's outdoor education coordinator.
"It just goes to show you how passionate people are about wildlife."
Contact Henry Brean at hbrean @reviewjournal.com or 702-383-0350. Follow @RefriedBrean on Twitter.