Washoe native wants things made in USA
February 1, 2011 - 2:01 am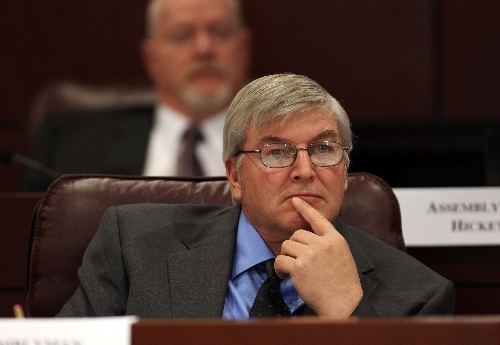 Editor's note: This is one in a series of profiles of freshman lawmakers in the 2011 Legislature.
CARSON CITY — New Assemblyman Richard "Skip" Daly, D-Sparks, found an unexpected problem over the New Year's weekend when he went to a Reno mall to buy suits for the legislative session.
"I wanted to buy American-made suits, and it wasn't easy to find them," said Daly, the business manager for the Laborers Union Local 169. "You can't find toys made in the USA. You can't buy shirts made here. Other clothes, too. I have worn Levis my whole life, and they now are made in Mexico."
Daly eventually bought six made-in-America suits, along with several ties he believes were made in the United States, but his shirts came from China, Honduras and other places.
The point Daly wants to make is that more and more blue-collar jobs are being shifted overseas, leaving the United States — and Nevada — with high unemployment rates.
People need to look at labels and buy American, even if it costs a little more, he said.
Daly said cutting Nevada's 14.5 percent unemployment rate by creating jobs and improving the education system are the key issues facing the Legislature.
"Either you create jobs through direct spending or you use tax dollars, that is, give out tax breaks," he said. "You have to make sure local workers benefit, that local workers are hired, and you have to make sure they make a livable and fair wage. I don't want to pick on Walmart. But those kind of businesses hurt more than help. They put other businesses out of work."
Daly will serve on the Commerce and Labor, Judiciary and Legislative Operations and Elections committees. He is eager to work in committees to try to develop new jobs.
Born and raised in Washoe County, Daly started as a construction worker at a young age. He became the business manager of the union local in 2001.
He saw the construction industry collapse with the onset of the recession. Unemployment in the construction trades in his area is higher than 30 percent.
"We are seeing signs of a recovery," he said. "I am optimistic, but cautiously so. Things are stabilizing. It hasn't turned to jobs yet."
Daly also believes the state needs to spend more, not less, and create a quality education system that provides the work force that business needs.
He opposes Gov. Brian Sandoval's plans to cut salaries of teachers by 5 percent, reduce state support to public education by 9 percent, end tenure for public school teachers and give out education vouchers.
"Teachers have to have college degrees. Do you know other jobs where degrees are required that pay less than what teachers earn? Tenure is a process developed over a long period of time to attract and retain teachers. If you end tenure, that will make our state less attractive to teachers," Daly said. Average teacher pay in Nevada is $44,000 a year.
That said, Daly added that Nevada can neither spend nor cut its way to prosperity. He believes a combination of tax increases and budget cuts will come out of the 2011 session.
"We need to stop having everything paid for by tourists," he said. "That is the problem we always have had."
From a young age, Daly has been called "Skip" by everyone.
"Mom didn't like the nickname for Richard so she called me 'Skip.' I have had it my whole life."
Daly said he decided to run for the Assembly because longtime Assemblyman Bernie Anderson, D-Sparks, was prevented by term limits from seeking re-election.
"The timing was right. I had my wife's blessing," he said. "I always wanted to run, but it wasn't the right time. Now is the right time."
Contact Capital Bureau Chief Ed Vogel at evogel@reviewjournal.com or 775-687-3901.
RICHARD "SKIP" DALY
Position: Assemblyman
Party: Democrat
District: Washoe District 31
Home: Sparks
Job: Business manager, Laborers Union Local 169
Age: 51
Family: Wife Lisa; children Sara, 20, and Brian, 17
Education: Reno High School, two years at Truckee Meadows Community College
Constituent contact: Phone: 775-722-6534, e-mail: skipd@sbcglobal.net
Quotable: "We need to stop cutting education. I don't know how that (Gov. Brian Sandoval's proposed education cuts) is going to improve the state of education. I believe education will be the cornerstone of the foundation that rebuilds our economy. We need to make a long-term investment in that."