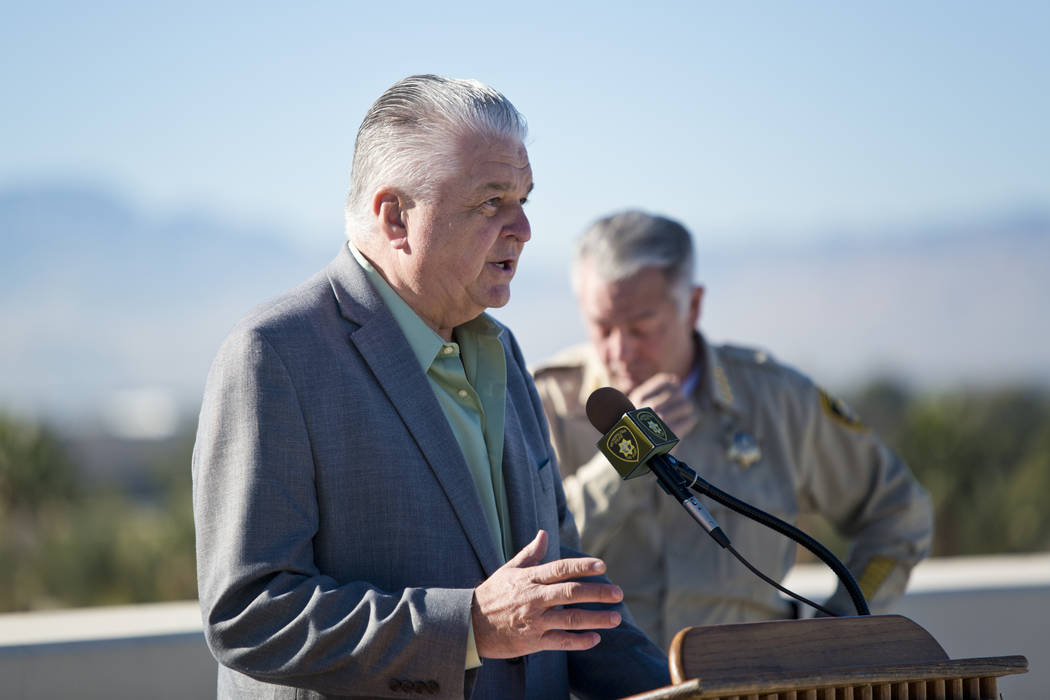 With massive amounts of money pouring into candidates' coffers, one thing is clear:
The 2018 Nevada governor's race will be expensive.
Both Attorney General Adam Laxalt and state Treasurer Dan Schwartz are seeing an influx of campaign donations from other states. California-based Facebook has given the maximum $10,000 to Laxalt, who has benefited from a number of outside-Nevada donations.
Laxalt raised $2.61 million last year, highest among gubernatorial candidates. His campaign reported that it has about $3 million in cash on hand.
The deadline to submit campaign reports was 11:59 p.m. Tuesday.
Seven members of the Fertitta family donated the maximum $10,000 to Laxalt's campaign, which also received $10,000 each from Miriam and Sheldon Adelson.
Clark County Commission Chairman Steve Sisolak, a Democratic candidate for governor, has more money overall — about $5.75 million — but $2.58 million of that came in the last year.
That includes more than $250,000 from the gaming industry, including donations from MGM Resorts International properties, The Cosmopolitan of Las Vegas, Boyd Gaming Corp. and Station Casinos. Sisolak also saw a windfall from Nevada's budding marijuana industry, with more than $250,000 of donations coming from cannabis businesses and executives.
County Commissioner Chris Giunchigliani, also a Democratic candidate for governor, reported a haul of $832,000 in 2017, with most of the money coming after she announced her campaign in mid-October.
Two sitting Clark County School Board trustees have donated to Giunchigliani's bid for governor, despite the local teachers union's endorsement of Sisolak.
Lola Brooks donated $300 to Giunchigliani's campaign and Carolyn Edwards gave $500. Giunchigliani is the former head of both the local teachers union, the Clark County Education Association, and the state teachers union, the Nevada State Education Association.
Schwartz raised $431,000 — the bulk of that coming from his $355,000 loan to the campaign — but received big donations from individuals in Illinois, New York and Ohio.
The majority of Republican candidate Jared Fisher's donations are coming from Nevada, with a sprinkling of donations from Colorado. Fisher has raised $586,000, including his own loan of more than $500,000 to the campaign.
Attorney general
Republican Wes Duncan, Laxalt's former first assistant attorney general and an assemblyman before that, hauled in $516,000 in donations. Of that, $160,000 came from maximum donations of $10,000 from various Nevada resort groups, businesses and business owners.
Craig Mueller, a Republican and Las Vegas attorney, raised $102,000, with $100,000 of it coming from a personal loan to the campaign.
On the Democratic side, state Senate Majority Leader Aaron Ford reported $400,000 in campaign donations, with notable donors including Caesars Entertainment, MGM Resorts and Boyd Gaming, along with Ford's employer, the Eglet Prince law firm.
Lieutenant governor
Senate Minority Leader Michael Roberson, R-Henderson, reported raising $200,000 last year, while Democrat and former two-term state Treasurer Kate Marshall brought in $172,000.
Secretary of state
Assemblyman Nelson Araujo, D-Las Vegas, raised approximately $120,000 in his push to unseat Republican Barbara Cegavske, who raised $105,000 for her re-election campaign.
Treasurer
Republican Bob Beers, a former Las Vegas city councilman and state lawmaker, raised more than $456,000 last year, but more than 90 percent of that was raised for his unsucessful council re-election bid. From the day after the June 13 municipal election to the end of 2017, Beers raised about $34,000.
His Republican challenger, Derek Uehara, who previously ran for Henderson City Council in 2015, reported $53,000 in donations, with $26,000 coming as loans from himself.
Democrat Andrew Martin is also investing his own money in his campaign. Of the $25,696 Martin raised last year, $25,146 was a loan from himself.
Controller
Incumbent Republican Ron Knecht raised $44,400 last year, $26,000 of which was a personal loan. Democratic challenger Catherine Byrne reported raising $2,925.
Clark County Commission
For the most part, Democratic candidates for Clark County Commission continued a tradition of outraising and outspending Republicans.
District G incumbent Jim Gibson raised the most, more than $475,000. The former Henderson mayor, who was appointed to the seat last year after Mary Beth Scow resigned, is far ahead of former county Republican Party Chairwoman Cindy Lake, who raised $2,050.
But Republican Tisha Black kept her promise of raising big bucks for the District F seat. She netted more than $250,000, outraising Democrat opponent Justin Jones. The former state senator raised about $160,000. Perennial Republican candidate Mitchell Tracy got $3,000.
The Review-Journal is owned by the Adelson family.
Contact Meghin Delaney at 702-383-0281 or mdelaney@reviewjournal.com. Follow @MeghinDelaney on Twitter. Staff writers Colton Lochhead and Michael Scott Davidson contributed to this report.
Money Mattters
Biggest loans from candidates to their own campaigns in 2017
Jared Fisher – $568,231
Dan Schwartz – $335,000
Craig Mueller – $100,000
Most maxed-out donations (totaling $10,000) received in 2017:
Steve Sisolak: 139
Adam Laxalt: 122
Joe Lombardo: 29
Most money raised in 2017 without an announced opponent:
Clark County Sheriff Joe Lombardo: $705,465