Pence lambastes China, alleging interference in US elections
Updated October 4, 2018 - 4:28 pm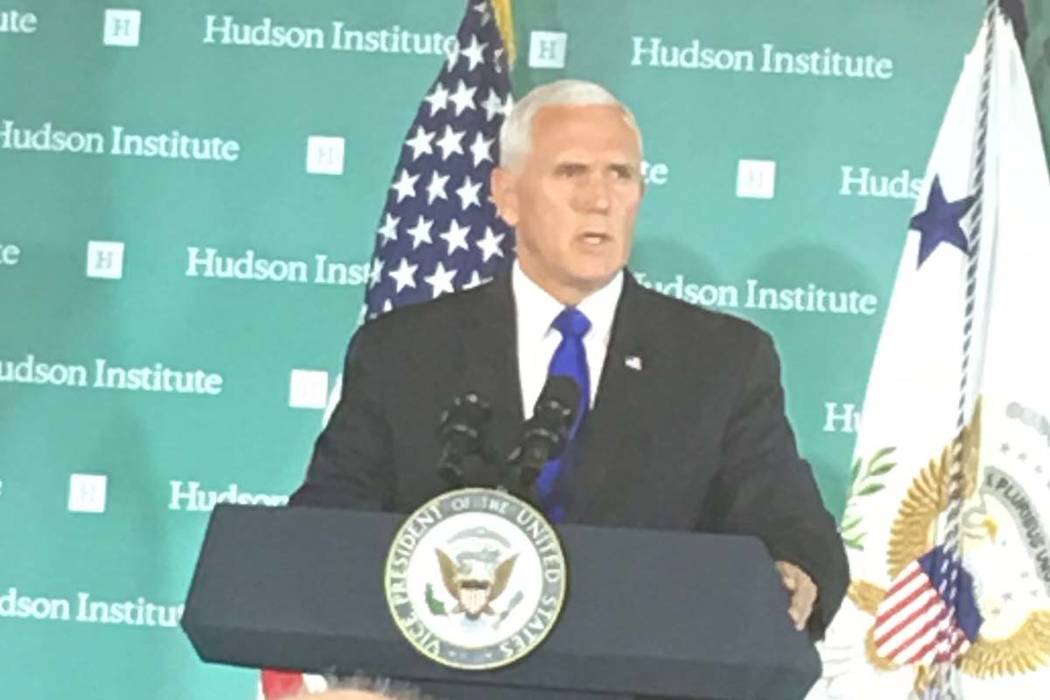 WASHINGTON — Vice President Mike Pence delivered a blistering attack on China Thursday, elaborating on President Donald Trump's charge last week that Beijing is trying to influence the U.S. midterm elections.
"To put it bluntly," Pence told a small crowd at the conservative Hudson Institute, "President Trump's leadership is working; China wants a different American president."
Pence said that an unnamed senior member of the intelligence community told him "what the Russians are doing pales in comparison to what China is doing across this country."
The vice president also accused China of using technology to turn "plowshares into swords on a massive scale."
To applause, Pence urged American business leaders to "think twice before diving into the Chinese market." Pence specifically called on Google to "immediately end development of the 'Dragonfly' app that will strengthen Communist Party censorship and compromise the privacy of Chinese customers."
The Google press team responded, "We've been investing for many years to help Chinese users, from developing Android, through mobile apps such as Google Translate and Files Go, and our developer tools. But our work on search has been exploratory, and we are not close to launching a search product in China."
Pence's speech was intended to fill in blanks left by the president's remarks to the U.N. Security Council last week.
"Regrettably, we found that China is trying to interfere with our 2018 election," Trump said. "They do not want me or us to win because I am the first president to ever challenge China on trade."
China's Foreign Minister Wang Yi responded to Trump's salvo that his country does not "and will not interfere in the internal affairs of any country, and we don't accept any groundless accusations made against China."
In his speech, Pence returned to the only example mentioned by Trump — a four-page supplement in the Des Moines Register on the cost of U.S. tariffs to soybean and other farmers that was written by China Daily.
"The supplement, designed to look like news articles, cast our trade policies as reckless and harmful to Iowans," Pence said.
On Wednesday, Homeland Security Secretary Kirstjen Nielsen told a Washington Post cybersecurity forum, "We currently have no indication that a foreign adversary intends to disrupt our election infrastructure." Rather than Russian cyber-games, Nielsen explained, she sees "a more holistic approach to influence the American public in favor of China."
Contrary to Nielsen's take, Pence did offer one example of a Chinese cyber-attack – on the host think tank he was addressing.
"After you offered to host a speaker Beijing didn't like, your website suffered a major cyberattack, originating from Shanghai," Pence told the group. "The Hudson Institute knows better than most that the Chinese Communist Party is trying to undermine academic freedom and the freedom of speech in America today."
In August, however, Hudson President Kenneth Weinstein wrote a piece for the Wall Street Journal in which he credited Russian hacker "Fancy Bear" for the attack.
Mike Pillsbury of Hudson's Center for Chinese Strategy described Pence's 40-minute speech as "a checklist of the things the administration is concerned about with China."
Brookings Institution China expert Ryan Hass described the speech as an attempt to shift public scrutiny away from Russian meddling in the 2016 election.
Hass wrote for Brookings that Pence was sending "a stark warning to American companies, urging them not to abet Beijing's oppression."
Former CIA spokesman Bill Harlow said of China, "I have no doubt that they are fooling around. Why not? The Russians were so successful I think everyone would want to get in the game."
Contact Debra J. Saunders at dsaunders@reviewjournal.com or 202-662-7391. Follow @DebraJSaunders on Twitter.