Senators call for Trump to resign over sexual misconduct claims
December 11, 2017 - 5:58 pm
Updated December 11, 2017 - 9:28 pm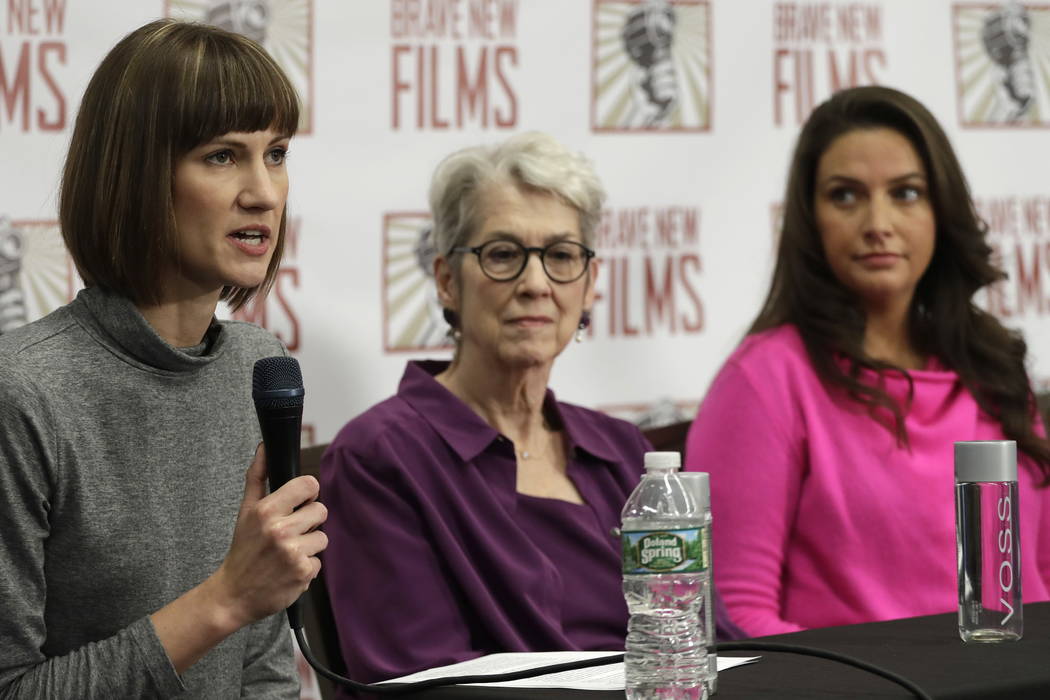 WASHINGTON — Four senators suggested President Donald Trump should resign, while three women who accused him of sexually harassing them years ago called Monday for Congress to investigate their charges.
Samantha Holvey, one of the women, told "Megyn Kelly Today" that it was "heartbreaking" to watch Americans elect Trump president in 2016, despite accusations made against him by more than a dozen women. But now, Holvey added, "the environment's different. Let's try again."
The former beauty queen claimed that Trump ogled her and other Miss USA pageant contestants in their dressing room in 2006. In addition to Holvey, Jessica Leeds and Rachel Crooks on Monday told of alleged harassment by Trump spanning decades.
Crooks, a former Trump Tower receptionist who said the celebrity businessman kissed her on the mouth in 2006 without consent, called for Congress to "put aside party affiliations and investigate Trump's history of sexual misconduct."
During a contentious press briefing Monday, White House press secretary Sarah Sanders rejected calls for either an investigation or Trump's resignation.
"Look, the president has addressed these accusations directly and denied all of these allegations," she said. "And this took place long before he was elected to be president. And the people of this country, at a decisive election, supported President Trump, and we feel like these allegations have been answered through that process."
The New York Times opened up a Pandora's box in early October when it reported on numerous allegations that Hollywood producer Harvey Weinstein sexually harassed women in the entertainment industry for decades. In short order, the board ousted him.
In the weeks that followed, America witnessed a stampede of prominent men in Hollywood, Congress and network news organizations being driven from their professional positions after accusations of sexual misconduct with female subordinates.
Conyers and Franken
Last week, Rep. John Conyers, D-Mich., resigned and Sen. Al Franken, D-Minn., announced his intent to resign "in the coming weeks" — after Democratic leaders called on them to go even before congressional investigations had ruled on allegations against them.
Since Franken's announcement, prominent Democrats have used the one-time comedian's falling on his sword as the new standard for accused politicians.
Over the weekend, Sen. Cory Booker, D-N.J., told Vice, "Why hasn't Donald Trump come forward and said, 'You know what, in this climate, at this point in this country, I'm going to resign from my position just like Al Franken?'"
Booker was in Alabama campaigning for Doug Jones, the Democrat fighting to win a special election against GOP nominee Roy Moore.
When Moore won the GOP primary, he seemed the likely bet to win handily in the GOP stronghold. But the candidate's prospects have dimmed after a number of women said that he sexually abused them when they were in their teens and he was in his 30s.
Trump endorsed Moore, but on Sunday, the state's long-standing GOP senator, Richard Shelby, told CNN, "I can't vote for Roy Moore."
If Moore wins, top Democrats are likely to paint the GOP as the party that winks at sexual misconduct — and use the issue to win support and generate enthusiasm among young single female voters. If Moore loses, the issue of sexual harassment will have proved potent even in conservative bastions.
Senators speak out
Over the weekend, Sens. Jeff Merkley, D-Ore., and Bernie Sanders, the Vermont independent who caucuses with Democrats, also called for Trump to consider resigning.
On Monday, Sen. Kristen Gillibrand, D-N.Y., went further when she told CNN that Trump should "immediately resign" or be subject to investigation.
But a Capitol Hill investigation into Trump's conduct appears unlikely. The Senate and House Ethics Committees investigate members of Congress, not presidents, and Republican-led committees are not apt to investigate Trump on sexual misconduct unless there is some sort of connection to the ongoing Russia probe.
Sen. Lindsey Graham, R-S.C., said Congress shouldn't investigate the allegations against Trump.
"I don't think there's any forum for us to do that," he said. "Just think about how that could be abused."
It was just last month that Gillibrand, who is considered a possible presidential contender in 2020, told The New York Times that former President Bill Clinton probably should have resigned during the Monica Lewinsky scandal that led to his impeachment.
In 2016, Gillibrand endorsed Hillary Clinton and wrote that she was "truly honored that President Bill Clinton campaigned for me in my first run for Congress in 2006."
A month ago, House Minority Leader Nancy Pelosi, D-Calif., told "Meet the Press" that Conyers deserved "due process" after BuzzFeed reported that Conyers had propositioned a number of female staffers. Critics began to pile on Pelosi, who then called on Conyers to resign, which he did.
Pelosi also called on Rep. Ruben Kihuen, D-Nev., to resign after BuzzFeed reported that the freshman lawmaker's former finance director, identified only as Samantha, had accused him of sexually harassing her. Thus far, Kihuen has resisted.
Contact Debra J. Saunders at dsaunders@reviewjournal.com or 202-662-7391. Follow @DebraJSaunders on Twitter. The Associated Press contributed to this story.
Haley: accusers 'should be heard'
On CBS' "Face the Nation" Sunday, U.S. Ambassador to the United Nations Nikki Haley said the Trump's female accusers "should be heard, and they should be dealt with."
"I think we heard from them prior to the election. And I think any woman who has felt violated or felt mistreated in any way, they have every right to speak up."
Haley also said of the accusers, "I'm proud of their strength. I'm proud of their courage."