Trump addresses supporters at rally outside White House
Updated January 6, 2021 - 3:21 pm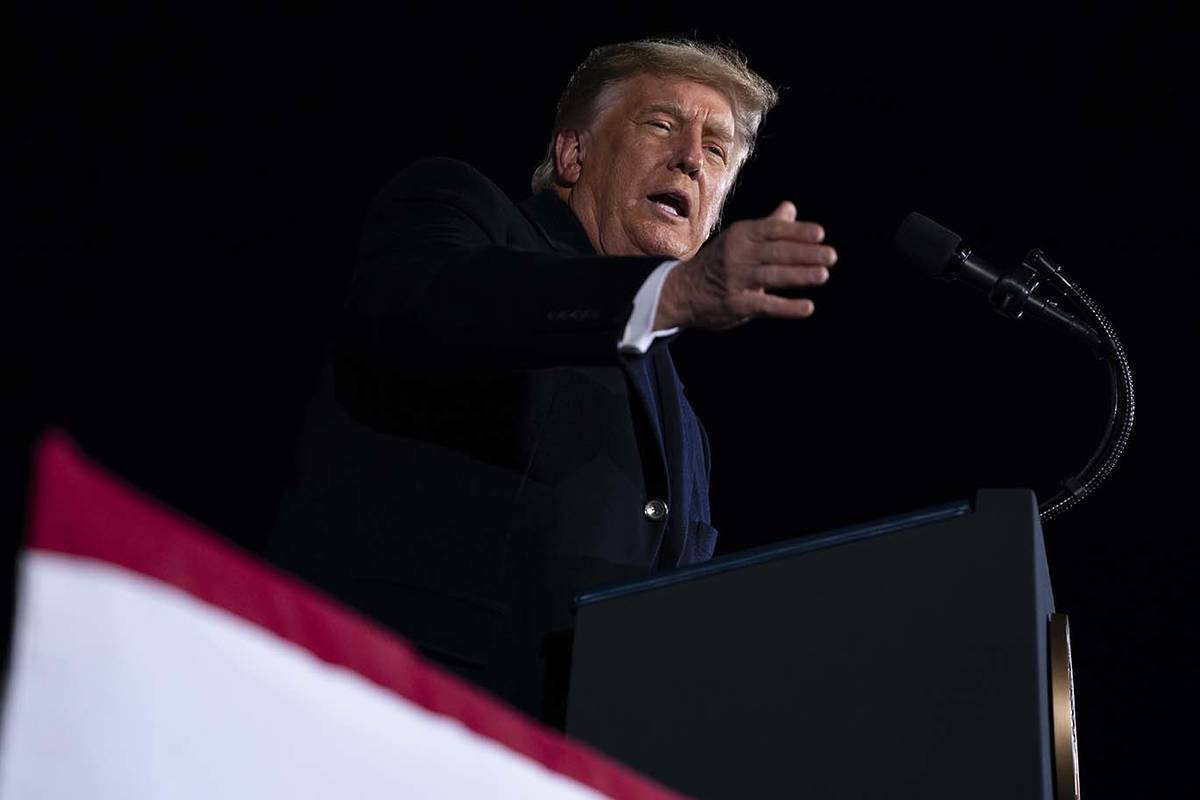 WASHINGTON — President Donald Trump told his die-hard supporters he would never concede the "rigged" presidential election Wednesday as they gathered in the Ellipse in front of the White House ahead of the expected certification by Congress of President-elect Joe Biden's Electoral College victory.
Related: One dead after Trump supporters storm US Capitol
"We will never concede. You don't concede when there's theft involved," Trump said to a largely unmasked crowd that cheered enthusiastically when he said, "We will stop the steal."
Still, Trump's remarks seemed targeted at one individual, Vice President Mike Pence, whom Trump argued had the authority to reject state electors, send them home and recognize Trump as the true winner — if only Pence would exhibit "courage."
Before Trump's remarks were over, Pence released a three-page statement in which he made it clear that he would not bend to Trump's will and misuse his authority.
"As a student of history who loves the Constitution and reveres its Framers, I do not believe that the Founders of our country intended to invest the Vice President with unilateral authority to decide which electoral votes should be counted," Pence asserted.
The hour-long speech was laden with a long list of enemies — the "fake news media," "weak" Republicans who failed to support him and should expect primary challenges, Georgia's GOP Governor Brian Kemp, former Secretary of State Hillary Clinton and other Democrats.
Trump also maintained that he won Nevada and other states even though state officials counted more votes for Biden and appointed Biden electors and Trump's campaigns many lawsuits challenging the outcome failed to overturn the results.
When his remarks ended, Trump said, "We're gonna walk down — and I'll be there with you — to the Capitol and we're gonna cheer on our brave senators and congressmen and women, and we're probably not going to be cheering so much for some of them." But rather than march down the National Mall with his supporters, Trump returned to the White House.
Later in the day, hordes of protesters swarmed the U.S. Capitol, bringing both houses of Congress to a halt as both House and Senate recessed for the safety of members.
"Our president is fearless,and he loves our country," said Nevada GOP operative Jesse Law, who was part of the crowd, via text. "He laid out just a few examples of fraud that cannot go unanswered in a free society."
Biden captured the contest by winning 81 million votes and 306 electoral college votes to Trump's 74 million votes and 232 electoral votes.
Contact Debra J. Saunders at dsaunders@reviewjournal.com or 202-662-7391. Follow @DebraJSaunders on Twitter.