Trump cancels summit with North Korea's Kim Jong Un
Updated May 24, 2018 - 5:32 pm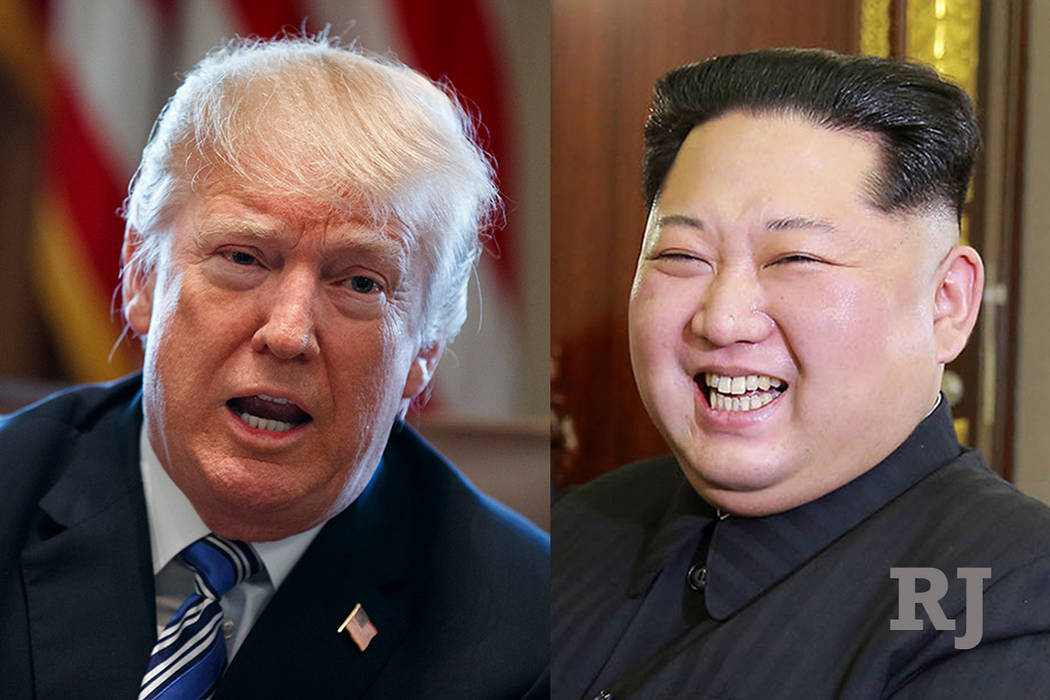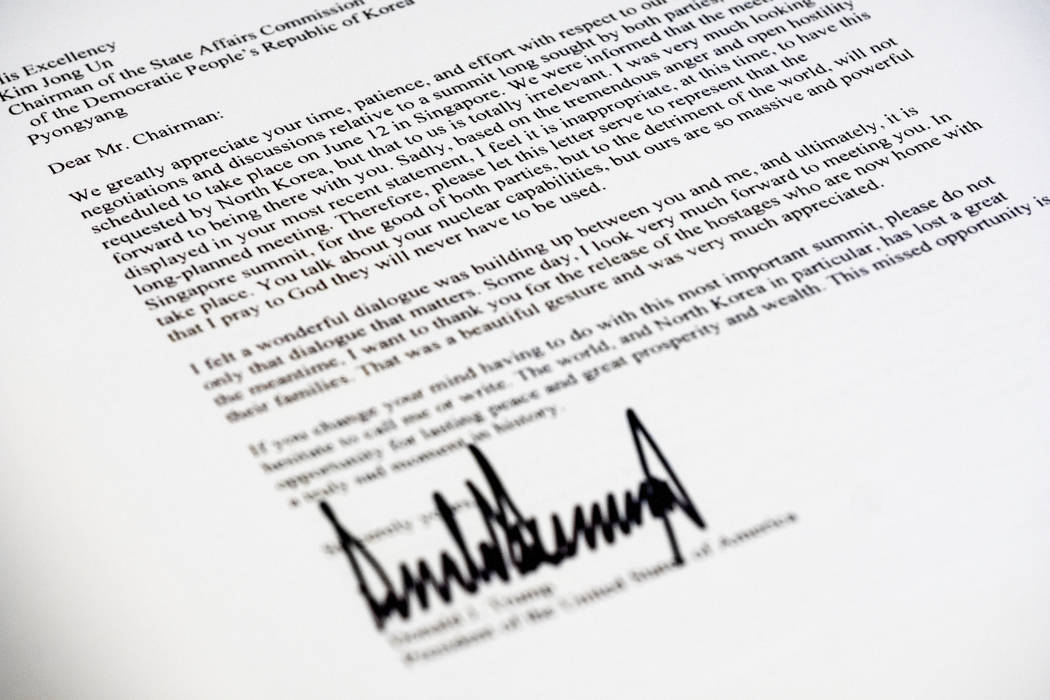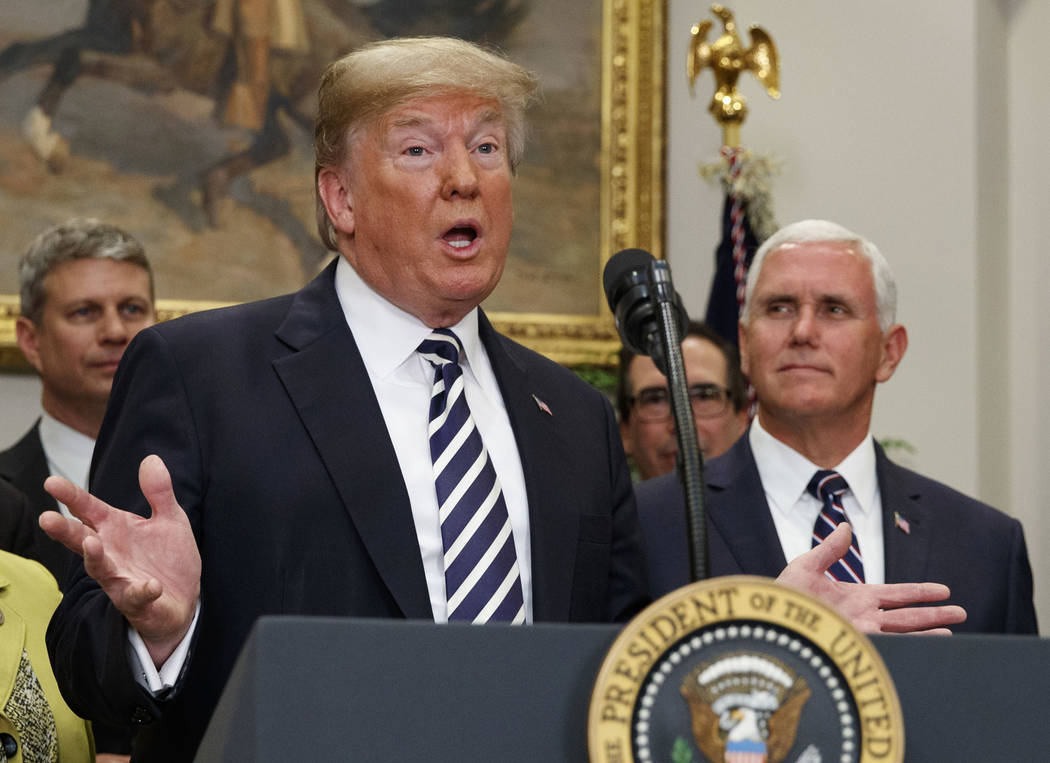 WASHINGTON — President Donald Trump on Thursday abruptly called off a June 12 summit with North Korean strongman Kim Jong Un after North Korea called Vice President Mike Pence a "political dummy" and threatened a "nuclear-to-nuclear showdown."
"I was very much looking forward to being there with you," Trump wrote in a one-page letter to Kim. "Sadly, based on the tremendous anger and open hostility displayed in your most recent statement, I feel that it is inappropriate, at this time, to have this long-planned meeting."
But Trump left the door open for a future summit, which would be a first between an American president and a North Korean leader.
Trump also waved a threat in Pyongyang's direction.
"You talk about your nuclear capabilities," Trump wrote, "but ours are so massive and powerful that I pray to God they will never have to be used."
North Korea issued a statement later saying it is still "willing to give the U.S. time and opportunities" to reconsider talks "at any time, at any format."
Vice Foreign Minister Kim Kye Gwan called Trump's decision "unexpected" and "very regrettable," and said the cancellation of the talks shows "how grave the status of historically deep-rooted hostile North Korea-U.S. relations is and how urgently a summit should be realized to improve ties."
Trump's surprise exit capped weeks of high-stakes brinkmanship between the two leaders over nuclear negotiating terms for their sit-down. The U.S. announcement came not long after Kim appeared to make good on his promise to demolish his country's nuclear test site.
Trump was briefed Wednesday night and made the decision to exit Thursday morning after consulting with top advisers, including Secretary of State Mike Pompeo and National Security Adviser John Bolton.
Advance team kept waiting
During a background press briefing Thursday, a senior White House official spoke of how a North Korean delegation stood up a White House advance team headed by Deputy Chief of Staff Joe Hagin in Singapore last week.
"They waited and they waited," the adviser said of the advance team. "The North Koreans never showed up. The North Koreans didn't tell us anything. They simply stood us up."
The summit was first announced in March in front of the White House after Trump accepted an invitation extended by Kim through South Korean National Security Director Chung Eui-yong.
"President Trump appreciated the briefing and said he would meet Kim Jong Un by May to achieve permanent denuclearization." Chung told the White House press corps.
The lightning-fast two-month timetable – later extended to three months — confounded a foreign policy community used to spending extended periods of time in painstaking pre-summit negotiations.
No worries, the Trump corner contended, noting that the old bottom-up method of glacial talks had failed to end North Korea's nuclear ambitions.
The Singapore summit presented an unexpected, if temporary, rapprochement between what Jenny Town, a Korean specialist at the Stimson Center, had described as "two egos that are too big to fail."
Trump showed an eagerness to engage the hermit kingdom by sending Pompeo to meet with Kim twice. On the return of the second trip, Pompeo delivered three American detainees ahead of the Singapore sit-down.
It was at that meeting that Pyongyang and Washington agreed on logistics for the Singapore meeting that never occurred.
Another cause for hope came from an April meeting between Kim and South Korean President Moon Jae-in who shook hands in the demilitarized zone, then each crossed over the border into the other's domain.
The 'Libyan model'
In recent weeks, the comity between Pyongyang and Washington wore thin after Bolton and Vice President Mike Pence discussed the "Libyan model" of disarmament exercised by the late Moammar Gadhafi. The Libyan leader was slain eight years after he surrendered his arsenal of weapons of mass destruction.
Pyongyang responded by calling Pence a "political dummy" and added a threat. "Whether the U.S. will meet us at a meeting room or encounter us at nuclear-to-nuclear showdown is entirely dependent upon the decision and behavior of the United States," Vice Foreign Minister Chloe Son Hui said in a statement.
At Thursday's background briefing, the senior official said the White House warned Moon that the summit might not occur when the South Korean president visited Washington earlier this week.
"I hope (the countries) will resolve such issues through more direct and close dialogue between their leaders," Moon responded to the summit cancellation through a spokesman, according to the Yonhap News Agency.
In his letter, Trump assured Kim that he looks forward to meeting some day – then added a zinger. "In the meantime, I want to thank you for the release of the hostages who are now home with their families. That was a beautiful gesture and very much appreciated."
Trump's allies in Congress applauded the president, saying he was justified in pulling out of the meeting.
"North Korea has a long history of demanding concessions merely to negotiate. While past administrations of both parties have fallen for this ruse, I commend the president for seeing through Kim Jong Un's fraud," said Sen. Tom Cotton, R-Ark.
Critics were less impressed.
"It's clear he didn't know what he was getting into," said House Minority Leader Nancy Pelosi, D-Calif., who faulted Trump's lack of careful preparation in advance of the summit.
Pelosi declared Kim the "big winner" as the strongman had gained global recognition when Trump agreed to a meeting. Kim "must be having a giggle fit right there in North Korea," she added.
Contact Debra J. Saunders at dsaunders@reviewjournal.com or at 202-662-7391. Follow @DebraJSaunders on Twitter. The Associated Press contributed to this report.