Trump, Dems begin work on $2T infrastructure package
Updated April 30, 2019 - 4:17 pm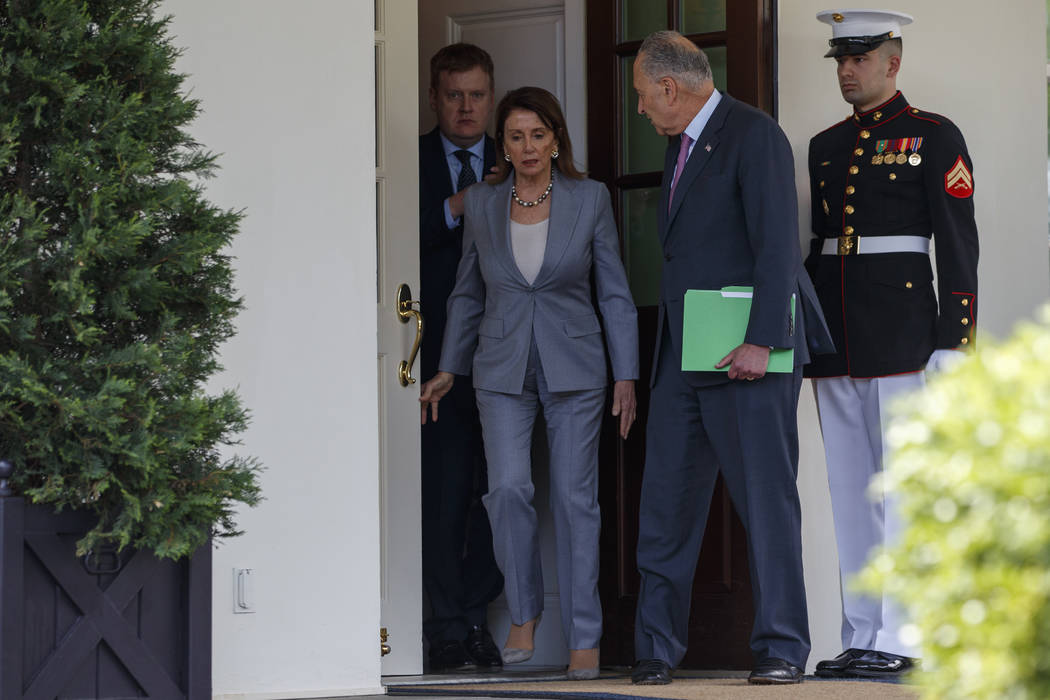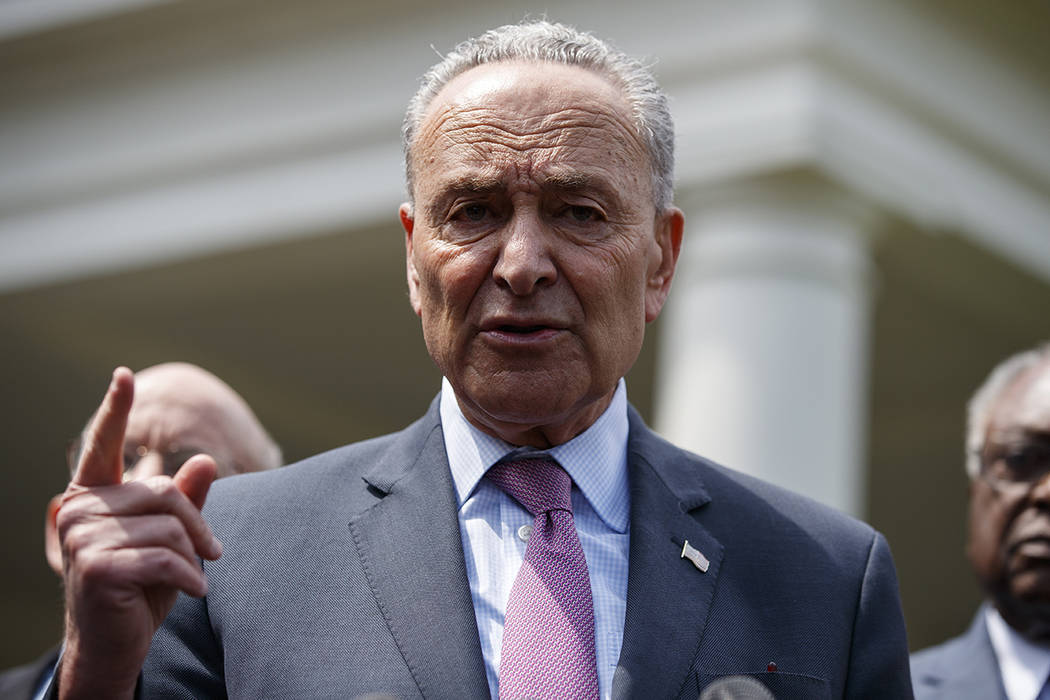 WASHINGTON —
President Donald Trump met with Democratic congressional leaders Tuesday morning where the two sides carved out the beginnings of an infrastructure package with a price tag of $2 trillion.
After the 90-minute meeting, House Speaker Nancy Pelosi, who had requested the meeting, told reporters both sides agreed the infrastructure package would be "big and bold."
Senate Minority Leader Chuck Schumer said that Trump agreed to meet again in three weeks, at which time the president would "present his ideas" on how to fund the measure. Without the president's imprimatur, Schumer noted, "it'll be very hard to get the Senate to go along."
The White House confirmed the mutual spirit of good will when Press Secretary Sarah Sanders said in a statement, "The United States has not come even close to properly investing in infrastructure for many years, foolishly prioritizing the interests of other countries over our own. We have to invest in this country's future and bring our infrastructure to a level better than it has ever been before."
The amount of money is so big, Adie Tomer of the Brookings Institution told the Review-Journal, "What they unwittingly announced today is another New Deal, like FDR's New Deal, that's how big this would be."
While Democrats have been pushing for a rollback of parts of the Tax Cuts and Jobs Act, which Trump signed in 2017, or an increase in the gas tax or a combination of the two, the White House generally has balked at raising taxes.
According to the Center for a Responsible Federal Budget, the federal gas tax has not been raised since 1993 – which means that, adjusted for inflation, it is almost 40 percent lower than it was. If the gas tax had been indexed for inflation, it would be 10 to 15 cents per gallon higher than today.
Raising the gas tax can't pay for that supersize price tag, Tomer offered, because of federal restrictions on how the money is spent.
Spending plan 'pro-growth'
The deficit-wary Center for a Responsible Federal Budget believes that the nation's crumbling infrastructure is in such need of repair that spending now and paying for it later still could be "pro-growth" – although not funding these improvements could "shrink the economy."
Last year Trump proposed a package that would have provided $200 billion in seed money for what the administration said would spur as much as $1.5 trillion in infrastructure investment thanks to streamlined permitting process. Trump was not particularly enthusiastic about the proposal, which went nowhere.
Pelosi stressed that Democrats came to the White House "to do something for the American people," not criticize Trump.
It was a meeting that caused the political class to hold its breath to see if Trump would invite cameras – as he did before a contentious December face-off during which he told "Chuck and Nancy" that he would be "proud to shut down the government for border security." There was also the potential that Trump would walk out on the meeting – as he did in January after Democrats said they would not fund his beloved border wall.
From all appearances, the Cabinet Room sit-down, also attended by five other House and Senate Democrats, lacked both drama and rancor. Democrats left smiling. The White House sent out a nice statement afterward.
"In previous meetings the president has said, if these investigations continue, I can't work with you," Schumer told reporters. "He didn't bring it up. I believe that we can do both at once." Both sides can come up with some good ideas about infrastructure, Schumer noted, "and the House and the Senate can proceed in its oversight responsibilities. The two are not mutually exclusive and we are glad he didn't make it that way."
On the day before the meeting, Pelosi and Schumer sent Trump a letter outlining Democrats' goals – that the package should go beyond transportation by funding clean energy, broadband, water, schools and housing. The letter also called for protections for labor, women, veterans and minority-owned businesses.
'Legislate or litigate'
Across the country at a Milken Institute conference in Los Angeles, White House Chief of Staff Mick Mulvaney said he foresaw the talks breaking down over the Republicans' desire to change environmental laws to speed up the permit process for big projects and Democrats' intent to hold multiple investigations, perhaps impeachment hearings, against Trump.
"They either have to choose to legislate or litigate," Mulvaney said of Democrats. "You can't have it both ways."
Mulvaney also said he thought the United States Mexico Canada Agreement treaty, which Trump negotiated with Mexico and Canada to succeed NAFTA, has a better chance of passing than an infrastructure package.
Last year, Senate Democrats presented a $1 trillion, 10-year jobs and infrastructure package that went nowhere. Schumer confessed that Democrats had started negotiating with a lower figure, but "even the president was eager to push it up to $2 trillion."
Senate Majority Leader Mitch McConnell noted that "his roommate" – wife Elaine Chao, Trump's Transportation Secretary – was in the room, as were other members of the Trump inner circle, but no Republican senators attended the event. McConnell also said that funding the projects by reducing the 2017 tax cuts was a "non-starter" unlikely to win support from Senate Republicans.
Asked if the measure is likely to be passed, Brookings' Tomer responded, "The diplomatic answer is that there are many, many more hurdles to overcome which have been difficult in past efforts, both on the Hill" and for presidents. Between the huge amount of money and gigantic list of programs, the optimistic answer, he added, is, "This starts the large slog of rebuilding public trust."
Contact Debra J. Saunders at dsaunders@reviewjournal.com or at 202-662-7391. Follow @DebraJSaunders on Twitter.
"We cannot ignore the needs of the American people."
-House Speaker Nancy Pelosi, outside the White House Tuesday