Trump embarks on 12-day swing through Asia
November 2, 2017 - 6:29 pm
Updated November 2, 2017 - 9:05 pm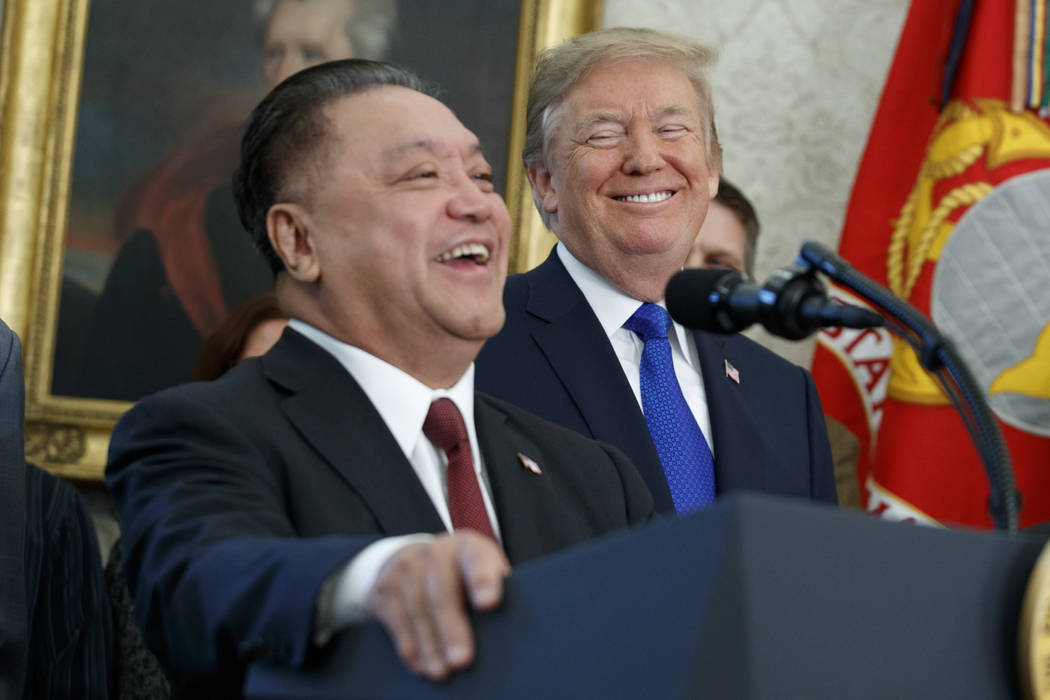 WASHINGTON — President Donald Trump leaves Friday on his first official visit to Asia — a 12-day journey that starts in Hawaii and will take him and his entourage to Japan, South Korea, China, Vietnam and the Philippines. It will be his fourth trip abroad and the longest to date.
Trump will hit the links with Japanese Prime Minister Shinzo Abe, skip the DMZ in South Korea but address the National Assembly, enjoy a state visit with Chinese President Xi Jinping and attend conferences with Asian leaders in Vietnam and the Philippines.
He also will venture into diplomatic territory, unhindered by his own role in undercutting his team. Last month, Trump tweeted, "I told Rex Tillerson, our wonderful secretary of state, that he is wasting his time trying to negotiate with Little Rocket Man," as Tillerson was trying to work with Beijing to turn up the heat on North Korea.
The trip comes at a dicey time for the Trump administration on the domestic front.
Special counsel Robert Mueller on Monday indicted Paul Manafort and Rick Gates, two GOP campaign consultants who worked in Trump's 2016 camp. A member of a campaign national security advisory panel also pleaded guilty to lying to FBI agents about his contacts with Russian operatives.
'Very distracting to the president'
Chief of staff John Kelly told Fox News' Laura Ingraham, the probe is "very distracting to the president, as it would be to any citizen."
House Republicans on Thursday released a framework for the president's promised tax cut plan. Trump said he wants the Tax Cuts and Jobs Act to reach his desk "by Thanksgiving if possible." It won't be an easy road, even with the GOP's control of both houses of Congress.
Treasury Secretary Steve Mnuchin and economic adviser Gary Cohn will skip the trip so that they can keep the heat on Congress.
On the international stage, the international community is holding its breath to see if Trump can wrangle the support he'll need to pressure North Korea to abandon its nuclear ambitions.
Since Trump took the oath of office, he and North Korean strongman Kim Jong Un have baited one another in a war of words. Trump has called Kim "Little Rocket Man"; Kim countered by calling Trump "a mentally deranged U.S. dotard."
The Hermit Kingdom's saber-rattling also hit a scary pitch in September after Kim conducted a sixth nuclear test and launched a ballistic missile over Japan.
Ellen Tauscher, an undersecretary of state under former President Barack Obama, said she believes this is the wrong time to visit the volatile region and hopes Trump refrains from any posturing.
"I'm looking for temperance and a sense that the president understands that this is a very volatile area made more volatile by his intemperance and his tweets and his bullying," she said. "The region is going to want a lot of reassurance."
National Security Adviser H.R. McMaster rejected the suggestion that Trump's language is inflammatory. "What's inflammatory is the North Korean regime," he said.
At a press briefing Thursday, McMaster said that world leaders no longer see North Korea as a threat mainly to the United States — they see Kim as a threat to all nations.
Trump has appealed to China to cut off resources to its dependent neighbor. Beijing responded by voting in favor of U.N. sanctions that cut off oil and textile imports. U.S. Ambassador to the United Nations Nikki Haley hailed the vote as a tough measure that could prompt change from an "outlaw regime."
'An anaconda strategy'
For his part, Trump has learned that for all his outreach to China's Xi, Beijing can or will do only so much to curb its erratic neighbor.
Dean Cheng, a senior fellow at the right-leaning Heritage Foundation, observed that while Trump's rhetoric can be harsh some days, and conciliatory on others – sanctions that have isolated Kim. He described the Trump effort as "a steady constriction of North Korea, it's almost like an anaconda strategy."
If Trump does not succeed in moving all five nations he visits to show international resolve to denuclearize North Korea, Cheng sees it as something of a win if Japan and South Korea stand squarely with the United States.
But Tauscher, the former Obama administration diplomat, said Trump's criticism of the U.S.-South Korean trade pact negotiated in 2007 could undermine his chances of getting South Korean President Moon Jae-In to join in challenging North Korea.
"I think it's boneheaded," said Tauscher. It's no way to respond to an ally's existential threat, she said, because, "You look and sound tone deaf."
Trump will skip the DMZ when he visits Seoul. A senior administration official told reporters Trump did not have time because he wants to visit U.S. troops at Camp Humphreys to highlight South Korea's "role in sharing the burden of supporting this critical alliance."
Besides, the official added, offical treks to the DMZ are "becoming a little bit of a cliché, frankly."
Trade also will be an issue in Beijing, or perhaps a bargaining chip. Other issues likely to percolate, Cheng said, are the administration's probe into charges the Chinese have stolen American intellectual property. Then there's the issue of artificial islands in the South China Seas – or as McMaster put it, "respect for the freedom of navigation."
State visit to Japan
Trump's visit to Japan also will be a state visit. Abe and Trump hit it off before the inauguration, when Abe visited Trump Tower and presented the president-elect with a gold driver. After he took office, Trump hosted Abe and his wife at Mar-a-Lago in February.
Trump will meet Philippine President Rodrigo Duterte for the first time at a meeting of the Association of Southeast Asian Nations in Manila. The two presidents have spoken on the phone and exchanged letters, a senior administration official told reporters, and have a "warm rapport."
Duterte's war on drugs has led to murder on the streets. Tauscher warned, "Don't throw a bear hug around Duterte."
Russian President Vladimir Putin will attend the Asian-Pacific Economic Cooperation summit in Vietnam. Asked if Trump and Putin would meet in Vietnam, McMaster said nothing was planned, but did not rule it out.
Contact Debra J. Saunders at dsaunders@reivewjournal.com or 202-662-7391. Follow @DebraJSaunders on Twitter.
President's itinerary
— Nov. 3: Pearl Harbor, Hawaii.
— Nov. 5: Tokyo.
— Nov. 7: Seoul, South Korea.
— Nov. 8: Beijing.
— Nov. 11: Da Nang and Hanoi, Vietnam.
— Nov. 12: Manila, Philippines.