Trump, Republicans celebrate final passage of tax-overhaul bill
December 20, 2017 - 11:16 am
Updated December 20, 2017 - 5:52 pm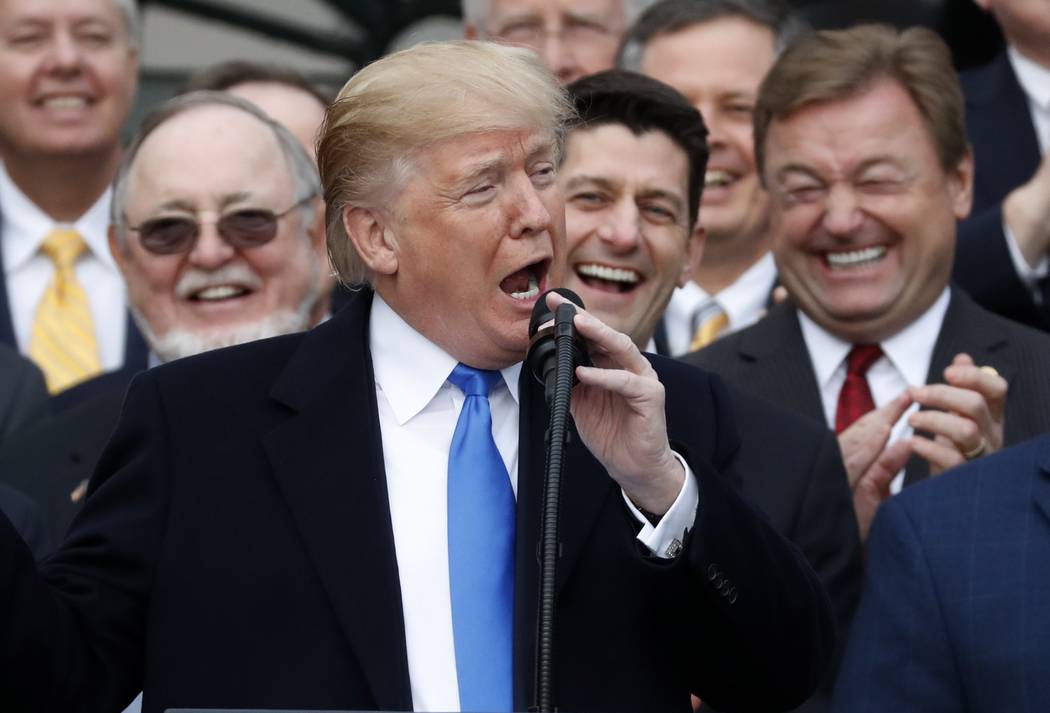 WASHINGTON — President Donald Trump celebrated his first and only big legislative win in 2017 Wednesday with a ceremony at the White House south lawn.
"We are making America great again," Trump declared, after the House gave final approval to a massive overhaul of U.S. tax laws. "I don't know if we'll have bigger moments, but we hope to."
If the Tax Cut and Jobs Act had failed, Trump would have entered 2018 under a shadow — as a chief executive who couldn't pass a big bill even with his party's control of the Senate and House. Instead, the House provided the vote needed to finalize the measure's passage and Republican lawmakers were bused from the Capitol so that they could join Trump in his moment of triumph.
The tax overhaul bill slashes tax rates for businesses and individuals, and nearly doubles the standard tax deduction and child tax credit. Republicans maintain that the tax overhaul will spur economic growth and job creation and increase American wages.
According to the Tax Policy Center, the package will reduce taxes for some 80 percent of taxpayers next year, while five percent will pay more.
Not a single Democrat voted for the GOP measure, which they said unfairly gives big breaks to businesses and wealthier Americans at the expense of middle- and working-class families. They also criticized the measure for adding a projected $1.5 trillion to the nation's debt..
Democratic leaders, bolstered by polls that show voter disapproval of the package, vowed to make the measure a losing issue for Republicans in 2018. "This tax bill will be an anchor around the ankles of every Republican," Senate Minority Leader Chuck Schumer, D-N.Y., warned Wednesday.
Democrats have initiated a Twitter campaign with the hashtag #GOPTaxScam.
Fuel for the economy?
Trump, however, was emboldened by AT&T Inc.'s announcement that the bill's passage prompted plans to increase U.S. capital spending by $1 billion and provide $1,000 bonuses to more than 200,000 U.S. workers, which he sees as proof of the plan's ability to light the U.S. economy like rocket fuel.
Sen. Dean Heller, D-Nev., stood behind Trump during the ceremony on the south lawn. The bill is likely to be a prominent issue during his 2018 re-election campaign. Heller voted for the legislation as did his fellow Nevada Republican, Rep. Mark Amodei. The four Democratic members of Nevada's congressional delegation voted against the bill.
The last time Trump took a victory lap following a congressional vote was in May, after the House passed a bill to repeal and replace President Barack Obama's Affordable Care Act. Later, however, the GOP-controlled Senate could not produce the votes needed to pass a Senate bill.
The Republican president was determined not to experience defeat again. He became top salesman for the House and Senate bills, making 18 appearances to push the measure since August, as surrogates traveled the country to sell the bill.
Around 3 p.m. Wednesday, Trump and Vice President Mike Pence walked toward the podium under an overcast sky. On either side of the South Portico, Republican members of Congress stood on twin stairways to bask in their shared glory.
GOP leaders praised Trump profusely. "Something this big," said House Speaker Paul Ryan, R-Wis., "could not have been done without exquisite presidential leadership."
Middle-class tax savings
Before the event, Senate Majority Leader Mitch McConnell, R-Ky., presented Trump with a "Slugger Nation" bat to symbolize how he'd "gone to bat for the middle class."
"It's always a lot of fun when you win," Trump said with a smile.
"The typical family of four earning $75,000 will see an income tax cut of more than $2,000," said Trump, who believes the cut will be larger.
According to the Tax Policy Center, people who make less than $25,000 will see an average tax cut of $60; those who earn between $49,000 and $86,000 will get about $900, and those in the top 1 percent of income — earning more than $733,000 — will receive around $51,000 in tax savings.
The Internal Revenue Service will recalculate withholding guidance in January with the expectation that workers will enjoy the benefits of the new tax code as early as February.
Senator Tim Scott, R-S.C., said the bill is not about Washington, the left or the right. "It's about single-parent moms who are looking for a reason to be hopeful in 2018. The tax reform plan delivers for the average single mother a 70 percent tax cut."
On the left, critics renewed their call for Trump to release his tax returns to prove that he would not benefit from the GOP plan. When the topic was broached at Tuesday's press briefing, Press Secretary Sarah Sanders responded that Trump would not release his returns while he is under audit. (A president's tax returns are automatically audited each year.)
GOP stalwarts are counting on extra money in people's pockets to increase the tax bill's popularity over time. As McConnell noted after the Senate vote Tuesday, "If we can't sell this to the American people we ought to go into another line of work."
Contact Debra J. Saunders at dsaunders@reviewjournal.com or at 202-662-7391. Follow @DebraJSaunders on Twitter. The Associated Press contributed to this story.