Trump to campaign in Nevada on Sunday
Updated October 13, 2020 - 7:35 pm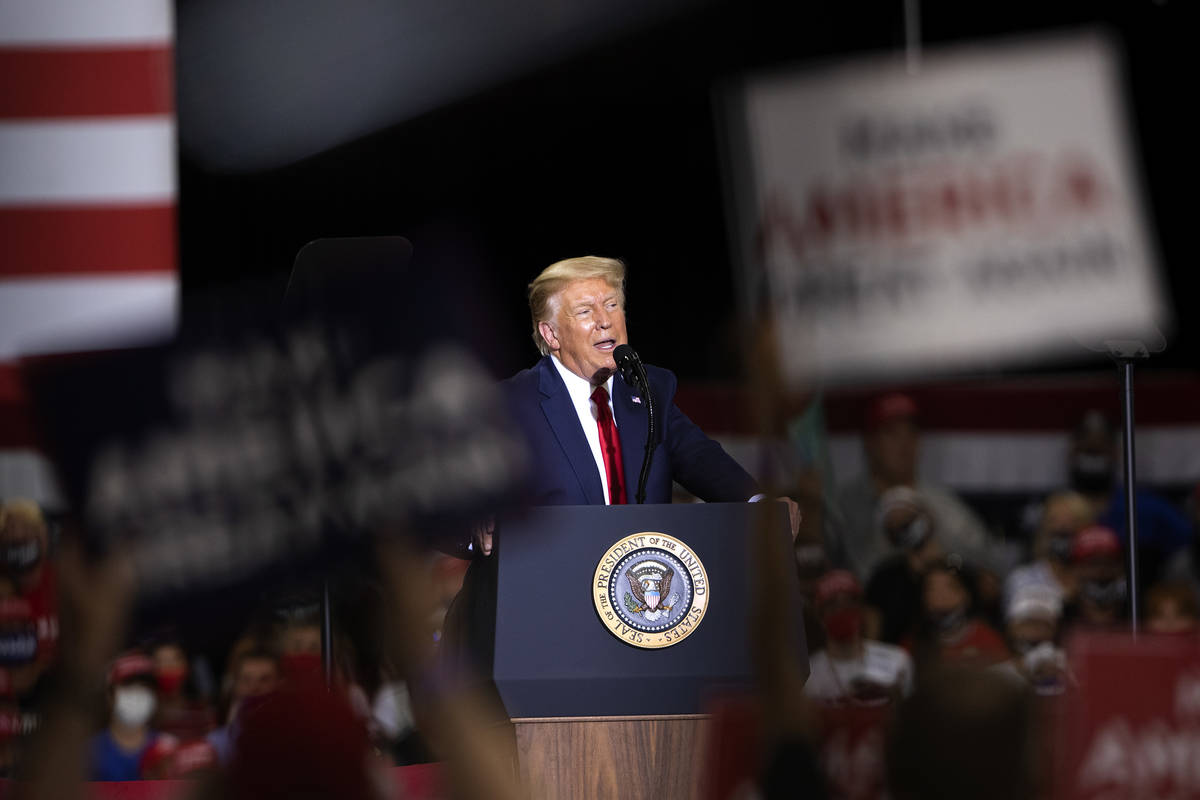 WASHINGTON— President Donald Trump will stump in Nevada on Sunday, according to a campaign source. Trump will hold an outdoor rally in Elko and likely continue to Las Vegas for another event.
The stops, followed by former Vice President Joe Biden's stop in Las Vegas Friday, provide evidence that both campaigns see Nevada, which Hillary Clinton won by 2.4 percent of the vote, as winnable.
Trump last campaigned in Nevada on Sept. 13 during a controversial rally in Henderson, his first indoor rally since a June 20 rally in Tulsa. Before he addressed a packed room, Trump told the Review-Journal during an exclusive interview, he was not concerned about contracting the virus because, "I'm on a stage and it's very far away."
Trump also blamed Gov. Steve Sisolak for setting a 50 per person limit on public gatherings that prevented his campaign from booking the event in one of six outdoor venues.
On Oct. 2, Trump announced he tested positive for the coronavirus and was taken to Walter Reed National Military Medical Center where he spent the weekend.
Monday ten days after testing positive, Trump's personal physician, Dr. Sean P. Conley, said the president had tested negative for the virus twice. Trump took that as a green light to return to the packed crowds that were a hallmark of his surprise 2016 victory.
During an event at Orlando-Sanford International Airport, Trump told a crowd that was outdoors but not socially distanced, "Now they say I'm immune. I feel so powerful I'll walk into that audience" and kiss everyone.
The Nevada Poll™, conducted by WPA Intelligence on behalf of the Review-Journal and AARP Nevada, found that 44 percent of likely Nevada voters would go for Biden and 42 percent for Trump, the Review-Journal reported Tuesday. Biden's lead is within the poll's margin of error of 4.4 percentage points.
Contact Debra J. Saunders at dsaunders@reviewjournal.com or 202-662-7391. Follow @DebraJSaunders on Twitter.