Trump wants to end automatic citizenship for some US-born babies
October 30, 2018 - 4:27 am
Updated October 30, 2018 - 7:16 pm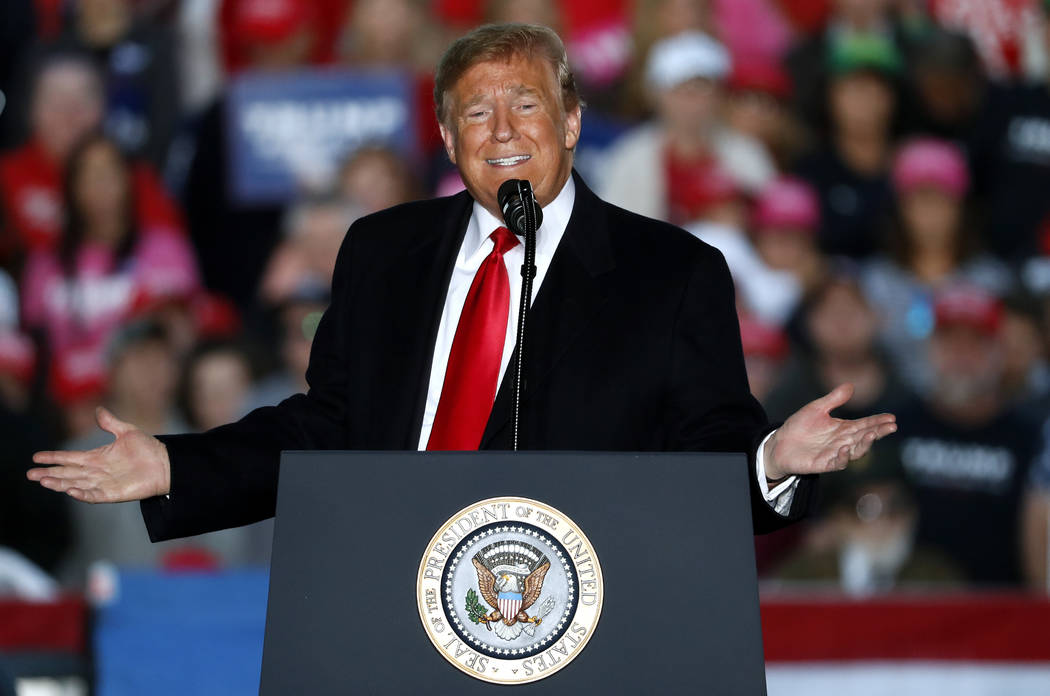 WASHINGTON — President Donald Trump plans to sign an executive order to end automatic citizenship for babies born in the United States to noncitizens and immigrants in the country illegally, he told the news website Axios in an interview released Tuesday.
A week before the midterm election, Trump returned to a frequent campaign theme – that the government should not confer citizenship on "anchor babies" or children born in the United States to undocumented parents.
"It was always told to me that you needed a constitutional amendment" to change the birthright citizenship clause in the 14th Amendment, Trump said. "Guess what? You don't."
House Speaker Paul Ryan, R-Wis., disagreed. "You cannot end birthright citizenship with an executive order," he told Kentucky radio station WVLK. "As a conservative, I'm a believer in following the plain text of the Constitution."
The 14th Amendment to the U.S. Constitution, adopted in 1868, states: "All persons born or naturalized in the United States, and subject to the jurisdiction thereof, are citizens of the United States and of the State wherein they reside."
"It's been a customary practice to consider anyone born here a citizen even if their parents were illegal aliens or tourists," said Mark Krikorian of the pro-enforcement Center for Immigration Studies. But "there's never been a court decision" to that effect, he added.
In recent years, advocates for tougher enforcement of federal immigration law have argued that an amendment designed to confer citizenship on former slaves after the Civil War has been misinterpreted to grant citizenship to all babies born in the United States, including to undocumented immigrants.
"This is not a serious legal issue," lawyer Michael Kagan of the UNLV Immigration Clinic said of Trump's remarks. "It's not something he has the authority to do. It seems like a divisive thing to throw out in the media before a high-stakes election."
Legal opinions differ
Suzanna Sherry, a professor of law at Vanderbilt Law School specializing in constitutional questions, said those advising Trump that he can change the Constitution via executive order are simply mistaken. "He can't do it by himself and, in fact, he can't do it even if Congress passed a statue."
"I think it would take a Constitutional amendment," she said.
But others suggest the president may have an opening.
Jon Feere, a senior adviser at Immigration and Customs Enforcement, is among those who has long argued that the president could limit the citizenship clause through executive action.
"A president could direct his agencies to fall in line with his interpretation of the Supreme Court's rulings, which are arguably limited to children of permanently domiciled immigrants (the court has never squarely ruled on children born to tourists or illegal aliens). He could direct his agencies to issue Social Security numbers and passports only to newborns who have at least one parent who is a citizen or permanently domiciled immigrant," he wrote in 2015 in an op-ed in the Hill.
In his interview with "Axios on HBO," Trump said the U.S. is "the only country in the world where a person comes in, has a baby and the baby is essentially a citizen of the United States for 85 years, with all of those benefits. It's ridiculous. It's ridiculous and it has to end."
In fact, some 30 countries automatically grant citizenship to children who are born within their borders to immigrants in the country illegally, according to a 2010 Center for Immigration Studies paper. That paper also noted that the U.S. and Canada are the only nations with "advanced economies" that confer citizenship when children with undocumented parents are born within its borders.
"I feel unwanted," Briceida Castro, 26, an organizer of the Progressive Leadership Alliance Nevada Action Plan, told the Review-Journal. A citizen born in the United States to undocumented parents, Castro felt her family already was under attack.
"I don't think he should be doing this as president," Castro said of Trump's plan. "I think it's his duty to protect and stand for everybody here, not just citizens, for the country."
'You are wrong'
University of Virginia Law School professor Saikrishna Prakash said Trump is "overturning long-standing practice."
"There are millions of people who think they are citizens because they were born in the United States. And he is telling them, you are wrong."
Prakash, who specializes in separation of powers, asserted that Trump has the authority to tell federal agencies which individuals they should recognize as citizens under his interpretation of the 14th Amendment.
But anyone hurt by such an order could turn to the courts for relief. Thus, Prakash said, "This is not a question the president can decide unilaterally."
In 1898, the U.S. Supreme Court ruled that Wong Kim Ark, the son of Chinese citizens living in San Francisco, was a citizen because he was born in the United States – a decision many legal scholars believed settled the birthright citizenship question.
In June, former national security official Michael Anton argued in the Washington Post that the 1898 decision applied to "children of legal residents" but not "children born to people living here illegally."
According to the Pew Research Center, in 2014, 275,000 babies – or 7 percent of all births – were born to unauthorized immigrant parents in the U.S.
Contact Debra J. Saunders at dsaunders@reviewjournal.com or 202-662-7391. Follow @DebraJSaunders on Twitter. The Associated Press contributed to this report.
Nevada's senators react
"Our president continues to promote hate in America, undermine our country's values, and attack our Constitution. Birthright citizenship is a constitutional guarantee. President Trump should be uniting our country in the wake of the violence and tragedy of the past few days, not attacking immigrants for political gain."
-Sen. Catherine Cortez-Masto, D-Nev.
"This issue is a symptom of the larger problems we are facing. The reason we keep having this immigration discussion is because we have not passed immigration reform. … I understand the President's frustration on immigration and border security because I am frustrated too."
– Sen. Dean Heller, R-Nev.
Lindsey Graham seconds Trump proposal
WASHINGTON — Sen. Lindsey Graham, a previous advocate of bipartisan immigration overhaul, and who could be the chairman of the Judiciary Committee in the next Congress, is praising President Donald Trump's effort to roll back birthright citizenship by executive fiat.
The South Carolina Republican on Tuesday called the longstanding process of granting citizenship status an "absurd policy."
Graham, a former Air Force attorney and judge who is in the middle of a cross-country tour campaigning for Republican candidates for Senate and other key races, also announced that he would be filing corresponding legislation in the Senate.
"The United States is one of two developed countries in the world who grant citizenship based on location of birth," Graham said. "This policy is a magnet for illegal immigration, out of the mainstream of the developed world, and needs to come to an end."
CQ-Roll Call