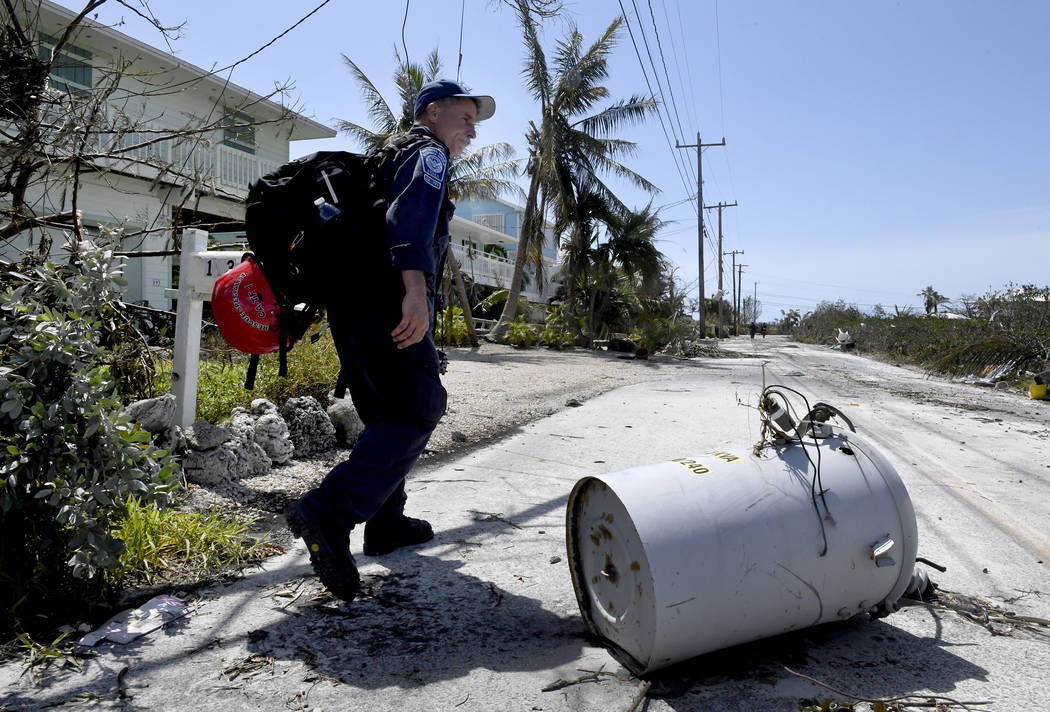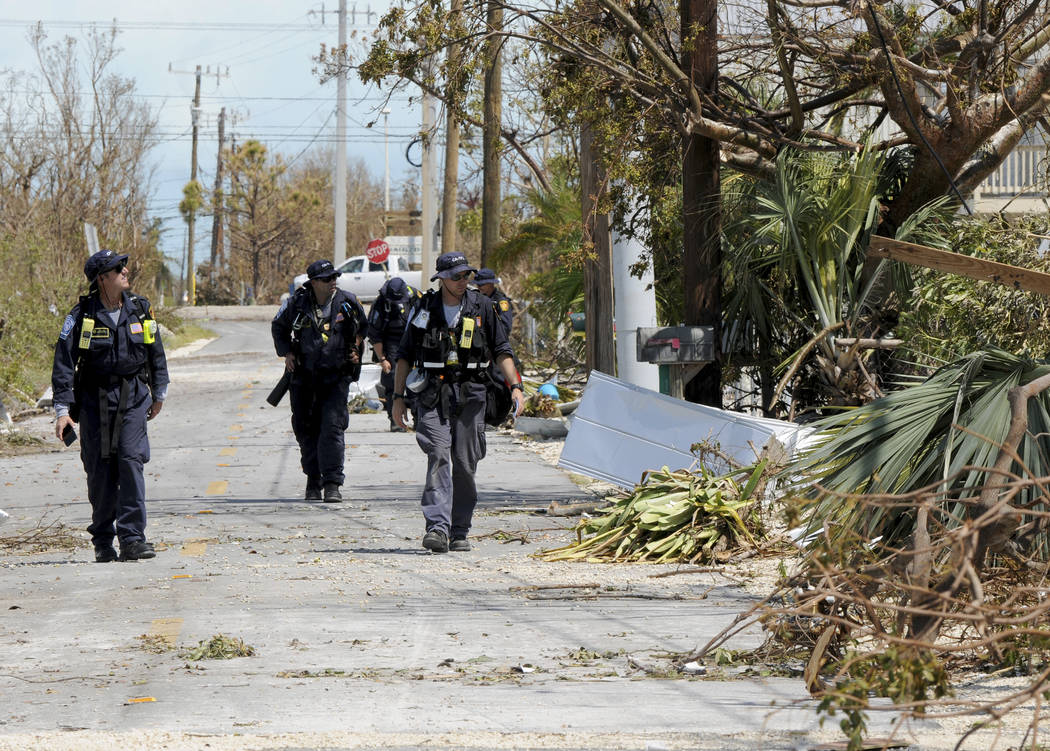 WASHINGTON — President Donald Trump may have found the pursuit in which a nonpolitician can succeed where professional politicians often have fared miserably — disaster management. As he heads to Florida on Thursday, Trump can feel confident that, where Irma sowed chaos, he uncharacteristically brought order.
Many of Trump's predecessors have found that a president can never do enough. After the catastrophic 2010 Deepwater Horizon oil spill, President Barack Obama was forced to admit his administration's response lacked "sufficient urgency." In 2005, Hurricane Katrina ravaged the reputation of President George W. Bush, years after his father, George H.W. Bush, was accused of being sluggish in response to the Category 5 Hurricane Andrew.
In his handling of Hurricanes Harvey and Irma, Trump has shown a gift for displaying confidence and a know-how about handling real estate — even when it is stewing in fetid water. His past life as a developer also gives him a sophisticated take on logistics that recognizes how essential electricity, water and fuel are to making communities livable again. Right now, you have to work hard to find critics of his handling of two perfect storms.
"So far this looks pretty close to textbook," said Chuck DeVore of the Texas Public Policy Foundation in Austin, who described Trump's response to the disasters as "exemplary."
"I don't think I've seen one complaint about the national response in Texas," said Matt Mackowiak, a GOP strategist who works in Texas and Washington.
In short, Trump and Washington elected officials have learned from mistakes of the past and are determined not to repeat them.
All of Washington recalls how critics slammed Bush after Katrina for flying over flooded country on his way back to Washington from a vacation at his Texas ranch. A gesture that was supposed to show a caring leader instead was framed as the act of an aloof executive. Trump did not make the same mistake.
Visiting Texas after Harvey
Trump visited Texas twice. During the first visit on Aug. 30, he and his entourage touched down in Corpus Christi and Austin — not Houston, the White House explained, because the president did not want to disrupt recovery efforts. Trump tweeted, "After witnessing first hand the horror & devastation caused by Hurricane Harvey, my heart goes out even more so to the great people of Texas!"
Critics pounded on Trump's inference that he had seen Harvey's worst work firsthand. Jason Silverstein at the New York Daily News called Trump's tweet "a category 5 exaggeration."
Within the week, Trump visited Houston, where his attention was welcome.
Alan Bernstein, director of communications for Houston Mayor Sylvester Turner, said the mayor would describe his meeting with Trump as "brief" and "good." Trump promised advanced funding from FEMA, not reimbursement. Trump understood the importance of debris removal.
When Turner asked for special funding for local first responders whose homes were flooded, Bernstein recalled, "The president literally gave a thumbs-up to that idea — although we've been told it may not happen at this time."
Did it help that Trump was visiting a state that gave him a nine-point edge over Hillary Clinton in the election and one where he could work with Republican Gov. Greg Abbott? "It doesn't hurt," Bernstein noted.
Houston, however, went for Clinton by a sizable margin, and Turner is a Democrat. "I have not heard the mayor complain either in public or in private that the White House is falling down on any of its responsibilities to Houston," said Bernstein. Obviously, Bernstein added, if Trump doesn't deliver on promises he made, Turner will hold Trump accountable.
FEMA's response
It helps, too, that Trump's pick to head the Federal Emergency Management Agency, Brock Long, has firsthand experience in America's highest-profile modern catastrophes. Long worked for FEMA during Katrina and Hurricane Rita and headed the Alabama Emergency Management Agency during the Deepwater Horizon oil spill.
Trump's FEMA has made it a priority to help open stores that provide the hardware needed to rebuild their homes in the wake of Harvey and Irma. Trump's FEMA is not looking for permanent solutions to housing needs, so much as short-term solutions.
"Our role is to provide sort of the bridge to get through the disaster," FEMA spokesman Kurt Pickering told ABC News. "We are not intended to make people or households back the way they were before, to make them whole. We're designed to get them through the emergency."
It also helps that Trump cut a deal with Democratic leaders that led to swift congressional approval of a measure that put a $15 billion down payment on aid for Harvey and Irma recovery.
"FEMA would have run out of money last Friday," noted Sen. Bill Nelson, D-Fla., on "Face the Nation."
Nelson added, "And there is the cooperation between the federal level, the state and the locals. That has been seamless cooperation, unlike 25 years ago in Hurricane Andrew, when you did not have that cooperation."
Homeland security adviser Tom Bossert echoed Nelson. "I believe Harvey, as I said earlier, was the best integrated, unified, joint federal, local, state response effort that our country has seen in its history," he told reporters Monday. Bossert also credited the military for providing "the largest flotilla in our nation's history" to help with recovery efforts in Florida, Puerto Rico, the U.S. Virgin Islands, St. Maarten and other non-U.S. islands.
"The overall response to these disasters has been improving over time," said Mackowiak, and technology has been very helpful. In 2005, for example, flood victims couldn't apply for assistance on their phones as they can now.
According to FEMA, the government already has approved 223,246 applications for assistance, including $181 million in public assistance grants for Harvey survivors.
The can-do aura could fade over time. As DeVore noted, while storm damage was swift, the long-term recovery will be slow-moving and will present opportunities for "fraud, waste and corruption."
For the moment, however, Trump has become an executive focused on specific problems. When reporters asked him about the cost of the cleanup Sunday, he responded, "Right now, we're worried about lives, not cost."
Contact Debra J. Saunders at dsaunders@reviewjournal.com or 202-662-7391. Follow @DebraJSaunders on Twitter.