White House explains delay in firing Flynn
Updated May 9, 2017 - 6:50 pm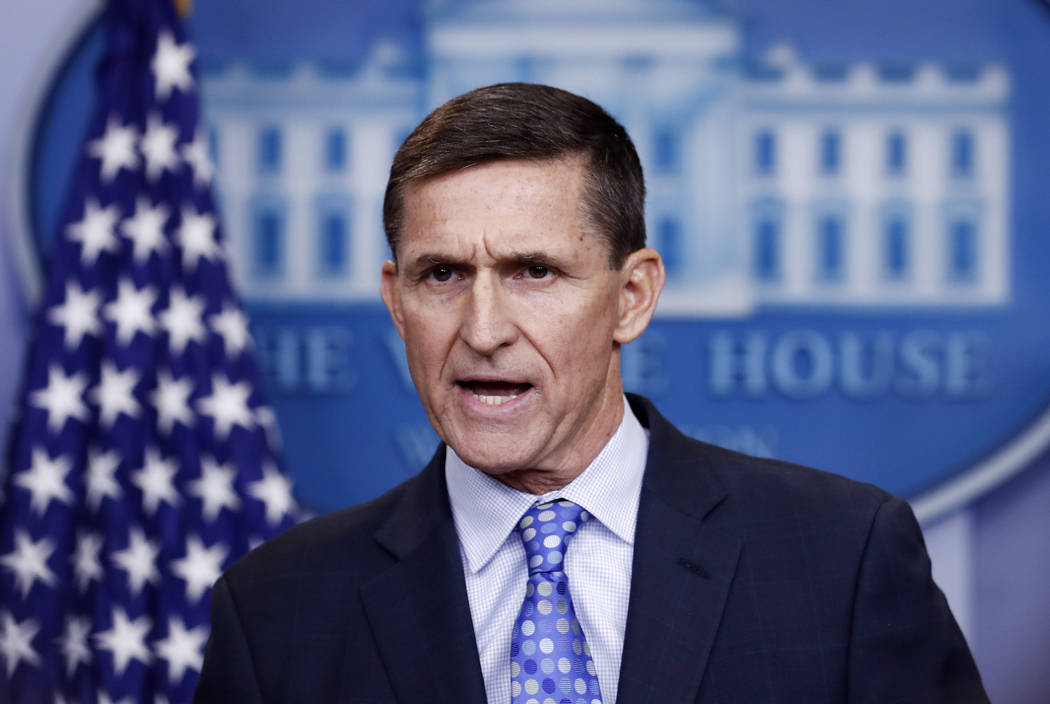 WASHINGTON — The White House tried Tuesday to explain why President Donald Trump delayed firing former national security adviser Mike Flynn for 18 days after former acting Attorney General Sally Yates told the administration that Flynn lied to Vice President Mike Pence.
At Tuesday's White House press briefing, the first question tossed to press secretary Sean Spicer, as expected, was why the president waited so long to fire Flynn.
The controversy began during the transition period when Flynn spoke over the phone with Russian Ambassador Sergey Kislyak. According to intelligence officials, the two discussed sanctions imposed by President Barack Obama to punish Russia for its efforts to interfere with the 2016 presidential election. Flynn denied that he discussed sanctions with Kislyak to Pence, who then repeated that assertion on CBS News.
Pence's errant remarks prompted Yates to contact White House counsel Donald McGahn. As she explained to a Senate Judiciary subcommittee on Monday, Flynn's falsehoods "created a compromise situation, a situation where the national security adviser essentially could be blackmailed by the Russians."
Spicer told reporters that the day after Yates' initial meeting with McGahn on Jan. 26, the White House counsel asked her to return "to discuss certain issues that she had left unclear at the time." She obliged.
Three days later, for reasons unrelated to Flynn, Trump fired Yates for refusing to defend his travel ban on individuals from seven Muslim-majority countries.
In the meantime, McGahn wanted to see documentation about Flynn's talk with Kislyak. The White House, Spicer explained, was skeptical of Yates because she was "not exactly a supporter of the president."
On Feb. 2, Spicer said, McGahn was able to look at the sensitive material. Within 11 days, Trump asked for Flynn's resignation, which, Spicer said, showed "the president acted decisively."
Trump turned to Twitter to talk back after Yates' testimony Monday. "Biggest story today between (former Director of National Intelligence James) Clapper & Yates is on surveillance. Why doesn't the media report on this? #FakeNews!"
Biggest story today between Clapper & Yates is on surveillance. Why doesn't the media report on this? #FakeNews!

— Donald J. Trump (@realDonaldTrump) May 8, 2017
In March Clapper told "Meet the Press" that as DNI, he had seen no evidence of collusion between Russian operatives and the Trump campaign team.
Clapper repeated that assertion Monday, although he was unaware of an FBI investigation into the matter.
Democrats criticize Trump for not firing Flynn until Feb. 13 — the day the Washington Post published a story that reported that, contrary to Pence's assertion, Flynn discussed sanctions with Kislyak.
As Sen. Richard Blumenthal, D-Conn., said to Yates, "Without that published report, and without the free press telling us a lot of what went on, Michael Flynn might still be sitting in the White House as national security adviser, because by January 30th, you were forced to resign, correct? You were fired."
Republicans asked a lot of questions about "unmasking" — the practice wherein intelligence officials request the identity of Americans subject to surveillance because they communicated with foreign subjects of U.S. intelligence spying.
Spicer frequently has chided the White House press corps for failing to ask more questions about the source of illegal leaks to the press. Clapper stipulated that leaks are bad for national security and leaking "unmasked" identities is a crime.
In 2016, Clapper testified, 1,934 Americans were "unmasked."
Contact Debra J. Saunders at dsaunders@reviewjournal.com or at 202-662-7391. Follow @DebraJSaunders on Twitter.