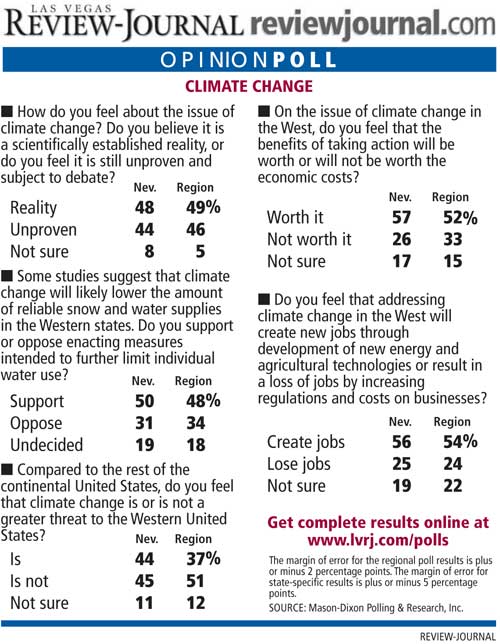 Half of Nevada residents would support restrictions on their water use to help stretch the region's shrinking supply in the face of climate change, according to a Review-Journal opinion poll.
Fewer than one third of Nevadans polled said they would oppose new restrictions on water use, while 19 percent of respondents were undecided.
Among the likely voters interviewed in six Western states, those in Nevada and Utah were most willing to accept new limits on their water use.
Activist Bob Fulkerson was pleasantly surprised by the results in Nevada.
"It shows that people are willing to do a lot more with water conservation, and that's encouraging," said Fulkerson, who is executive director of the Progressive Leadership Alliance of Nevada.
Several recent scientific studies warn that climate change could reduce rainfall and snow accumulation in the Rocky Mountains, leading to longer and more severe droughts on the Colorado River. The Las Vegas Valley gets 90 percent of its water from the river.
Though Nevadans remain split over whether climate change is real or unproven, 57 percent of those polled said the benefits of reacting to the phenomenon will be worth the economic costs.
Fifty-six percent of respondents said they thought efforts to address climate change would create new jobs in agriculture and alternative energy research and production.
The questions on climate change came as part of a wide-ranging survey commissioned jointly by the Review-Journal, the Denver Post and the Salt Lake Tribune. The poll was conducted in mid-August by Mason-Dixon Polling & Research of Washington, D.C., which interviewed 400 likely voters each in Nevada, Arizona, Colorado, New Mexico, Utah and Wyoming.
The margin of error for the regional results is plus or minus 2 percentage points. The margin of error for state-specific results is plus or minus 5 percentage points.
The level of support for water restrictions among Nevada residents comes as no surprise to J.C. Davis, spokesman for the Southern Nevada Water Authority. In a desert state that ranks as the nation's driest, the importance of water is never far from people's minds, he said. "It hits home. It's not some invisible factor to us."
There are limits to which conservation measures people are willing to support.
If pollsters asked about harsher punishments for water wasters, the response would be overwhelmingly positive. If they asked about making it illegal to wash a car in your driveway, "they'd get what we got when we tried that in 2003: torches and pitchforks," Davis said.
Of the seven Western states that share water from the Colorado River, all but one was included in the Review-Journal poll. Davis said he was "surprised" by the omission of California, whose share of the river is 14 times the size of Nevada's and the largest among the seven states.
Fewer than half of the Westerners polled, and 48 percent in Nevada, consider climate change to be "scientifically established reality." Arizona residents were the most confident and Wyoming residents the most skeptical about climate change.
Slightly more than half of those polled in the six states said climate change is no more of a threat in the West than it is throughout the country.
A similar percentage said taking action to deal with climate change would be worth the economic costs, though neither the action to be taken nor the costs were spelled out in the poll question.
Some 54 percent of those polled in the region believe addressing climate change in the West would create jobs "through the development of new energy and agricultural technologies."
A breakdown of the responses in the six states polled also reveals:
• More women than men, 53 percent to 45 percent, consider climate change to be scientific reality;
• More women than men, 51 percent to 45 percent, favor conservation measures to curb water use;
• And Western Democrats and independents, at 59 percent and 54 percent respectively, support conservation measures more than do Republicans, at 36 percent.
And, finally, there is this striking result from the poll, a disparity for which Al Gore might bear some responsibility: While 74 percent of Democrats in the West see climate change as a reality, 70 percent of Republicans consider it "unproven and subject to debate."
Contact reporter Henry Brean at hbrean@ reviewjournal.com or 702-383-0350.