Popular singer Eydie Gorme dies in Las Vegas at 84
August 10, 2013 - 8:45 pm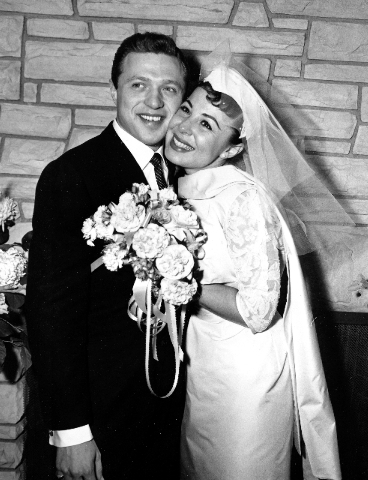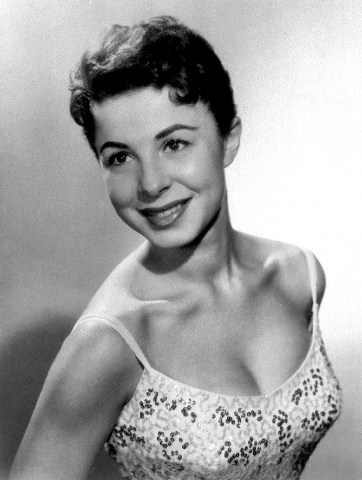 Eydie Gorme and Steve Lawrence were part-year residents of Las Vegas, but full-time representatives of the city's golden-age style and sound everywhere they performed.
Gorme died Saturday at age 84 at Sunrise Hospital and Medical Center following a brief, undisclosed illness, said her publicist, Howard Bragman.
Lawrence, the couple's son David and other loved ones were by her side when she died, Bragman said.
"Eydie has been my partner on stage and in life for more than 55 years," Lawrence said in a statement. "I fell in love with her the moment I saw her and even more the first time I heard her sing. While my personal loss is unimaginable, the world has lost one of the greatest pop vocalists of all time."
Though both married singers were successful recording artists, they will likely be remembered as the bantering tux-and-gown couple who spent much of their professional career on the Strip, and sustained an authentic connection to the Rat Pack era long enough to beguile subsequent generations.
For years they spent so much time working Las Vegas showrooms, "we started to get mail from fans: `You've retired,'" Gorme recalled in 2004.
MARRIED IN LAS VEGAS
The two were married in Las Vegas on Dec. 29, 1957, during Gorme's first solo engagement on the Strip. They were first co-billed as a couple at the Sahara in 1961, and went on to become regulars at the Sands and Caesars Palace.
In their final decade of performing together, they made light of the dubious honor of being booked to close two classic Las Vegas showrooms: the Circus Maximus at Caesars Palace in 2000, and the Stardust in 2006.
The couple once said they first bought a house in Las Vegas in 1980. By the early 1990s, they divided their residency between houses in Beverly Hills, Calif., and the Las Vegas Country Club.
"The magnitude of (today's Las Vegas) shows and the magnificence of them, the technology of them, is terrific, but I think after a while the humanness is gone," Lawrence said before the Stardust closing.
"With us it's a spotlight, a band and songs," Gorme added.
"There's never been a team like the two of them," said veteran conductor and arranger Vincent Falcone, who worked as the duo's musical director in the 2000s. "They were unquestionably the greatest vocal team that ever existed."
When Gorme would sing "Send in the Clowns" accompanied only by Falcone on piano, "she would put chills in me."
Gorme was a successful band singer and nightclub entertainer when she was invited to join the cast of Steve Allen's local New York television show in 1953.
She sang solos and also did duets and comedy skits with Lawrence, a rising young singer who had joined the show a year earlier. When the program became NBC's "Tonight Show" in 1954, the young couple went with it.
In a 2004 joint interview, the couple said there was no big story behind their decision to marry in Las Vegas during Gorme's co-billed engagement with comedian Joe E. Lewis.
"We got married there because Eydie was working there at the time," Lawrence said.
"Stevie didn't exactly want to get married, but we did," Gorme added in a way that mirrored the duo's onstage repartee.
GORME DID THE 'BOSSA NOVA'
Although usually recognized for her musical partnership with Lawrence, Gorme broke through on her own with the Grammy-nominated "Blame it on the Bossa Nova." The bouncy tune about a dance craze of the time was written by the Tin Pan Alley songwriting team of Barry Mann and Cynthia Weil.
Gorme would score another solo hit in 1964, but this time for a Spanish-language recording.
Gorme, who was born in New York City to Sephardic Jewish parents, grew up speaking both English and Spanish. When she and her husband were at the height of their career as a team in 1964, Columbia Records President Goddard Lieberson suggested she put that Spanish to use in the recording studio.
The result was "Amor," recorded with the Mexican combo Trio Los Panchos.
The song became a hit throughout Latin America, which resulted in more recordings for the Latino market, and Lawrence and Gorme performed as a duo throughout Latin America.
Gorme and Lawrence, meanwhile, had an impressive, long-lasting career in English-language music as well, encompassing recordings and appearances on TV, in nightclubs and in concert halls.
Throughout it, they stuck for the most part with the music of classic composers like Berlin, Kern, Gershwin, Cole Porter, Rodgers and Hammerstein, and other giants of Broadway and Hollywood musicals. They eschewed rock 'n' roll and made no apologies for it.
"People come with a general idea of what they're going to get," Lawrence said of their show in a 1989 interview. "They buy a certain cereal, and they know what to expect from that package."
Soon after their marriage, the pair had landed their own TV program, "The Steve Lawrence and Eydie Gorme Show," which was a summer replacement for Allen.
Not long after that, however, Lawrence entered the Army, and Gorme went on the nightclub circuit as a soloist until his return to civilian life two years later. "We didn't start working together again until he came out of the Army."
AFTER THE ARMY
After his discharge, they quickly reteamed, and their careers took off.
They appeared at leading nightclubs in Los Angeles, Chicago, New York and Las Vegas, combining music with the comedy bits they had learned during their apprenticeship on Allen's show.
The duo were regulars in the Caesars Palace rotation from 1971 through 1976. With nightclubs dwindling in popularity in the 1980s, they moved their act to large theaters and auditoriums, drawing not only older audiences but also the Baby Boomers who had grown up on rock 'n' roll.
"We had spent so much time in Vegas, the rest of the country thought were dead," Lawrence recalled in 2004.
The old days returned, briefly, in early 1992. The Desert Inn booked them alongside Frank Sinatra, Paul Anka and Liza Minnelli for an Old-Vegas star policy that lasted a year or so, until the hotel sold.
The couple toured as Sinatra's opening act in his final years on the road, and both Caesars Palace and the Stardust recognized their authenticity by choosing the duo to bring down the curtains on their historic showrooms.
"We're starting to take this a little personally," Lawrence joked before the Stardust show in October 2006. "We're not going to hold the last note too long because I believe the wrecking ball's in the parking lot."
Two years later, Lawrence performed at The Orleans without his spouse. Gorme, he explained then, never healed correctly after surgery for torn cartilage in her knee, and had other ongoing health concerns. "She wants to examine all her options," he said.
Falcone doesn't recall Gorme singing in Las Vegas after the Stardust closing. He conducted Lawrence's later solo dates in and out of Las Vegas, and said at some point Gorme considered herself retired, even if a public announcement was never made.
Though physical problems made it difficult for her to stand onstage, "her vocal acuity never wavered," Falcone added.Gorme, who was born Aug. 16, 1928, began to seriously consider a music career while still a student at William Taft High School in New York City's borough of the Bronx, where she had been voted the "Prettiest, Peppiest Cheerleader."
After graduation, she worked as a Spanish interpreter for a time but also sang on weekends with the band of Ken Greenglass, who encouraged her and eventually became her manager.
Her first big break came when she landed a tour with the Tommy Tucker band, and she followed that up with gigs with Tex Beneke, Ray Eberle and on radio and television. Among her radio appearances was one on a Spanish language show, "Cita Con Eydie ("A Date with Eydie"), which was beamed to Latin America by Voice of America.
Contact reporter Mike Weatherford at mweatherford@reviewjournal.com or 702-383-0288.