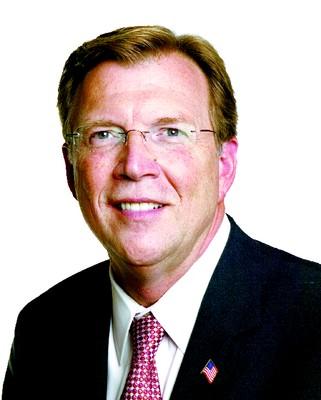 Rep. Jon Porter on Friday called on Attorney General Alberto Gonzales to resign, saying officials' testimony on the firing of eight U.S. attorneys has convinced him that the matter was "egregiously mishandled."
"I feel the American people have lost confidence in the attorney general and the management of the Department of Justice," Porter said in an interview Friday. "At a time when our country's at war and with many other challenges, we need to restore confidence."
It is the first time Porter has called for Gonzales to resign. The Nevada Republican said he wanted to give Gonzales "his day in court" and hear what the attorney general had to say for himself before taking a position.
Having heard testimony about the firings of U.S. attorneys, including Nevada's Daniel Bogden, "I feel he made the wrong decision, especially in Nevada," Porter said.
Porter joins a growing chorus of legislators from both sides of the aisle who say Gonzales should be gone. He joins at least five other Republican congressmen in asking for the attorney general's ouster based on the scandal surrounding the dismissals.
Porter is the only Republican in the Nevada delegation to take such a view thus far. Sen. John Ensign, R-Nev., has been sharply critical of Gonzales and defensive of Bogden, whom he recommended for appointment, but Ensign has stopped short of calling for his resignation.
Rep. Dean Heller, R-Nev., did not respond to multiple requests for comment Friday.
Nevada's Democrats, Senate Majority Leader Harry Reid and Rep. Shelley Berkley, have both said Gonzales should go.
Porter said he believes Gonzales has been a fine top prosecutor but has been revealed as a bad manager.
"It's the management of the operation," he said.
"He's done a fine job as attorney general, but his management has been questionable. How this was handled is his responsibility as head of the Department of Justice, and from what I was able to listen to, I don't feel he handled it properly or his staff handled it properly. It's a chain of command, and he's at the top."
According to Justice Department e-mails and officials' testimony, some of the U.S. attorneys were fired for apparently insufficient loyalty to President Bush. Democrats have said such partisanship should not apply to federal prosecutors, but Porter said he didn't have a fundamental problem with those positions being political appointments.
"That's how the process has worked for decades," he said. "They are appointed, they are at-will. But when you appoint someone, there needs to be a reason" to fire the person.