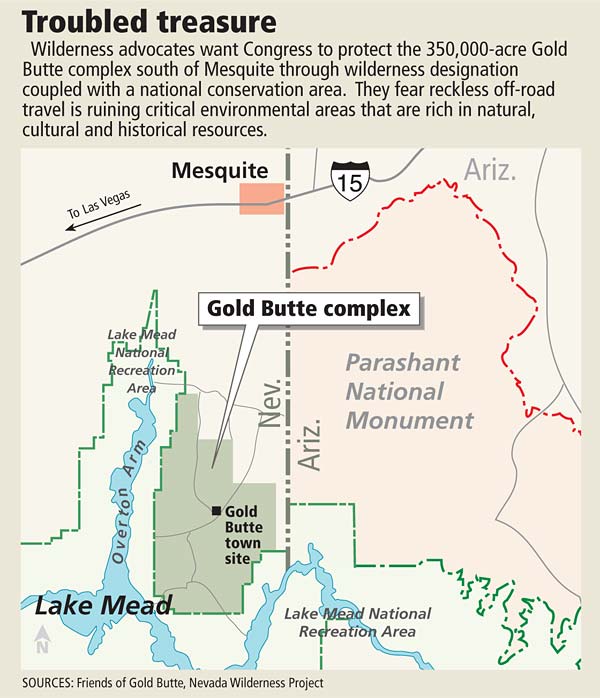 WASHINGTON — Nevada wilderness advocates have launched a new drive for Congress to designate more federally protected land in Clark County, and are targeting Rep. Jon Porter to take a lead on what could be a controversial issue.
The Nevada Republican said he is considering the proposal but probably will not decide soon whether to embrace the plan that calls for upgrading wilderness designations in the 344,400-acre Gold Butte region.
"There is always an urgency when it comes to preserve and protect public lands, and I understand that," Porter said. "But there is a process that has to happen first," including sign-offs from local communities.
Wedged between Lake Mead and the Parashant National Monument in Arizona, Gold Butte has been called by preservationists "Nevada's piece of the Grand Canyon."
The remote area 65 miles northeast of Las Vegas features intriguing rock formations, colorful sandstone cliffs, petroglyphs and remnants of mining sites that thrived for a few years at the turn of the century.
But in most all cases bills that seek to alter federal land use in Nevada are scrutinized by stakeholders that include government officials, ranchers, off-road vehicle enthusiasts and conservationists.
For close to a decade environmental groups have sought to designate Gold Butte as a national conservation area, the same level of protection as Red Rock Canyon and Sloan Canyon in the western and southern ends of the Las Vegas Valley.
Within the Gold Butte region, Sens. Harry Reid, D-Nev., and John Ensign, R-Nev., in 2002 arranged the most protective federal wilderness designations for Small Lime Canyon and Jumbo Springs, totaling 28,000 acres.
The Bureau of Land Management has designated 344,437 acres of Gold Butte — more than 537 square miles — as an "area of critical environmental concern." But advocates say that does not give the BLM enough tools against encroachment by dirt bike riders and paint ball warriors.
Advocates approached Porter in May with a new proposal to designate a portion of Gold Butte as wilderness surrounded by a national conservation area.
They also unveiled a poll financed by five organizations including the Nevada Wilderness Project, the Campaign for America's Wilderness, the Sierra Club, Friends of Nevada Wilderness and the Wilderness Society.
The survey, conducted by Republican pollster Glen Bolger, indicated 66 percent of Clark County residents would favor creating a national conservation area with wilderness at Gold Butte. Opposed was 27 percent, according to the poll of 400 likely voters. The margin of error was 4.9 percent.
In Porter's 3rd Congressional District, the poll numbers were 68 percent in favor and 26 percent opposed.
John Wallin, director of the Nevada Wilderness Project, said the groups have delayed release of their detailed plans so the Nevada delegation could examine them and discuss them with local officials.
"To be frank, we are still waiting to hear from Congressman Porter's office when they will be done communicating with some of the communities," Wallin said.
"The (Capitol) Hill calendar is compressing by the second and we think this needs to happen soon," he said.
Wallin said the plan is a compromise that reduces proposed wilderness by 80,000 acres and does not close any roads to satisfy those concerned that land will be locked off.
"On its own merits there is real opportunity here for conservation," Wallin said. "We can completely jump past the normal very tired conversations as to whether there is access being banned. We can do this without banning anybody."
Wallin said wilderness groups are seeking broad input. Discussions are ongoing with officials in Clark County and Mesquite, "and we are ready to go talk to the Moapa Town Board."
Porter's district contains Gold Butte.
He also is the chief sponsor of a House bill, introduced in October with Rep. Dean Heller, R-Nev., that conveys 4,900 acres to Mesquite for an airport and associated development.
Wilderness advocates want the Gold Butte plan to be added to that bill. Clark County leaders and representatives of other interest groups also are eyeing the Mesquite bill.
According to two sources, the county would like to add language to gain ownership of Nellis Dunes, a 10,000-acre patch of desert near Las Vegas Speedway that is popular among off-roaders. The dirt track would be turned into a country recreation area.
In an interview Thursday, Porter said there is more homework to be done to vet the Gold Butte proposal, and whether it should be added to the Mesquite bill.
"There are a lot of families and individuals who have been doing their best to preserve and protect Gold Butte for years," Porter said. "Most everyone we talk to understands and agrees there needs to be some preservation and protection.
"But before anything is attached to that (Mesquite) bill, at least within my control, we are going to make sure the town boards of Moapa Valley are going to have a say and the community of Moapa Valley and Virgin Valley," Porter said. "They have been stewards of that area for years and they need to play an integral part."
Mesquite officials expect that the airport land bill will acquire an amendment of some kind that will be satisfactory to environmentalists.
Successful Nevada public land bills usually open BLM land for development, balanced with new wilderness. That formula enabled passage of a Clark County bill in 2002, a Lincoln County bill in 2004 and a White Pine County bill in 2006.
"An environmental component is almost mandatory," Mesquite City Manager Tim Hacker said. "It is just the reality of moving land acts through Congress."
Contact Stephens Washington Bureau Chief Steve Tetreault at stetreault@stephensmedia.com or 202-783-1760.