Officials react to change in marijuana policy
January 4, 2018 - 11:45 am
Updated January 4, 2018 - 6:10 pm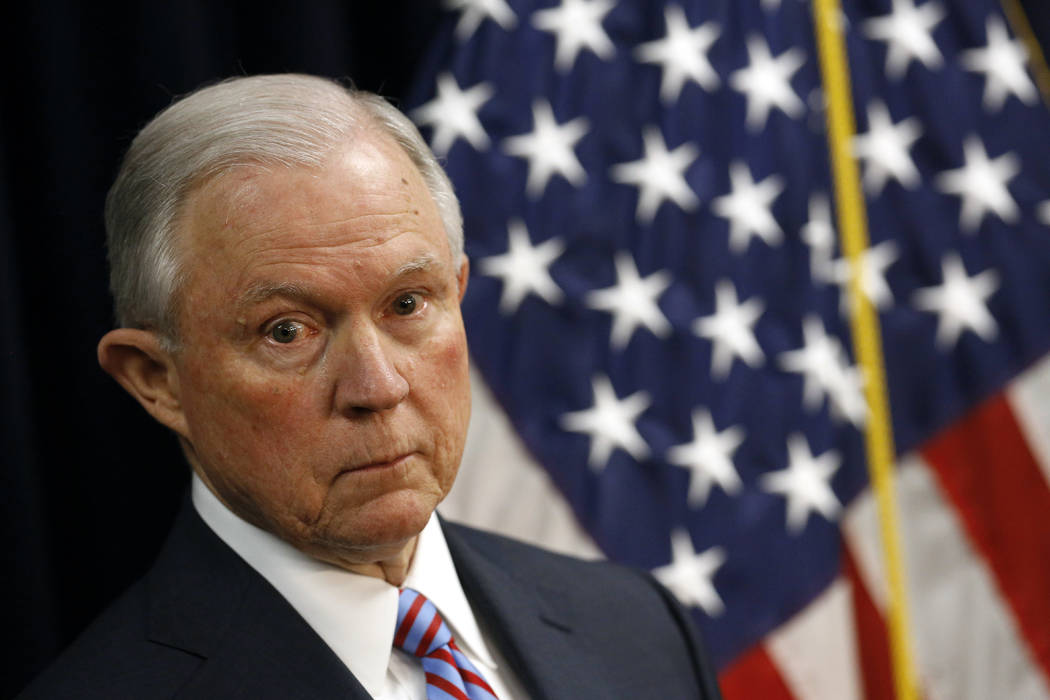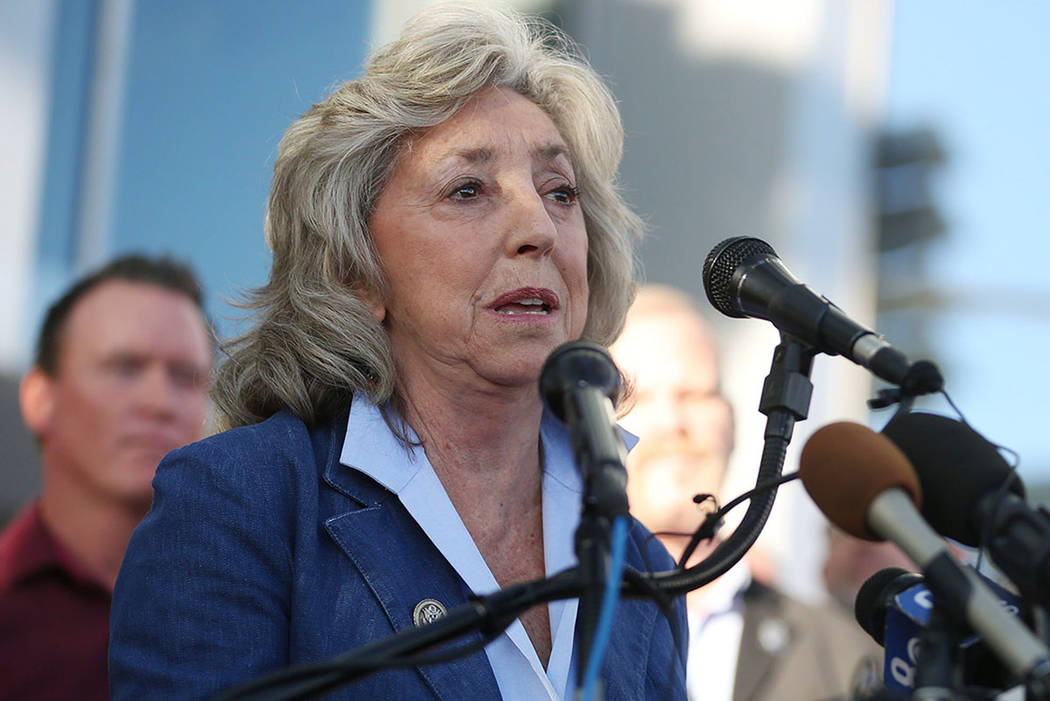 The U.S. Department of Justice announced Thursday that it will rescind the federal legal guidance that gave states the authority to enforce their marijuana laws. Nevada is one of eight states, plus the District of Columbia, that have legalized recreational marijuana. The move prompted reaction from across the country:
"It is the mission of the Department of Justice to enforce the laws of the United States, and the previous issuance of guidance undermines the rule of law and the ability of our local, state, tribal, and federal law enforcement partners to carry out this mission. Therefore, today's memo on federal marijuana enforcement simply directs all U.S. Attorneys to use previously established prosecutorial principles that provide them all the necessary tools to disrupt criminal organizations, tackle the growing drug crisis, and thwart violent crime across our country."
— U.S. Attorney General Jeff Sessions
"Since Nevada voters approved the legalization of recreational marijuana in 2016, I have called for a well-regulated, restricted and respected industry. My administration has worked to ensure these priorities are met while implementing the will of the voters and remaining within the guidelines of both the Cole and Wilkinson federal memos. We have been largely successful in these efforts. I believe Nevada's marijuana industry is a model for other states. My staff and I will review the memo released this morning and our state options. I look forward to the appointment of the new Nevada United States Attorney and further guidance that will be provided by the Department of Justice."
— Nevada Gov. Brian Sandoval
"Knowing Attorney General Sessions' deference to states' rights, I strongly encourage the DOJ to meet with Governor Sandoval and Attorney General Laxalt to discuss the implications of changes to federal marijuana enforcement policy. I also urge the DOJ to work with the congressional delegations from states like Nevada that have legalized marijuana as they review and navigate the new policy."
— U.S. Sen. Dean Heller, R-Nevada
"Attorney General Sessions says he is a headstrong advocate for states' rights. However, his decision giving free rein to federal prosecutors to target the cannabis industry in states where voters and legislatures have chosen to legalize and regulate the use of marijuana exposes his hypocrisy. In states like Nevada, voters have spoken loud and clear that marijuana must be regulated and taxed, and that the state should be able to enforce its marijuana laws without federal interference. By rescinding the Cole memo, this administration is trampling on the will of Nevadans and creating unnecessary confusion for our state. I call on the Attorney General to reinstate the memo and work with Congress to ensure we respect the will of states while ensuring prosecutorial resources are used effectively."
— U.S. Sen. Catherine Cortez Masto, D-Nevada
"This latest move from Attorney General Sessions and the Trump administration is a direct attack on the State of Nevada, sovereign tribal governments, and the rights of people in states, tribes, and territories all across the United States. The decision to rescind the Cole and Wilkinson memos undermines Nevada's $622 million industry, threatens nearly $1 billion in new investments, and jeopardizes thousands of new jobs and more than $60 million in tax revenue for the State. It also targets veterans using medical marijuana to treat Post-Traumatic Stress Disorder, cancer patients undergoing chemotherapy, and children with epilepsy, subjecting them to possible federal prosecution for seeking legal treatments for their ailments. Congress must immediately respond by passing permanent protections like the Respect State Marijuana Laws Act."
— U.S. Rep. Dina Titus, D-Nevada
"Nevadans made it clear at the ballot box in 2016 that they support the legalization of marijuana for recreational purposes, and their decision should stand. Local changes in marijuana policy in recent years have resulted in millions of dollars in new revenue for Nevada's state budget, thousands of new jobs, and countless medical benefits for Nevadans suffering from PTSD, cancer, and other illnesses. This federal overreach by President Trump's Department of Justice will create uncertainty and confusion for Nevadans. These reported actions are an insult to Nevada voters, an affront to states' rights, and a threat to our local economy."
— U.S. Rep. Jacky Rosen, D-Nevada
"Secretary Sessions' decision clashes with the will of hundreds of thousands of Nevadans and millions of Americans who have voted in favor of marijuana legalization. Mr. Sessions and the Department of Justice are reversing a yearslong policy of respecting the rights of states in order to take out a personal vendetta on an industry that has sold nearly $130 million worth of product in Nevada and brought in $20 million in tax revenue to the state since July. This decision will not only impact the marijuana industry and the thousands of jobs it is creating, but it will put at risk a stable source of vital tax revenue for our state."
— U.S. Rep. Ruben Kihuen, D-Nevada
"Although I opposed the Question 2 ballot initiative proposing the legalization of recreational marijuana in Nevada, I also pledged to defend the measure were it approved by the voters. Since Questions 2's enactment, my office has vigorously defended it against two related lawsuits that threatened to slow or even halt the implementation of the law, and has further assisted with the formulation and adoption of regulations to allow dispensaries to commence sales of recreational marijuana within just six months of the law's enactment. My office has expeditiously facilitated the implementation of the law in the face of considerable uncertainty about the status of federal enforcement activity."
— Adam Laxalt, Nevada attorney general and Republican candidate for Nevada governor
"The states seem to have this issue under control. If anything changes, it should come from Congress, not the attorney general."
— Dan Schwartz, Nevada Treasurer and Republican candidate for Nevada governor.
"The people of Nevada have already spoken on legalized marijuana. Those in need of medicinal marijuana finally had access to relief. Entrepreneurs are now building businesses, hiring workers and paying taxes that will benefit the entire state. Now the Trump administration wants to create a costly and confusing process to overrule the will of the voters and undo what has been a success so far. We cannot and will not stand for this or any threat by the Trump administration to undo progress in Nevada."
— Steve Sisolak, Clark County Commission chairman and Democratic candidate for Nevada governor
"This is wrong. Over 600,000 Nevadans voted for Question 2 legalizing recreational marijuana. The Trump administration Justice Department should not be trying to undo the will of our voters."
— Chris Giunchigliani, Clark County commissioner and Democratic candidate for Nevada governor
"U.S. Attorney General Jeff Sessions' decision today to rescind a policy that protects our state's recreational marijuana industry from overzealous federal intrusion could cost Nevada millions of dollars in revenue, kill jobs, and hurt our schools and local economy. This clear example of federal government overreach is nothing more than an attempt to infringe on our state's sovereignty and is a direct insult to the Nevadans who voted in favor of a regulated marijuana industry. Nevada's burgeoning marijuana business sector has already created close to 7,000 new jobs and generated $19 million in revenue from marijuana taxes — millions of which are deposited into the Distributive School Account for our children. As Nevada attorney general, I will do everything within my power to defend our state's voter-approved and regulated industry and send a clear message to Attorney General Sessions and the Trump administration that they should stay out of Nevada's business."
— Aaron Ford, Nevada state senator and Democrat candidate for Nevada attorney general
"This reported action directly contradicts what Attorney General Sessions told me prior to his confirmation. With no prior notice to Congress, the Justice Department has trampled on the will of the voters in CO and other states.
"I am prepared to take all steps necessary, including holding DOJ nominees, until the Attorney General lives up to the commitment he made to me prior to his confirmation."
— U.S. Sen. Cory Gardner, R-Colorado
"The United States Attorney's Office in Colorado has already been guided by these principles in marijuana prosecutions — focusing in particular on identifying and prosecuting those who create the greatest safety threats to our communities around the state. We will, consistent with the Attorney General's latest guidance, continue to take this approach in all of our work with our law enforcement partners throughout Colorado."
— Bob Troyer, U.S. attorney for Colorado
"Criminalizing marijuana may be a priority for Attorney General Sessions — who has spent decades using bad science to push his own regressive agenda — but it is not a priority for the American people, 52 percent of whom support legalization. Rescinding this guidance is yet another example of how this administration's 'law and order' philosophy is deeply out of touch with most Americans. With today's decision, the Department of Justice is essentially telling at least six states and the District of Columbia that they are not entitled to govern as they see fit when it comes to drug policy. For politicians who purport to believe in 'small government' and states' rights, this is a wildly incongruous move.
"It also cannot go unnoted that this policy will have a disproportionate and disastrous impact on people of color. Black people and white people use marijuana at similar rates, but as the ACLU reported in 2013, Black people are almost 4 times more likely to be arrested for marijuana possession. The War on Marijuana, like the War on Drugs, has failed by almost every measure — with the exception of successfully destroying communities of color. Marijuana criminalization negatively impacts public housing and student financial aid eligibility, employment opportunities, child custody decisions, and immigration status. Today's decision furthers entrenches the country in racially biased, fiscally irresponsible, and morally wrong drug policy — and the ACLU will continue to fight it."
— Jesselyn McCurdy, deputy director at the American Civil Liberties Union
"This is a good day for public health. The days of safe harbor for multi-million dollar pot investments are over. DOJ's move will slow down the rise of Big Marijuana and stop the massive infusion of money going to fund pot candies, cookies, ice creams, and other kid-friendly pot edibles. Investor, banker, funder beware."
— Kevin A. Sabet, a former Obama administration drug policy adviser, who is now head of the anti-legalization group Smart Approaches to Marijuana
Nevada officials bracing for change in federal marijuana policy