Prosecutors could charge Ensign's former top aide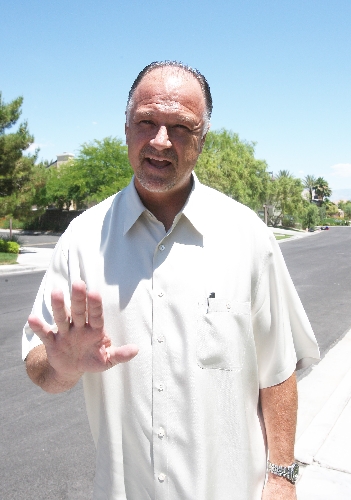 Federal prosecutors investigating Sen. John Ensign could charge his former friend and top aide to persuade him to testify against the once-rising Republican senator, according to a prominent Washington attorney and former general counsel to the U.S. House of Representatives.
The move, known in the Justice Department as the "trading-up policy," could be key in getting Doug Hampton to give prosecutors the evidence they need in their probe of whether the senator broke federal lobbying laws, said Stanley Brand, who has represented clients in several high-profile corruption cases since leaving the House.
Hampton left Ensign's staff in April 2008 after discovering a nine-month affair between his wife, Cindy, and Ensign, who made the affair public 14 months later.
The senator "had a motive to take care of this guy, for obvious reasons," Brand said.
Federal authorities are investigating whether Ensign helped find Hampton lobbying work after he left the senator's office despite a law barring senators and their senior aides from lobbying the Senate for a year after leaving their jobs.
A willful violation of this ban, sometimes called the "revolving-door law," is a felony punishable by up to five years in prison.
The Senate Ethics Committee is also investigating the matter.
While the ethics committee has the power to force Ensign from office, Brand said, the criminal investigation could land him in prison.
A New York Times front-page story in October provided plenty of evidence that Ensign "aided and abetted" Hampton in the commission of a federal crime, giving federal prosecutors the criminal case on a "silver platter," Brand said.
Hampton told the paper that he and Ensign knew about the law but ignored it.
"It doesn't get much better than that, to have an inside witness," Brand said.
Why would Hampton go public with a story that also may have implicated him in criminal activity?
"People do this all the time," Brand said. "They set the house on fire, and they forget that they're inside the house."
Las Vegas attorney Daniel Albregts, who represents Hampton, wouldn't comment for this story. Ensign has maintained he broke no rules or laws.
Melanie Sloan, executive director of Citizens for Responsibility and Ethics in Washington, referenced the New York Times article when she sent letters to both the ethics committee and the FBI's Washington field office.
"Thus, the evidence is quite clear that Mr. Hampton knowingly failed to register as a lobbyist and willfully violated the one-year restriction on lobbying his former office," Sloan wrote in her letter to the FBI. "Sen. Ensign … may well have engaged in criminal conspiracy by overtly assisting Mr. Hampton to lobby his office."
If prosecutors charge Hampton, it would not guarantee him a "free ride," Brand said.
Brand also did not rule out the possibility that Hampton could successfully use a "duress defense," in which he could argue that Ensign orchestrated the criminal activity and that Hampton, under economic and emotional pressure, went along with it under duress.
"It's not a frivolous defense," Brand said.
Nevertheless, Brand suspects the Justice Department will want Hampton to take some responsibility for his behavior if they plan to use him as a witness against Ensign. Acknowledging his participation in a conspiracy would give Hampton more credibility with a jury, the lawyer said.
But Brand said he does not expect Justice Department attorneys to take action against Ensign any time soon.
"Before they shoot to kill a United States senator, they are going to make sure they have this case nailed down," he said. "They don't want another Stevens debacle."
Republican Sen. Ted Stevens of Alaska was convicted of lying on Senate ethics forms shortly before losing his bid for re-election, but the convictions were set aside last year amid allegations of prosecutorial misconduct.
Sloan, a former assistant U.S. attorney, said she has no faith in the Justice Department. If its lawyers were pursuing the case aggressively, she said, they would have asked the ethics committee to defer further action.
"In other words, you don't want the ethics committee messing up your case," she said.
On the other hand, Sloan said the committee seems to be taking its investigation seriously.
"They're never going to say what Ensign did was OK," she insisted.
Contact reporter Carri Geer Thevenot at cgeer@reviewjournal.com or 702-384-8710.