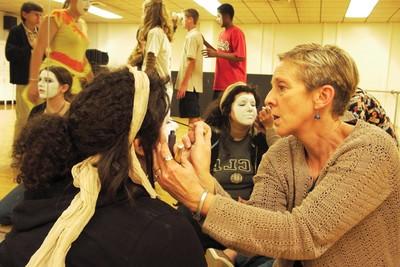 The nationally recognized Rainbow Company Youth Theatre holds auditions open to both adults and young people throughout the year. The award-winning staff offers classes in all aspects of theater for ages 4 through high school at Reed Whipple Cultural Center and Charleston Heights Arts Center, and presents five productions annually that bring the magic of live theater to family audiences.
There is also a spring break workshop and a summer conservatory. The touring play "Nevada Stories" can be performed at elementary schools around the valley February through May, with advance arrangements.
The first play of the season is "The Witches," to be held Oct. 2, 3, 8, 9 and 10 at 7 p.m. and Oct. 4, 10 and 11 at 2 p.m. at Reed Whipple Cultural Center.
Thrilling and utterly beguiling, this staged version of Roald Dahl's modern children's classic retains all the warmth and sly humor of the book. It's a fun, fiendish fantasy, just in time for Halloween, wrapped up in a frivolous treat of puppetry, intriguing illusions and surprises. Grades 3 through adult will be riveted by this riotous romp, where the witches of nightmares are reduced to the ridiculous.
Next up is "Joseph and the Amazing Technicolor Dreamcoat" in December at the Charleston Heights Arts Center; "Nevada Stories" in February at Reed Whipple; "The Orphan Train" in April at Reed Whipple; "Jack and the Beanstalk" in June at Charleston Heights.
Tickets are priced at $3 for children age 12 and under, $5 for teens and seniors, and $7 for adults. Three- and five-show season tickets are available at additional savings and bring special privileges. Tickets are available by mail, telephone or in person.
Call Reed Whipple at 229-6211 or Charleston Heights at 229-6383 for more information. For a brochure or more details on the Rainbow Company, go online to www.rainbowcompany.info or call 229-6553.
The Rainbow Company is part of the city of Las Vegas Department of Leisure Services.
All Rainbow Company auditions are held at the Reed Whipple Cultural Center, 821 Las Vegas Blvd. North. There is no cost to audition. Participants are encouraged to wear comfortable clothing. For more information call 229-6553.