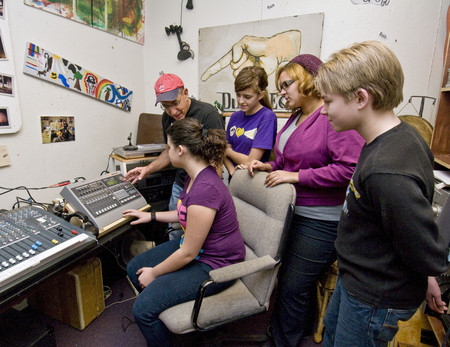 The film world has its Oscars, television its Emmys. From Broadway's Tonys to music's Grammys, a variety of awards honor outstanding artistic achievements.
And now, Las Vegas' Rainbow Company youth theater has its own national accolade: the Medallion Award from the Children's Theatre Foundation of America, which has cited the long-running community troupe as a 2010 recipient of its highest honor.
The Medallion Award will be presented in August at a San Francisco convention, according to Karen McKenney, who's been Rainbow Company's artistic director since 1992.
"It's the pinnacle — a really high, high honor," McKenney said of CTFA's Medallion Award. Previous winners include such legends as Peanuts creator Charles Schulz, TV favorites Shari Lewis and Fred Rogers, author Maurice Sendak and the New York State Theatre Institute.
According to Orlin Corey, chairman of the foundation's Medallion Committee, "Rainbow Company is being honored because its diverse and extensive education program of classes, annual workshops, outreach programs, touring and productions are without parallel."
When Rainbow staff members recently shared news of the Medallion with the student ensemble, "they were very excited and delighted," McKenney said. "But I'm not sure they realize the scope of it."
The Rainbow Company's Medallion Award honors the "whole program: outreach, education, our touring show, and mainstage" productions, McKenney said.
"It's also because of our longevity," she added. And because this is Rainbow Company's 33rd season, "any kid who's ever been in the company" shares in the award.
That's a lot of kids.
Every year, open auditions determine which students, ages 10 to 18, will join the 40-member troupe, which is part of the city of Las Vegas' leisure services department.
In addition to performing in various productions, the ensemble members work backstage, building costumes and sets and running sound and lighting.
Four full-time staff members and four part-time instructors supervise them and teach additional classes for adults and children. Rainbow Company now stages five shows annually on a budget of more than $40,000.
Although the budget has grown considerably, Rainbow Company's operating philosophy hasn't changed much since 1976, when Patricia Marchese, then manager of the city's cultural and community affairs division, asked UNLV graduate student Jody Johnston to teach a few drama classes at Reed Whipple Cultural Center.
The classes proved so popular that, after four months, Johnston (daughter of comedian Totie Fields) was asked to put on a show or two — and Rainbow Company was born. ("Pippi Longstocking," the troupe's inaugural production, debuted at Reed Whipple Cultural Center, toured locally and an award-winning television version was taped at KLVX-TV, Channel 10.)
Rainbow Company's dedication to "age-appropriate casting" — kids play kids, grown-ups play grown-ups — "isn't that common even today," said founder Jody Johnston Davidson, who's now education director for Vermont's North Stage theater company.
"When I first began, people didn't believe children could produce quality performances," Davidson said in a telephone interview from her New England home. "That was the beginning of the ensemble" and the goal of training "kids at an incredibly high professional level."
A 1981 People magazine article also noted Rainbow Company's success as "the first theater in the U.S. to totally integrate handicapped and non-handicapped" students, Davidson said.
In addition, she said, Rainbow Company has "been able to premiere an amazing number of new works" — many by Brian Kral, the troupe's second artistic director — "that have greatly enhanced the body of children's dramatic literature in the U.S."
Rainbow Company has received numerous other awards, including a recent Governor's Arts Award, the Nickelodeon's Parents' Picks 2009 Award and the National Recreation and Park Association's first-place Dorothy Mullen Arts & Humanities Award.
Through the years, the troupe has enjoyed steadfast support from the city and the people of Las Vegas, Davidson said.
"It was the support of the community that always made Rainbow Company so strong," she said.
Such support seems especially vital now, when economic pressures threaten public funding for many arts programs.
"I want to remind people what a unique and special thing they have in Rainbow Company," and "what this has done for generations of Vegas kids," Davidson said. "It's one of the best in the U.S."
Contact reporter Carol Cling at ccling@reviewjournal.com or 702-383-0272.