Reid: Feds trying to avert 'train wreck' on health care reform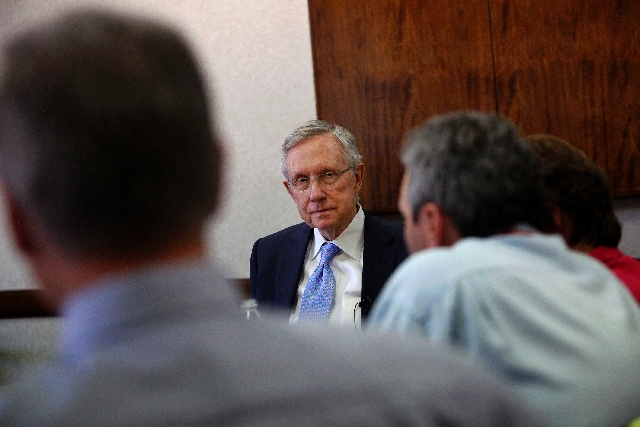 U.S. Senate Majority Leader Harry Reid said Friday he agrees with a colleague's assessment that the Affordable Care Act will be a "train wreck" if it's not properly put in place.
At the same time, the Nevada Democrat lamented polls that show only about 35 percent of people who would benefit most from the new health care law are aware it exists. As a result, the federal government has its work cut out as the implementation moves forward, he said. Open enrollment under the new law starts Oct. 1.
Reid talked about the federal health care overhaul, with a slew of other topics including immigration, gun control and veterans benefits, in a wide-ranging interview Friday at the Las Vegas Review-Journal.
The original "train wreck" comment drew headlines in April, coming from U.S. Sen. Max Baucus, D-Mont., chairman of the Senate Finance Committee.
"What Max was talking about is the fact that we have to make sure that it's implemented properly," Reid said. "If not, it would be a train wreck, and that's true."
Baucus' comments came at an April 17 budget hearing, when he was speaking to Health and Human Services Secretary Kathleen Sebelius.
REID: HELP READING MENU
Reid said Friday: "What we have to do is direct people so they can read the menu, and that's what we're doing now."
Funding originally intended for wellness preventive care under the new law is being used to inform people, Reid said.
"We have a long ways to go," he said. "The goal is to have the American people have the same opportunities I have with my health care plan."
He also said the bill was a good achievement for President Barack Obama.
Reid said the changes are here to stay, given the makeup of the Senate.
"Obamacare is not going to be repealed," he said. "Let's just use our common sense."
Under the law, middle-class people who don't get coverage through their jobs will be able to buy private insurance. Most will be able to get tax credits, based on their incomes, to make their premiums more affordable. Low-income uninsured people will be steered to government programs such as Medicaid.
Benefits start Jan. 1, and nearly 30 million uninsured Americans are eventually expected to get coverage.
IMMIGRATION REFORM
Asked about immigration reform efforts, Reid said bipartisan support in Congress has paved the way to forging a good bill that would put a pathway to legalization in place for 11 million residents who are in the country illegally.
"It brings them out of the shadows," he said, adding that economists predict it would boost the economy.
Reid also said the legislation has strings attached for those who become citizens.
"They have to work, pay taxes, stay out of trouble and learn English," he said. "That's part of the deal."
He said he hopes the immigration bill will be done by July.
On another topic, Reid said getting veterans efficiently plugged into the Department of Veterans Affairs to receive the care and benefits they need will take time.
The VA has come under criticism for its slowness in processing claims. In Nevada, 80 percent of the state's 10,333 claimants have waited more than 125 days to have their claims processed. Among those, 4,210 have waited more than a year.
The VA's Reno Regional Office, which handles claims for Nevada veterans, is ranked the sixth-worst in the nation for delays in processing claims among 58 VA area offices.
"We're going to have to have a breather here to catch up," he said.
He stressed it's not a problem that will be solved in several years; a couple of years is more realistic. With the military's work in Afghanistan winding down and troops withdrawn from Iraq, improving the system in the next couple of years is possible, he said.
"It's going to take awhile to get this done," he said.
GUN CONTROL
Reid shared a personal perspective during a discussion of gun control and a proposal he supports that would require background checks of felons and people who are mentally ill.
"My dad killed himself with a gun," he said.
Reid also said he owns "a lot of guns." His first one he received as a 12-year-old boy, when his parents ordered him a 12-gauge, bolt-action shotgun from a Sears Roebuck catalog.
"I know quite a bit about guns," he said.
Only about 40 percent of firearms sold in the United States involve background checks when factoring in sales at gun shows and over the Internet, he said.
Reid said it's possible the defeated bill to expand background checks could come back, with more support.
"We're going to pick up some more votes," he said.
Reid said he would vote for same-sex marriage in Nevada if it were put on the ballot.
The Nevada Senate approved a same-sex marriage resolution earlier this session. To be placed on the November 2016 statewide ballot, it must be approved by the Assembly before the June 3 adjournment. Then both houses must approve the resolution again in the 2015 legislative session.
Reid recalled a couple of men who once lived in his neighborhood and were called "the bachelors." They kept their house up nice and didn't have wild parties, he said.
Had they been allowed to marry, he said, it would have made no difference to him.
The Associated Press contributed to this report. Contact reporter Ben Botkin at bbotkin@reviewjournal.com or 702-455-4519.