Reid machine dwarfs Angle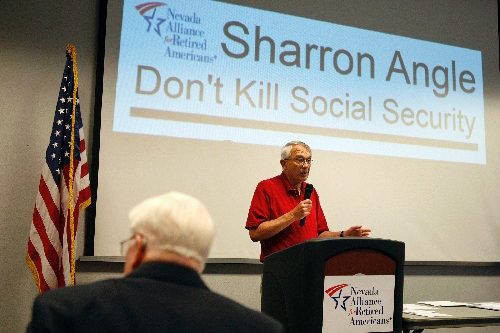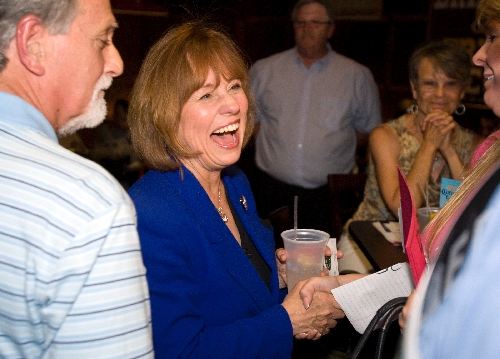 The day before his 70th birthday, Norman Ilchene stood at an "emergency meeting" of senior citizens in Las Vegas and sounded the alarm about Sharron Angle's plans for Social Security.
"She wants to put us back before the Great Depression," Ilchene warned of Angle, the U.S. Senate GOP nominee who wants to phase out the New Deal-era program, though only for younger workers, not older folks. "I think she's too radical for Nevada. We don't need her."
What Ilchene didn't say in his remarks on Wednesday is that the Democratic Party called him to speak at the meeting, which was arranged by the Nevada Alliance for Retired Americans.
Leaders of the group support U.S. Sen. Harry Reid and are on a list of "seniors for Reid." And the AFL-CIO union backing the Democratic incumbent launched the alliance, which officially is non­partisan.
Several Democratic Party and Reid campaign staffers attended the meeting at the Cambridge Community Center. They operated the sound and computer equipment that projected this plea: "Sharron Angle Don't Kill Social Security." The staffers also helped arrange interviews with seniors for local television news stations that covered the one-hour, made-for-TV event.
And after the TV reports aired, Reid campaign officials promoted and distributed them across the Internet and in e-mails, saying, "Local seniors protest Sharron Angle's plan to kill Social Security."
"Let's just say I was volunteered to speak," Ilchene, a Democrat, said with a smile in an interview after the meeting. "But I was invited for my strong feelings, not for my party affiliation."
Welcome to the Reid machine. It's working behind the scenes and out front to grind Angle into political mincemeat while trying to re-elect an unpopular incumbent whose best hope is to make his staunch conservative foe seem too extreme to represent Nevada, political analysts say.
The Reid machine is everywhere. It ranges from small stage-managed events with a dozen seniors spreading fear to major productions with President Barack Obama, first lady Michelle Obama and President Bill Clinton spreading hope to hundreds of core supporters.
The Reid machine is unavoidable on the World Wide Web. A constant stream of Twitter and Facebook criticism of Angle floods the Web along with YouTube videos and audio clips highlighting her most extreme-sounding statements. The Reid campaign has devoted a website to Angle — www.sharronsunderground­bunker.com — which eviscerates her views and mocks her for avoiding most mainstream media and going on conservative radio and TV talk shows for cozy chats instead.
"Sorry, Grandma, you're on your own," the Social Security link on the bunker website warns.
And the Reid machine is vast. It encompasses the Nevada Democratic Party, which the senator spent years rebuilding for his re-election. And it involves top power brokers such as campaign adviser Billy Vassiliadis, a Democrat and gaming lobbyist, and GOP operative Sig Rogich, organizer of "Republicans for Reid," a who's who of business and political leaders who rely on Reid's power and protection.
As the general election campaign got under way last week, it was immediately clear that Angle's grass-roots organization was proving no match for Reid's well-plotted and well-funded operation.
"Reid is playing chess, and these folks around Angle are playing checkers," said David Damore, a political science professor at the University of Nevada, Las Vegas. "It's going to be tough for Angle to level the playing field. Reid has been preparing for this since Daschle went down."
Tom Daschle, the former Senate majority leader from South Dakota, lost re-election in 2004, signaling to Reid — who was Daschle's deputy — that he would be the next target in the next election.
Like Daschle, Reid's job is to push the Democratic Party's agenda. That includes the new health care law and industry and bank bailouts that are unpopular in Nevada among libertarians and conservatives such as Angle and her Tea Party supporters who oppose big government programs.
"We've known for years it would be a difficult race," said Jon Summers, a Reid spokesman who has worked for him more than half a dozen years. "Right after Tom Daschle lost, Reid said he's next."
Reid actually began rebuilding the state Democratic Party nearly a decade ago after the dismal 2002 elections. Republicans won half a dozen state constitutional offices, including governor, as well as two out of three Nevada congressional seats, including the newly created Congressional District 3.
Reid brought in Rebecca Lambe as executive director of the Nevada Democratic Party. She began recruiting people to run for lower office, from city council and county commissioner to the Nevada Legislature, particularly women and Hispanics who generally draw more Democrats to the polls.
In 2005, Reid made Lambe his Southern Nevada regional director. She was key to organizing the 2008 Nevada caucuses that helped grow the party more, giving Democrats a voter registration edge over Republicans.
The Democratic drive also helped Obama win the White House and Dina Titus beat Jon Porter, ousting the Republican congressman from his swing District 3 seat.
Now, Lambe is Reid's top political strategist, working in lock step with the state and national Democratic parties to ensure the senator from Searchlight wins a fifth term on Nov. 2. The party's "Organizing for America," a spinoff of the 2008 "Obama for America," opened its Las Vegas office on Saturday, embedding itself in Nevada to help Democrats and Obama again in 2012.
"He has a lot of faith in his campaign," said Vassiliadis, who has known Reid for decades. "I've been working in campaigns for 32 years, and I have never seen a team better than the Reid team. There's a sense in the campaign of a crusade. You need to have that element. It can't just be a job."
The crusade includes a union army to do get-out-the-vote drives for Reid. The unions already have contributed nearly $1 million to a political action committee that launched an ad on Friday, slamming Angle on Social Security. The Patriot Majority PAC is headed by former Reid staffer Craig Varoga.
The crusade also involves recruits from a growing Hispanic population, now a quarter of Nevada's 2.6 million people and about one in 10 registered voters, according to Democracia USA. The group is paying workers $10 an hour to register voters lined up outside Department of Motor Vehicles offices.
"I'm an activista," said Irma Soriano, who's originally from Mexico and works outside a main Las Vegas DMV office from 7 a.m. until 1 p.m. She said she often gets a couple dozen people each day to register to vote, though she's prohibited by law from suggesting any political party or candidate.
In the days after Angle's surprise, come-from-behind victory in the June 8 primary, the Reid machine managed to create a national narrative picked up by many media outlets in the nation's capital that the former Reno assemblywoman is "wacky," "dangerous" and "extreme."
The Reid campaign pointed to her proposals to close federal agencies such as the Education and Energy departments and the Environmental Protection Agency, which Angle has argued are wasting federal money and not doing their jobs. She said she believes states could do better.
The campaign also said Angle wants to abolish Social Security "entirely for seniors," though Angle has a more nuanced stance. She wants to "keep the contract" with seniors and others who have paid into the system already, make sure it is fully funded instead of raiding it to balance the budget and then phase it out, allowing younger workers to opt out of the system in favor of "personal" accounts.
Reid's operatives also have dug up Angle's past positions and statements to mock her, including support for a prison anti-drug program that used Scientology methods and comments that Americans have a Second Amendment right to bear arms to protect themselves from "a tyrannical government." She said she was calling for a political revolution "to retire Harry Reid," not an armed revolt.
The Reid campaign also has distributed snippets of other Angle interviews to portray her as out of touch, including one that suggested she wants to make alcohol illegal, which she said isn't true.
Angle said she expected ferocious personal attacks because taking on Reid means a race with national stakes. But her campaign and the Republican leaders who rallied behind her when she visited Washington last week conceded it might take time to gear up for the general election onslaught.
"Needless to say, it is not going to be easy to go up against this huge amount of power," said Larry Hart, a Washington-based spokesman for the Angle campaign. "Fifteen or 20 years ago if you went up against the Senate majority leader, they could shut you down, cut off the money. But not anymore."
To level the playing field, the National Republican Senatorial Committee and the Republican National Committee are opening offices in Southern and Northern Nevada to support Angle's campaign. The GOP and its top leaders, present and past, are offering as much financial support as she'll need to battle Reid. He has said he plans to spend up to $25 million during his campaign.
The Tea Party Express, whose endorsement and fundraising shot Angle to victory, the conservative Club for Growth and FreedomWorks, led by former Rep. Dick Armey, all are behind Angle.
Among Angle's biggest new backers is Sen. Jim DeMint, R-S.C., whose Senate Conservative Fund launched a drive to raise $100,000 for her and was nearing its goal at week's end.
In addition, Angle is getting help from a new GOP-backed group, American Crossroads, whose advisers are Republican operatives Ed Gillespie and Karl Rove, the political strategist behind President George W. Bush's successful campaigns that led him to the Oval Office.
The Rove group, which set a $50 million fundraising goal for a dozen races nationwide, began running an anti-Reid ad in Nevada last week. It blamed Reid for the state's dismal economic situation, including the highest unemployment rate in the nation at a record 14 percent for the state.
Nevada's diving economy could be Reid's Achilles' heel, where Angle is already shooting arrows.
"Nevada now leads the nation in un­employment. Is there any doubt we're heading in the wrong direction with Harry Reid?" Angle asked on Friday from her Twitter account.
Meanwhile, Angle's revamped website and online fundraising effort seem to be paying off as she neared an initial $1 million target less than two weeks after her primary victory.
Beyond bringing in money, the Angle campaign realizes it must win the ground war as well as the TV and radio air war to have a shot at beating Reid in a race national analysts still rate as too close to call, either a toss-up, or barely leaning Angle's or Reid's way.
Angle, a GOP activist who has trained hundreds of precinct workers in several counties, seems to appreciate the need to do the personal voter outreach she'll need to convince people beyond her conservative base that she's a "reasonable alternative" to Reid, as her adviser Hart put it.
On Thursday, after a whirlwind Washington tour, Angle stopped in Las Vegas for a homecoming party where several hundred conservative supporters gave her a hero's welcome. She arrived nearly an hour early, telling her hosts she wanted to work the room inside Stoney's North Forty country bar.
"I believe in you, and I'm behind you," one man said, shaking her hand as she went inside.
"That's what I need," Angle said, thanking him. "I need a lot of folks in my camp."
Contact Laura Myers at lmyers@reviewjournal.com or 702-387-2919.