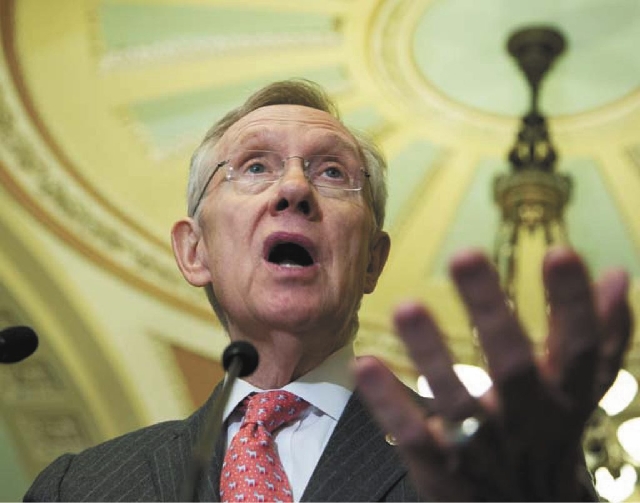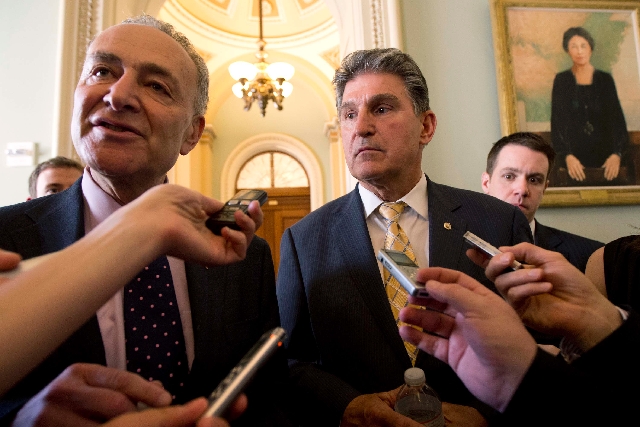 WASHINGTON — Senate Majority Leader Harry Reid scheduled Congress' first showdown vote for Thursday on President Barack Obama's gun control drive as a small but mounting number of Republicans bucked a conservative effort to prevent debate from even beginning.
White House officials, congressional Democrats and relatives of the victims of December's mass shooting in Newtown, Conn., amped up pressure on GOP lawmakers to allow debate and votes on gun control proposals.
Thirteen conservative Republicans have said they want to block the debate. Sen. Ted Cruz, R-Texas, said that the Senate bill puts "burdens on law-abiding citizens exercising a constitutional right" and that none of its provisions "would have done anything to prevent the horrible tragedy of Sandy Hook."
But the filibuster movement began to splinter after Sen. Dean Heller, R-Nev., and at least 10 other Republicans such as Susan Colllins of Maine, Tom Coburn of Oklahoma and Johnny Isakson of Georgia said they planned to vote to advance the bill at least for debate.
Meanwhile, participants from both parties said a bipartisan deal was imminent on expanding required federal background checks to gun purchases conducted at gun shows and online. The two chief negotiators, Sens. Joe Manchin, D-W.Va., and Patrick Toomey, R-Pa., were expected to announce the compromise today .
Manchin and Sen. Chuck Schumer, D-N.Y., told reporters late Tuesday that a deal was close. A Toomey aide said the same, speaking on condition of anonymity to discuss closed-door bargaining.
An agreement on background checks — the cornerstone of Obama's plan to restrict firearms — could boost bipartisan support for the overall effort, at least initially, because Manchin and Toomey are among their parties' most conservative members.
The checks are now required only for sales through licensed gun dealers.
Heller said he declined to join the filibuster group, and instead believes the Senate needs to tackle the gun issue once and for all. "I think we do have to have this discussion," he said. "I want to have the discussion now."
Heller, Manchin and others have been exploring possible compromises to strengthen background checks for gun purchasers.
"I'm just as solid with the Second Amendment as anybody out there," Heller said. "But that doesn't mean we can't get guns out of the hands of those who have background issues or mental health issues. There has to be a way to solve that problem and tighten that up."
Obama was calling senators from both parties Tuesday to push for the gun bill, according to a White House official.
Democrats have been buoyed by polls consistently showing more than eight in 10 Americans support subjecting more buyers to background checks.
A Senate vote to start debating the guns package would mark a temporary victory for Obama and his allies.
But some Republicans, though eager to avoid blocking debate on the plan, could vote against the measure on final passage. Coupled with resistance by leaders of the GOP-run House to main parts of Obama's effort — including bans on assault weapons and high-capacity ammunition magazines — the outcome seems shaky for the Democrats.
Some moderate Democrats might oppose opening the gun debate .
Reid continued to push for votes on guns. In a speech, he cited the Jan. 4, 2010, shooting at the Lloyd George U.S. Courthouse in Las Vegas as a reason to expand gun checks.
"It's just common sense that felons who couldn't pass a background check in a gun store shouldn't be able to walk into a gun show and buy a deadly weapon," he said.
"Three years ago, one of those guns — a shotgun purchased legally without a background check during a 2008 gun show in Kingman, Arizona — was used to shoot up the Lloyd D. George federal courthouse in Las Vegas, just as prospective jurors were arriving for the day."
Security guard Stanley Cooper, 72, was killed by the gunman, Johnny Lee Wicks, who reportedly was disgruntled over cuts to his Social Security.
Reid said the gunman "was a convicted felon with no right to carry a firearm. He certainly couldn't have passed a criminal background check. But the shooter never had to get one."
The Associated Press contributed to this report. Contact Stephens Washington Bureau Chief Steve Tetreault at stetreault@stephensmedia.com or 202-783-1760.