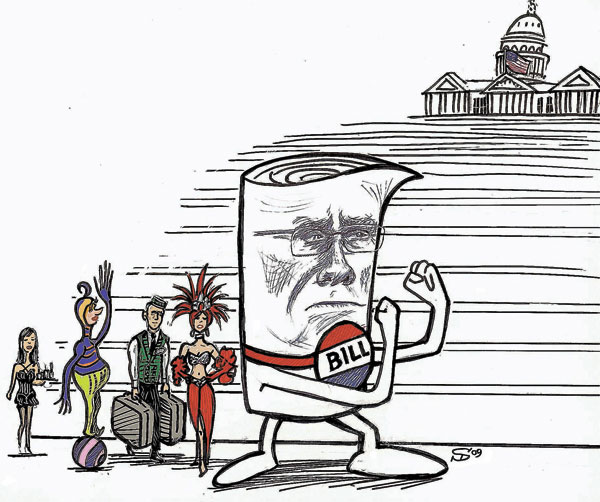 Maybe local tourism boosters need a new slogan: Go to Las Vegas — or go to Leavenworth.
A bill by Sen. Harry Reid, D-Nev., would make it against the law for government bureaucrats to implement travel policies that prohibit official travel to specific destinations "perceived to be a resort or vacation destination."
It's tough to imagine image-wary bureaucrats getting shipped off to the federal prison in Leavenworth, Kan., for booking Omaha, Neb., over Orlando, Fla.
But the bill does show Reid and other politicians are taking debate over federal travel decisions to a new level by putting it in front of Congress.
Reid's bill, called the Protecting Resort Cities from Discrimination Act of 2009, is a response to reports of bureaucrats in myriad federal offices banning travel to resort destinations in favor of more staid locations.
"If it makes the most sense economically and logistically to hold a meeting in Las Vegas or Reno, then that's where it should be held," Reid said. "Paying more money to hold a meeting in another city for appearances sake is unfair to all U.S. taxpayers and a waste of their money."
Sen. Mel Martinez, R-Fla., and Sen. Bill Nelson, D-Fla., are co-sponsors of the bill, which was offered as a standalone measure as opposed to an amendment to a larger bill.
A Reid spokesman didn't say what the penalty would be for violators, only that it wouldn't be a criminal act — so no prison time.
The bill is a culmination of months of wrangling over whether business trips to Las Vegas and other resort cities should be curtailed now that the nation is in recession and austerity is the trend du jour.
Naturally, resort owners and local travel boosters who collectively spent billions of dollars of investor and taxpayer money making Las Vegas the top convention and meeting destination in the country didn't cotton to the suggestion that Southern Nevada should be off-limits.
The latest salvos in the conversation included letters between Reid and Rahm Emanuel, chief of staff for President Barack Obama.
Reid wrote Emanuel on June 26 stating he got wind of federal agencies either explicitly or implicitly telling employees to pick places like Milwaukee or Cleveland over Las Vegas or Orlando or anywhere else that could be perceived as a resort getaway.
Emanuel responded July 14 with a letter stating travel decisions should be based on need and value for the taxpayers, not the reputation of the destination.
On July 15, Reid said Emanuel's response settled the issue.
After the letter was released, a Wall Street Journal story detailed travel-related memos floating around agencies that reinforced the perception that government workers should steer clear of resort destinations.
In addition to the bill, Reid on Monday forwarded Emanuel's letter to every Cabinet secretary and every federal agency chief asking that they revoke any policy that might prohibit travel to Nevada.
Reid isn't the only Nevada politician on the case. Las Vegas Mayor Oscar Goodman, Rep. Shelley Berkley, D-Nev., and Rep. Dina Titus, D-Nev., also issued statements or wrote to federal officials regarding travel rules.
Contact reporter Benjamin Spillman at bspillman@reviewjournal.com or 702-477-3861.