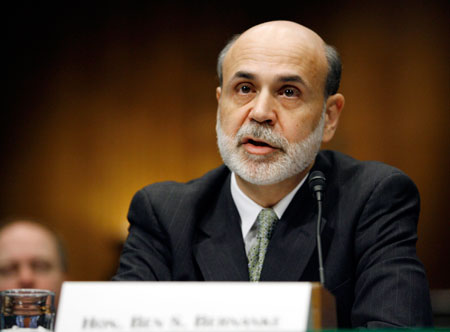 WASHINGTON — Sen. Harry Reid announced this afternoon he will vote to give Ben Bernanke a second term as chairman of the Federal Reserve, putting a stop to speculation whether he wanted Bernanke to stay on the job.
Reid, D-Nev., issued his thumbs up after meeting with Bernanke on Thursday and getting an assurance the top official at the Fed — an independent entity that controls the nation's money supply by setting short-term interest rates — will do more to make credit available.
"I made it clear that to merit confirmation, Chairman Bernanke must redouble his efforts to ensure families can access the credit they need to buy or keep their home, send their children to college or start a small business," Reid said in a statement today. "He has assured me he will soon outline plans for making that happen, and I eagerly await them."
Reid, the Senate majority leader, had yet to schedule a confirmation vote on Bernanke, who was nominated for a second four-year term as Federal Reserve chairmen. His current term expires at the end of the month.
It was believed the Senate would take up the confirmation this week but the body was thrown into a tizzy by the upset election of Republican Scott Brown in Massachusetts and subsequent soul-searching by Democrats to figure out what that means.
Reid's pressure on Bernanke also suggests the Nevadan is intensifying his focus on economic issues after spending much of the fall working on health care reform.
The economy figures to loom large as a campaign issue as Reid seeks re-election this year in a state struggling through the recession. New figures today put the unemployment rate in Nevada at 13 percent. At the same time, the state's foreclosure rate topped the nation in 2009, according to RealtyTrac, a real estate service.
On the same day he met with the Fed chairman, Reid also pressed Shaun Donovan, the secretary of Housing and Urban Development, to do more for Nevadans facing foreclosure.
"Every decision I make about our economy is governed by the goal of putting Nevadans and Americans back to work, helping them keep their homes, and strengthening the middle class," Reid said in a statement today. "My vote to confirm Ben Bernanke for a second term as chairman of the Federal Reserve is no different."
Bernanke supporters have said his confirmation is not in trouble. But CNN reported this afternoon his fate may be uncertain amidst anti-Wall Street fervor on Capitol Hill.
Two liberal senators — Barbara Boxer of Massachusetts and Russ Feingold of Wisconsin — announced they will vote against him, joining a handful of others including Byron Dorgan, D-N.D., and Bernard Sanders, the independent from Vermont. Many other Senate Democrats say they are undecided.
Critics have said the Federal Reserve under Bernanke failed to see the economic crisis coming and was lax in its supervision of banks. Boxer said Bernanke "played a lead role in crafting the Bush administration's policies, which led to the current economic crisis."
On the other hand, Bernanke has been credited with helping avert a major economic meltdown in 2008 by engineering rescues of faltering financial institutions.
President Barack Obama remains supportive of Bernanke, White House spokesman Robert Gibbs said today.
"Ben Bernanke has done a very good job putting out the fire," Reid said. "There is some dispute as to who started the fire. But I think he has been a good firefighter."