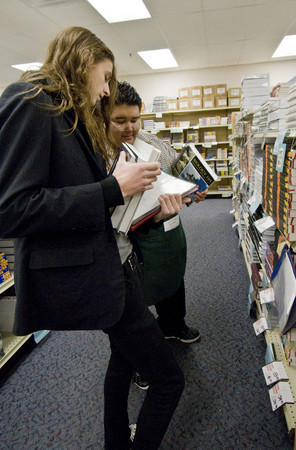 In the long ago days of last semester, college students had two responsible choices when it came to their expensive textbooks: buy them new or buy them used.
They usually would hope to sell some of the books back to the bookstore at the end of the semester, recouping a quarter of the cost of a new book if they were lucky.
But now, students at the University of Nevada, Las Vegas and the College of Southern Nevada have a third option: They can rent some of their books for less than half of what they would pay for new books.
"Textbook rental has floated to the top as a model," said Elio Distaola, director of campus relations for Follett Higher Education Group, which operates 860 campus bookstores nationwide including those on CSN's three local campuses.
Follett began renting books last semester at seven of its bookstores, and the experiment was judged a success. It has expanded to 27 stores this semester, including CSN's, and expects to expand nationwide next fall.
Similarly, Barnes & Noble College Booksellers, which operates more than 600 stores, including UNLV's, began renting books at three schools last year. It expanded to UNLV and two dozen other schools this semester and expects to expand greatly in the fall.
Karen DiScala, a company spokeswoman, said textbook rental has been around for a while, but has only recently gained popularity.
"The interest has really exploded recently," she said.
Several companies also offer textbook rental online.
Distaola said a federal law passed last year that included $10 million in grants to support textbook rental programs has given the industry a push. The goal of the Higher Education Opportunity Act was to lower the cost of higher education for students.
A single textbook can cost well over $100. Some courses require several, which means a student's book bill alone for a semester can top $1,000.
Follett said it charges less than half the price of a new book for a rental. Barnes & Noble charges 42.5 percent.
In each case, not all books are available for rent. Generally, the books available for rent are those that will be used again. Paperback books are not likely to withstand frequent reuse so typically are not rented.
Some books in quickly evolving fields such as technology and science don't make the cut because they are so frequently updated that new editions come out too often for a rental program to make sense.
Follett's Distaola said the company rents 20 percent to 30 percent of its titles. Because many are the most popular books, such as basic English and math books, he said about half the total number of books are rented instead of purchased.
Students browsing and buying at CSN's bookstore last week in anticipation of classes starting Tuesday seemed to love the idea of textbook rental.
The concept was advertised heavily, with signs on the doors, the wall and hanging from the ceiling that encouraged students to rent their books.
Jackie Condon, 21, studying to be a dental hygienist, said she couldn't rent any of her books because she needs to keep them to study for her board exam.
But she wishes she could have rented. She guessed that she spent $800 on books last semester, and at least $500 so far this semester. The prices "are ridiculous," she said.
If the rental program had been available earlier, when she was taking her prerequisite courses, she would have gladly used it, she said.
CSN student Rudia Na, who is studying hospitality and plans on transferring to UNLV one day, said she rented an English text that would have cost close to $70 for $33.
"It's a lot cheaper," she said.
Because she wasn't planning on keeping the book anyway, renting it made sense. Although it is likely she could have sold the book back to the store at the end of the semester, she would have had to lay out more cash upfront.
She also would have been taking a risk: The stores sometimes won't buy back books at the end of the semester, meaning the student is stuck with them.
Na said she bought used books for her major instead of renting them because she wants to keep those.
Contact reporter Richard Lake at rlake@reviewjournal.com or 702-383-0307.