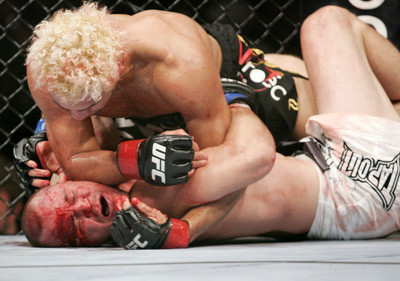 WHEN CONVICTED POLYGAMIST SECT LEADER WARREN JEFFS was rushed to Sunrise Hospital and Medical Center on Tuesday, a pack of police officers were called in to provide security.
Two nurses, one of them dressed in Scooby Doo scrubs, chatted about the spectacle as they walked outside for a smoke break.
First nurse: "It's like they're guarding Hannibal Lecter."
Second nurse: "Sort of."
MAGGIE LILLIS
POLICE ARRESTED TWO PARENTS LAST WEEK, saying they left seven children in a van while they shopped during the triple-digit heat of the afternoon.
If the police report is to be believed, investigators may have stumbled onto another crime: a local cell phone store that seriously violated child labor laws.
According to the report, police relied on a witness named Sofia Acosta, whose date of birth is listed as 05/07/08.
The incredibly precocious 2-month-old is identified as being 5 foot, 6 inches tall and weighing 145 pounds. The baby is employed at the Cricket Wireless store in a strip mall on Tropicana Avenue near Maryland Parkway, the report states.
ANTONIO PLANAS
OVERHEARD ON THE SCANNER: "He's promising to whip our backsides when he gets out of 'cuffs."
CALL IT A CONSPIRACY OF DUNCES, NEVADA-STYLE.
Decrying the public's reluctance to fund schools, Clark County Commissioner Tom Collins said, "There's a big segment in Nevada that, I believe, want to keep people dumb."
Dumb people do what they're told, don't have much money and are willing to take low-paying jobs, he argued.
Hmmm, some of them must vote, right?
SCOTT WYLAND
ASSEMBLY CANDIDATE CHARLES WHITE can probably forget about an endorsement from the American Lung Association.
White was in the middle of a meeting last week when a reporter called to talk to him about his candidacy. Before taking the call, he could be overheard telling the person he was meeting with to "go get a cigarette — I've got to talk to this lady."
ANNETTE WELLS
OVERHEARD ON THE SCANNER: "He's being followed by his ex-girlfriend's new boyfriend."
Week In ReviewMore Information