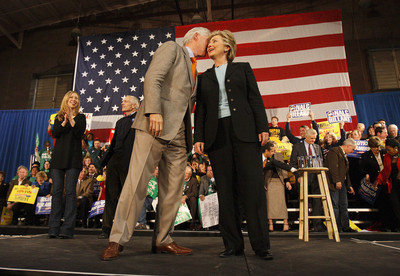 IT LOOKS LIKE SOME PEOPLE ARE BUYING INTO LAS VEGAS' VERSION OF REALITY.
The Monte Carlo, which was modeled after the Place du Casino in the district of Monaco by that name, may only be 11 years old. But during their coverage of the Monte Carlo fire on Friday, MSNBC's Bill Wolff told the network's Tucker Carlson the following: "Monte Carlo, Tucker, was ablaze this afternoon. No, not the European enclave known for tax breaks, but the real Monte Carlo, the hotel and casino in Las Vegas. There it is."
What? Reporters' Notebook always thought they were both named for those snazzy Chevy sedans.
LAS VEGAS MAYOR OSCAR GOODMAN DIDN'T BRING SHOWGIRLS with him this year to the U.S. Conference of Mayors. He settled instead for a martini at breakfast.
"See what the American Beverage Association brought me," Goodman said as he placed the martini glass on the lectern while he addressed fellow mayors on Thursday morning.
"I hope everybody has one."
Despite the early time, which would have been 5 a.m. in Las Vegas, the 68-year-old Goodman showed no sign of jet lag. He kept the crowd laughing while emceeing an awards presentation.
Lynn Cutler, a former adviser to President Clinton who lobbies for state and local governments, accused Goodman of being cranky because he did not have a 6-foot showgirl on either arm as he did at the conference two years ago.
"They shrunk last night," Goodman quipped.
TONY BATT
OVERHEARD ON THE SCANNER: "They'll probably come when they hear the screaming."
LAS VEGAS' REPUTATION AS A FAST-GROWING CITY MIGHT BE GETTING OUT OF HAND. Canada's National Post last week reported on long-term prospects for Southern Nevada's economy, saying the metropolitan area is still "an odds-on favorite." While Reporters' Notebook hopes the newspaper is right about the area's bright future, we had to wonder about their reliability when they also reported: "Every year its (Las Vegas') population nearly doubles … ."
HILLARY CLINTON AND HER FAMOUS HUSBAND took the stage at a pre-caucus campaign event Jan. 18 at Henderson's Greenspun Junior High School and proceeded to whisper back and forth in each other's ears as the revved-up crowd waited for their speeches to begin.
"I'm gettin' instructions," the former president explained. "I'm gettin' used to it."
CARRI GEER THEVENOT
CHARLESTON BOULEVARD IMPROVEMENTS are among the many construction projects scheduled downtown over the next two years, but there's one detail that's still being worked out: What kind of trees will be installed?
Plans call for building a median on Charleston from Las Vegas Boulevard to Maryland Parkway, similar to the ones on Las Vegas Boulevard. Those have palm trees.
The Charleston right of way, however, belongs to the Nevada Department of Transportation, and NDOT policy allows only native vegetation on construction projects.
Las Vegas city officials have pushed for palm trees anyway to match what's already downtown, said Yorgo Kagafas, an urban design coordinator, during a meeting of the Las Vegas Historic Preservation Commission.
"It looks like we're going to be able to put the palm trees in," Kagafas said.
ALAN CHOATE
NEW YORK TIMES MAGAZINE
'Beautiful Children' set in Las Vegas
In a lengthy New York Times magazine piece, Charles McGrath calls Charles Bock's first novel, "Beautiful Children" — which centers on a 12-year-old son of a former Las Vegas showgirl and a casino worker — among the "most-anticipated debut novels in years."
Bock, the son of Las Vegas pawnbrokers, "tried not to write about his hometown but couldn't leave it behind," McGrath writes.
McGrath traveled to Las Vegas and followed Bock during a visit to his hometown. "Vegas may be a cliché, but it's a cliché on steroids — phoniness cultivated with a staggering amount of care and money," McGrath observes. "I found myself wondering, in fact, why there have been so few Las Vegas novels and why the best of them until now, John O'Brien's 'Leaving Las Vegas,' was so narrow and depressed."
Bock tells McGrath: "Las Vegas is a great place to be from, not to live in."
"But unavoidably, Las Vegas is both the setting and, in a way, the subject of 'Beautiful Children,'" McGrath notes. "The book began as a short story set in the arcade rotunda at Circus Circus … and then turned into a novella, as Bock tried to slow down and unpack what he had written, before finally expanding into a novel. For a while, like Vegas itself, it had no sure sense of direction but wouldn't stop growing."
Week In ReviewMore Information