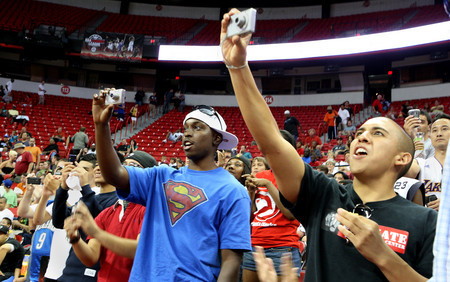 IF READING THE NEWSPAPER TEACHES YOU ANYTHING, IT'S THAT EVERYDAY LIFE CARRIES ON, even on one of the biggest news days of the 20th century.
Understandably, the front page of the Review-Journal from July 20, 1969, is dominated by a banner headline, photo and story about the moon landing that was about to occur. But that wasn't the only news of the day. Page One also includes a dispatch from the Vietnam War, a report on fighting in Central America and a story about nationwide voter registration trends.
Then there is an alarming little tidbit, way down in the bottom right-hand corner: "VD Rate Soars in Vegas."
Historic day indeed.
HENRY BREAN
ADVERTISERS WERE QUICK TO CAPITALIZE ON THE MOON LANDING, WHICH THEY USED AS THE BASIS FOR CHEESY PROMOTIONS in newspapers across the country, the Review-Journal included.
In the July 22, 1969, edition, Ed Ferris Automotive Center at 718 N. Main Street used part of its ad to offer "out of this world congratulations to Neil Armstrong, first on the moon, from Armstrong Tires, first in fiber glass."
Then came the offer: Buy one tire, get the second for $5, so long as your name is Neil or Armstrong.
HENRY BREAN
WHEN THE CITY OF LAS VEGAS AND FLAGSHIP CONSTRUCTION SQUARED OFF IN COURT LAST WEEK, District Judge Susan Johnson walked to the bench with what looked like a backbreaking stack of thick binders filled with the lawsuit, documentation and minutes pertinent to the case. Johnson admitted she hadn't read all of it, but noted that, to be fair, it was an awful lot to read in a short time.
"It took quite a few trees to make your points here," she said.
ALAN CHOATE
OVERHEARD ON THE SCANNER: "She is reporting that she had a dead rabbit on her doorstep and somebody called to ask if she liked her gift."
LONG BEFORE THE NOTORIETY OF AN ADULTERY SCANDAL, U.S. SEN. JOHN ENSIGN WAS A VOLUNTEER WITH BIG BROTHERS BIG SISTERS OF SOUTHERN NEVADA.
He befriended the same child for about 10 years, doing everyday stuff like teaching him how to change the oil in a car. But Ensign's status as a United States senator did not make much of an impression on his Little Brother, named Donzale, who apparently was oblivious to politics.
Erin Cornelius, the chief executive officer of Big Brother Big Sisters of Southern Nevada, recalled taking 16-year-old Donzale to Washington, D.C., in 2006.
When the teen saw Ensign making a speech on the Capitol steps in front of a crowd of photographers and reporters, Donzale turned to Cornelius and asked:
"Is John somebody?"
JAMES HAUG
OVERHEARD ON THE SCANNER:
Person 1: "Do any of these people know their Social Security numbers?"
Person 2: "They're going to be too 408 (drunk) for that."
Person 1: "Excellent."
LAS VEGAS MAYOR OSCAR GOODMAN WILL CELEBRATE HIS 70TH BIRTHDAY AT THE GOLDEN NUGGET ON FREMONT STREET FROM 6 P.M. TO 9 P.M. JULY 31. There are unconfirmed reports that martinis might be served.
It costs $50 to get in. Now, before you get hot under the collar about a wealthy-attorney-turned-public-servant charging you a cover for his birthday bash, know that it's a fundraiser (or "FUN-raiser," as the invitation puts it) for Three Square food bank, the Cleveland Clinic and Opportunity Village. To RSVP, call Leisa Charles at 702-880-4060.
ALAN CHOATE
Week In ReviewMore Information