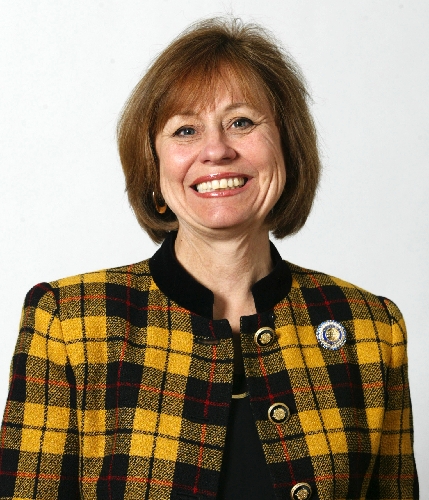 Illegal immigrants would find an unfriendly and unwelcoming America if Republicans seeking U.S. Sen. Harry Reid's seat were in charge.
No more free education, health care or other social benefits, say some top GOP contenders. No more walking the streets without fear of getting questioned by police. And no amnesty, no way, no how for millions of illegal workers collecting paychecks or cash in the nation's underground economy.
"We have to take away the incentives for people coming into our country illegally," says Danny Tarkanian, the most vociferous GOP Senate candidate following Arizona's new law allowing police to stop suspected illegal immigrants.
"Too many people are here who shouldn't be here," says John Chachas, an investment banker who wrote an extensive policy paper on the issue. Among his ideas: tax code changes to ensure illegal residents pay their "fair share of taxes."
Former Reno Assemblywoman Sharron Angle suggests beefing up physical security along the long and porous U.S. borders, including "military assistance" to help the Border Patrol do its job.
Former state Sen. Sue Lowden wants stronger enforcement of current laws that penalize businesses that hire illegal immigrants and less red tape to cut down on the 7-to-10-year waiting period for people legally seeking U.S. citizenship.
Meanwhile, Las Vegas Assembly­­­man Chad Christensen says U.S. companies shouldn't be allowed to hire guest workers until they have done an "exhaustive search of native workers."
The divisive issue of the nation's 12 million illegal immigrants has become an election-year hot potato, and could help decide the U.S. Senate race in Nevada, where more than a quarter of its 2.6 million population is Hispanic.
Senate Majority Leader Reid, in a tough fight to win a fifth term, needs to win that Hispanic vote. He surprised many of his Washington Democratic colleagues by promising, during an April 10 rally in Las Vegas, to push for immigration reform that could lead to U.S. citizenship.
"We're going to have comprehensive immigration reform now," Reid said to applause from thousands of activists calling for immediate and comprehensive change. "There are no excuses. This is something America needs. We're going to do immigration reform just like we did health care reform."
On Thursday, Reid and the Democrats proposed an "outline" for immigration reform that had no GOP support. It would increase money for Border Patrol and drug war agents, equipment, helicopters and unmanned drones. It also would create a new fraud-resistant Social Security card to be used for employment purposes and offer a limited path to citizenship for some illegal immigrants.
But other Democrats, including White House officials, have said an immigration bill is unlikely to move forward in 2010, due to other priorities and a possible political cost in November should a Democratic-controlled Senate try and fail to pass major changes.
In Nevada, the crowded GOP field vying to face Reid has jumped into the fray to criticize any Democratic plan that might offer amnesty. They are also offering their own ideas to penalize illegal immigrants in the country now and to stop more from streaming into the United States.
The touchy topic must be played just right now and in the fall, as it's a winning June 8 primary election issue for both Democrats arguing for reform and for Republicans arguing for stricter enforcement.
Come November's general election, however, immigration divides Nevadans almost equally, but strongly along party lines.
In a poll conducted April 14-15 for the Review-Journal, 625 Nevada registered voters were asked whether they would support or oppose a bill "that gave all of those who are living here without legal status the opportunity to stay and become citizens."
Statewide, 45 percent said they would support such a bill, while 48 percent would oppose it. Three-fourths of Democrats said they would back that legislation, but just under 80 percent of Republicans would oppose it.
Voters describing themselves as independents opposed such legislation by a 51-39 percent margin. Hispanics supported the measure by just over two-thirds, and non-Hispanics, regardless of political affiliation, opposed it 52-41 percent.
The Mason-Dixon poll has a margin of error of plus or minus 4 percentage points.
As the debate rages, the illegal population grows. An estimated 260,000 illegal immigrants live in Nevada, 53 percent higher than the 170,000 in 2000, the U.S. Department of Homeland Security says.
Educating, imprisoning and caring for noncitizens cost the state's government $630 million a year, according to the Federation for American Immigration Reform, an anti-illegal immigration group.
Most of that expense comes from U.S. Supreme Court decisions and federal laws that mandate public schooling and health care at hospital emergency rooms regardless of legal status.
Bill Parson, a former Marine running far back in the 12-candidate Republican pack for Senate, told a conservative GOP debate audience in Reno on April 23 that he had the answer: massive deportation. He suggests giving illegal immigrants 90 days notice to leave the country then sending law enforcement to remove them forcibly. That idea set him apart from other candidates, and is one critics have called unrealistic.
During the same forum, the top five GOP Senate contenders backed Arizona's decision last month to seek law enforcement help, saying the federal government wasn't doing its job to secure borders, enforce immigration laws and prevent what Angle called an "invasion" by illegal immigrants.
Here's a closer look at what those candidates propose on illegal immigration:
DANNY TARKANIAN
The Las Vegas businessman was first to jump on the illegal immigration issue by running radio ads on conservative talk stations to support the Arizona crackdown. He also wants to cut off benefits such as education, welfare and health care.
"That's the fundamental difference between my plan and Sue Lowden's," Tarkanian says in the 60-second ad partly aimed at narrowing her double-digit lead over him in the polls.
Tarkanian, whose ancestors emigrated from Armenia, says his plan has three main pillars: ending government benefits; better border security; and revising the law to provide more work permits for temporary and seasonal jobs "during periods of high demand" so people don't sneak into the country and stay.
He backs construction of a fence along the 2,000-mile U.S.-Mexico border as well as "supporting border states who seek to send troops to the areas of entry."
Tarkanian opposes any amnesty, and wouldn't allow illegal immigrants to stay in the country to seek citizenship after they are caught or turn themselves in.
"That's unfair to people who have been waiting years to come here," he says.
He talks of one woman he met who has waited seven years for her daughter to come to America.
"She still hasn't been able to get anywhere," Tarkanian says. "Illegal immigrants should have to go to the back of the line."
SUE LOWDEN
Lowden has casino properties in Las Vegas and Laughlin. Like others in Nevada, they rely on immigrant labor.
She argues that current laws should be enforced, and also sees no need for major reform, saying: "What good are new laws if the federal government refuses to enforce those laws already on the books?"
She adds that Reid is "doing what Washington politicians always do — react to a problem by offering new, sweeping legislation."
Unlike Tarkanian, Lowden doesn't propose cutting off health care or education benefits, but says illegal immigrants shouldn't be rewarded with U.S. citizenship and should be deported if caught.
"If your first attempt to become a citizen includes cheating the system and showing contempt and disregard toward the rule of law, you should not have the right to simply pay a fine to skip to the front of the line," says Lowden, whose grandparents emigrated from Lithuania.
She argues on her website that the immigration process should be modernized to eliminate years-long waits for people who want to come here legally.
Lowden also wants a crackdown on those who hire illegal immigrants, pointing to an e-verification program that allows employers to check the legal status of job applicants. She doesn't detail what such a crackdown would involve, although current law allows for heavy fines, such as $1 million imposed on a Northern Nevada McDonald's franchisee.
Lowden says she understands why Arizona passed its new law, replying in an e-mail:
"The fact that Arizona lawmakers passed this legislation and placed it on the Governor's desk for signature is a demonstration not only of necessity but also of frustration in Washington's inability to properly address this issue."
JOHN CHACHAS
Chachas' plan centers on reducing what he calls the "economic free ridership" many illegal immigrants enjoy: avoiding taxes while getting government services.
He wants employers to withhold a 35 percent federal income tax from paychecks of employees who don't have verified tax IDs, green cards or Social Security numbers. At tax time, employees can file a return but must verify their legal status and document all dependents.
And if an illegal immigrant wants to apply for U.S. citizenship, that person would have to pay all back taxes, penalties and fines in order to qualify, according to his proposal.
"I don't view it as amnesty," Chachas says. "I view it as a process to bring them out of the underground economy."
Although he is "uncomfortable" with the part of the Arizona law that allows police to stop suspected illegal immigrants, he says how it is applied will determine if civil rights have been violated.
"The broader issue is I don't think we're going to see the last of states like Arizona taking action because of the failure of the federal government, which has a duty to defend the borders," Chachas says.
"Am I deeply offended by the people in Arizona wanting to get a better handle on who's in their state? No, I'm not deeply offended by that because the system needs to be corrected."
Chachas, an Ely native whose Greek grandfather came to Nevada in the early 1900s, offers three initiatives in a five-page policy paper, including tightening border security along with tax reform and eliminating the underground economy. Like fellow GOP contenders, Chachas says the federal government must do more to stop people from crossing into America by protecting the border with "electronic, physical and military assets."
SHARRON ANGLE
Angle is among those in Nevada and in Washington who accuse Reid of playing politics by pushing for immigration reform in an election year.
"I oppose amnesty proposals, which send a ruinous signal that breaking the law is acceptable in our country," Angle says, noting that she voted against the Millennium Scholarship program while in the Nevada Legislature because it allowed noncitizens to get taxpayer-subsidized college tuition.
Angle, who comes from German-speaking European stock, says she supports Arizona's crackdown. She thinks the federal government should devote more resources toward fighting drugs and "human trafficking" over the border, although she doesn't say from where that money would come.
"Every day, thousands of people cross our borders illegally and undetected. We don't know their intentions, and we don't have any means to track their activities," she says. "I support an intensive physical presence on our borders, including military assistance to help the Border Patrol effectively do its job."
CHAD CHRISTENSEN
Like other GOP candidates, Christensen says the first federal priority should be stepping up enforcement of laws to prevent illegal immigrants from taking jobs from Americans or legitimate green card holders with the proper work permits.
He also emphasizes increased border security, including the use of technology and border agents.
Christensen says U.S. businesses should be required to conduct an "exhaustive search of native workers before they could hire guest workers" from outside the country. Those guest workers could not receive any social benefits while in the United States, he says, and a temporary job should not automatically put its holder on a path to citizenship.
"Providing benefits such as un­employment insurance, welfare, Head Start, and other payments to visiting workers will significantly distort the incentives to migrate to the U.S.," he says.
"The legal status equivalent of guest workers is that of tourists — people who reside in America temporarily and are bound by U.S. law but do not have any claim on citizenship or its benefits."
Christensen also opposes what he calls Reid's push for amnesty, calling it dangerous and destructive for Nevada: "It also is an affront to those who have immigrated here legally and gone through the proper procedures to enjoy America's greatness."
SEN. HARRY REID
Reid says he's not arguing for full amnesty. Instead, he wants to bring millions "out of the shadows" of America's work force, make them follow the laws and pay taxes. That then would allow them to apply for citizenship and stay here if they qualify.
"I believe immigrants here without legal status must be required to register with the government, learn English, pay their taxes, pass criminal background checks and pay fines and penalties for being here unlawfully–or face deportation," Reid wrote in a letter published April 18 in the Review-Journal.
"Far from getting on an 'expedited path to citizenship,' they must go to the back of the line."
He also calls for effective border security and tough sanctions against employers who hire illegal immigrants, and wants to improve legal channels leading toward U.S. citizenship.
"Right now we have a system where our back door is broken and our front door is shuttered," Reid wrote. "We need to keep out criminals and those who will not contribute meaningfully to our society, and welcome the best and the brightest and those who will work hard to help our economy to grow."
And the new Arizona law? It illustrates why the United States needs comprehensive immigration reform, "because the issue is too big and too important to do in a piecemeal way," his campaign says.
Reid doesn't want children turned away from schools and wants them to get college degrees under the Dream Act. That "would enable children brought here years ago through no fault of their own to legalize their immigration status and go on to college to become valuable members of our community."
He also opposes turning illegal immigrants away from emergency rooms, although he included language in the health insurance reform bill that forbids illegal immigrants from receiving new benefits.
Contact Laura Myers at lmyers@reviewjournal.com or (702) 387-2919.