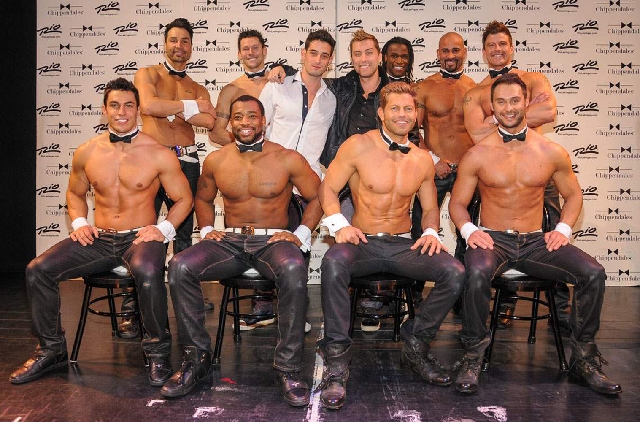 Mike Tyson may become a partner with Sugar Factory, the restaurant that thrives on celebrity sightings and "Couture" candy.
I'm not sure what kind of business partner he wants to be. But Tyson met with Sugar Factory execs on Saturday.
They showed him different candy products and brainstormed ideas for a future collaboration.
After that meeting, Tyson took his wife, Kiki, to the Meatball Spot at Town Square. When Tyson overheard a family singing "Happy Birthday" to a little girl, he walked over and gave her a Sugar Factory Couture Pop.
So maybe Tyson's title at the restaurant should be Sugar Daddy?
THE BRITNEY DAILY PLANET
Dear Britney Spears, if you do land a Vegas residency, your old tabloid connections might follow you here. For instance:
On Saturday night, your ex-fiancé Jason Trawick partied at club Surrender.
A few dollars ago, Trawick was making deals for the two of you, as your then-agent.
At Surrender, Trawick hung with DJ Eric Prydz, who was nominated for a Grammy (but didn't win). Trawick boasted on Twitter he and the DJ became friends.
So Britney, which of your old connections will come to Vegas next to buzz around your media feedbag? Kevin Federline? Shar Jackson?
It'll be the Britney wheel of misfortune around here.
'N SYNC MANWICH
Speaking of late-'90s bubblegum pop: 'N Sync's Lance Bass was the celebrity guest at Chippendales on Friday.
Later, Bass posted a photo of himself with boyfriend Michael Turchin squeezed between two topless Chippendales, and Bass tweeted: "My favorite type of sandwich."
SIGHTINGS
Bass and boyfriend hung with Paula Abdul at Michael Bolton's concert.
Smokey Robinson sang with Bolton on Friday. Then they ate together at Tao Asian Bistro, where Abdul swung by their private dining room.
There was wine, sake, crispy shrimp and vegetarian food for Bolton.
They later went to club Tao to go grooving with fans. …
Sex symbol actress Milla Jovovich posed for an awesomely goofy backstage photo with fellow Ukranians in the cast of Mystère on Saturday night, after she took her daughter and friends to see the show. …
That blonde in the gold dress at Hyde Bellagio nightclub on Saturday was enjoying the company of Olympic hero Michael Phelps, who kept his weekend party going by dancing and drinking at his VIP table, then talking to fans on the DJ mic. He was at Hyde till 3 a.m. On Friday, Phelps took friends and family to the Palms' new Heraea sports restaurant and lounge for Alaskan king crab cones and bourbon with diet coke. …
Jenny McCarthy partied at Haze nightclub on Saturday. …
Rob Lowe lunched Saturday at Mandalay Bay's Citizens Kitchen and Bar. …
"Glee's" Dot Jones took her girlfriend (for the girlfriend's birthday) to see "O," along with family and friends. …
Omar Epps ("House's" Dr. Eric Foreman) took his wife and friends to club Marquee on Friday .
Doug Elfman's column appears Mondays, Tuesdays, Thursdays and Saturdays. He also writes for Neon on Fridays. Email him at delfman@reviewjournal.com. He blogs at reviewjournal.com/elfman.