Rising gas costs affect economy, employment
January 13, 2013 - 2:05 am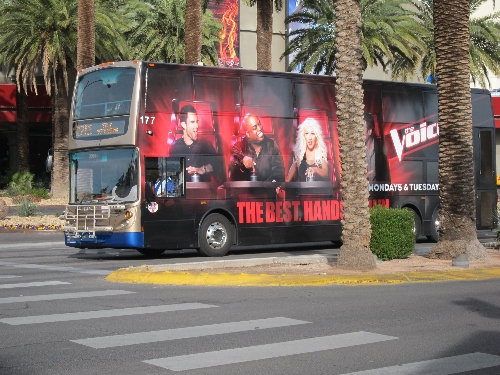 Who suffers when gas prices rise?
In March 2010, the Brookings Institute reported "… rising gas prices do affect both consumers and the economy adversely, and they are especially harmful to lower-and moderate-income households."
Gas cost has both an obvious and subtle effect on employment. Although no one has been able to clearly correlate rates of unemployment with gas cost, it is an important variable in job markets. Job seekers are the most immediately affected by rising prices, but the transportation industry suffers as well because gas is 30 to 40 percent of industry's fixed cost.
Frederick W. Smith is the CEO and founder of FedEx, the first overnight delivery service in the United States. Rising fuel costs are partially offset by fuel surcharges, he said, but just as with all costs passed on to a consumer, the market will bear only so much before changing habits.
Smith visited Las Vegas as the keynote speaker for the National Clean Energy Summit in August. In his presentation, he mentioned that FedEx is looking at new technologies to reduce fuel costs for the company. These technologies include all-electric and hybrid-electric vehicles and solar-powered facilities to reduce emissions and conserve fuel.
These technological innovations are job creators but transition is not an overnight success, particularly for improved economic results. Sharon Young of Global Media Relations at FedEx explained "… we currently operate and maintain more than 100 EVs and 360 hybrid vehicles in our global fleet … and have plans in place to expand our alternative energy fleet in 2013."
Current EV deliveries are in Los Angeles; the Bay Area; Fort Collins, Colo.; New York City; Chicago; Memphis, Tenn.; London; and Paris.
In the holiday season, Fedex makes employment adjustments to match consumer demand.
"FedEx is increasing hours for existing employees and increasing the workforce as needed to support peak volume, which hit a record setting 19.8 million worldwide on Dec. 17," Young said, "The seasonal workforce for FedEx Ground operations is expected to increase by nearly 20,000."
In the district in which Las Vegas is included, Young said seasonal positions are about 200.
She added, "More than one-third of the package handlers hired for seasonal work at FedEx Ground facilities retained employment with the company. The number of FedEx employees in the state of Nevada is 1,592."
FedEx maintains a website at fedex.com for openings and job applications. On Dec. 7, the following openings were shown in the Operations category: operations manager, service agent, operations coordinator, shuttle driver, dispatcher, customs coordinator, operations agent and senior secretary.
Like FedEx, taxi cab services in Las Vegas have turned to a fuel surcharge to offset rising fuel costs. The surcharge averages $1 per trip. Various methods are being used to compensate for fuel costs that are a big part of fixed costs in the transportation industry.
In a Nov. 30 article, the Las Vegas Business Press stated that Yellow-Checker-Star converted its Ford Crown Victorias from gasoline to propane at its southwest valley facility. This emphasis on reducing gas cost exemplifies industry adjustment and implies employment opportunity for mechanics and alternate fuel companies.
In 1992, Citizens Area Transit was formed by Regional Transportation Commission to serve the Las Vegas area. In 2007, CAT was renamed RTC Transit, which boast 379 vehicles. Ninety of those vehicles are double-deck buses, called Deuce, that primarily serve downtown Las Vegas and the Strip. Each double-decker bus seats 27 people on the lower deck and 53 people on the upper deck.
The Deuce serves the tourist corridor from the Fremont Experience (in downtown Las Vegas) to Mandalay Bay on the south end of the Strip. Fees for the Deuce are $5 for two hours or $7 for 24 hours with three-, five- and 30-day passes that range from $20 to $65.
The Deuce route is complemented by convenient pickup stations and kiosks along the Strip that connect to the countywide RTC transit system. A single ride is $2, a 2 hour limit is $3 and a 24 hour limit is $5. These buses also have discounted ticket prices for 3, 5, and 30 days, ranging from $15 to $65.
RTC tickets can be purchased online, at major transit stations such as the one at 300 N. Casino Center Drive , or at bus stops if one has exact change. RTC also provides ticket dispensing machines at vendors such as Albertsons and Walgreens.
If a prospective employee realizes owning a car will average more than $7,000 a year (savings vary depending on the type of car), mass transit is a bargain at less than $800 per year. RTC's services in Las Vegas offer some advantages to employees living near a bus route that will take them from home, to work, and back.
The transportation industry calculates the cost of fuel when making decisions about current and future employment plans. Airline industry giants such as Southwest Airlines try to stabilize fuel costs by purchasing options in the commodities market.
Southwest Airlines buys an option to purchase fuel at a fixed price for a fixed period of time. By fixing the price of fuel for the future, Southwest Airlines minimizes fluctuating costs to make more prudent and predictable employment decisions.
Delta Airlines estimates fuel costs to be 40 percent of its operating cost and recently considered buying its own refinery. Of course, gas expenditures are only one of many variables in the airline industry' employment considerations but fuel costs demand a seat at the decision table.
In its trucking industry report, the American Transportation Research Institute estimates fuel costs, between 2008 and the first quarter of 2010, to be 31 to 38 percent of operating cost. Of course, high fuel costs are only one of several obstacles to expanding a trucking company's work force.
Matt Handte of Tribe Transportation (a Georgia company) said on a Oct. 30 KLAS-TV Channel 8 newscast that younger workers don't want to spend days on the road away from their families. That backs up the American Transportation Research Institute's report that noted more interstate drivers are 50 years old or older.
According to an Oct. 30 Associated Press article, the United States expects to add " …115,000 truck driver jobs per year through 2016. But just over 16,000 Americans a year are getting trained to fill those jobs."
Southwest Truck Driver Training is located in North Las Vegas. Mellody Guarjardo, the admissions representative that manages the school's application office, explained that it is more difficult to place graduates of their school in local transport jobs than interstate jobs.
"Placement in local transport jobs may be more difficult in Las Vegas because of higher unemployment rates in the valley," Guarjardo said, "A weaker general economy increases student enrollment in their school."
According to Silvia Emilan, a coordinator at the admissions office, "Current enrollment is up to 394 students, over 25 percent higher than enrollment at this time last year."
Emilian explained the application process, class teaching format and curriculum.
"After an applicant completes an admissions application, a thorough background check is done," she said. "Once an application is accepted, over 92 percent of the students graduate."
Tuition for the school is $3,995. The school offers financing and works with veterans who can use GI Bill benefits for driver training classes.
"Eight teachers teach morning and evening classes with eight to 16 students in each class," Emilian said. Classes are held at a driver training facility off Craig Road, about 10 minutes from the admissions office at 580 W. Cheyenne Ave.
Certification by the school requires 160 hours of class, half of which is transportation regulation training and the other half is "hands-on" driver-training; the school has several trucks and a bus in its driver-training yard. Night students take a little longer to complete the course but graduation is four to five weeks from enrollment.
At successful completion of the curriculum, the student has earned and is provided a commercial class A driver's license, authorized by the Nevada Department of Motor Vehicles, which allows transportation companies to offer interstate and intrastate truck driving jobs to graduates. With completion of the school training and placement with a transportation company, the student has become a professionally qualified driver in all states of the United States.
Southwest Truck Driver Training offers placement services for graduates. A sign painted on the glass store-front entry of the application's office promises "Lifetime placement assistance."
However, "job placement for training graduates is more likely for 'over-the-road' jobs, than local transport positions," Guarjardo explained, "This year, over 92 percent of the graduates have been placed, nearly all in interstate truck-driving jobs."
Fuel costs are an employment obstacle in the trucking industry when they rise to a level that depresses the economy, particularly for local transport. When the economy is booming, trucking fuel prices are just a cost of doing business. When the economy is slow, fewer truck drivers are needed because fewer business shipments are made.
However, Guarjardo noted truck driver training is more in demand in a weaker economy, presumably because people are looking for work and are willing to train for job classifications that have openings. Ironically, because of the shortage of interstate truck drivers (even in a slow economy), it appears openings are available if an applicant has the required training.
The expertise of employers and employees in estimating and managing fuel expense varies, but right and wrong projections and decisions become real with experience. Transportation companies experience gas expenditures as a cost of doing business; employees experience gas expenditures as a cost of living. When a company underestimates the effect of gas costs on profitability, it makes operational adjustments either by changing work-process, reducing personnel, operating at a deficit until costs subside, or closing operations. When low- or moderate-income employees underestimate gas costs, they look for another job.
Both the private and public sectors act to moderate the effect of gas costs on employment. Companies such as FedEx and Yellow-Checker-Star use technological innovation to improve fuel efficiency. Presumably, employment opportunities are created with retrofit work. Better fuel efficiency helps reduce fuel costs that allow companies to maintain or increase employment.
Companies such as Southwest Airlines use the futures market while Delta Airlines considers vertically integrating its business by buying an oil refinery; both are trying to stabilize fuel prices to make better operations and employment decisions. Public companies like RTC, that contract with private companies, are expanding mass transit services to encourage employees and the general public to use mass transit.
Prospective employees consider how much it costs to travel for a job interview and, if offered a job, how much it costs to get to and from work every day. An employee might start working for $10 an hour in North Las Vegas but finds traveling from Boulder City is too expensive and decides, after a first paycheck, to quit. The company loses because of two weeks training expense; the employee loses because of unemployment; the public loses because of taxes paid for unemployment benefits.
And so, who suffers when gas prices increase? Everyone.