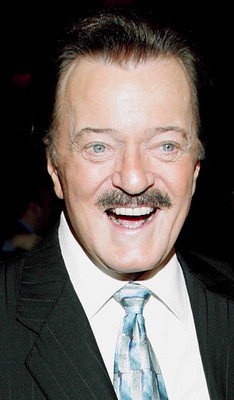 Las Vegas entertainer Robert Goulet, who won a Tony, an Emmy and a Grammy, has been hospitalized in Cedars-Sinai Medical Center in Los Angeles with a serious lung condition, it was learned Saturday.
Goulet, whose 74th birthday is next month, is on a ventilator after being diagnosed with pulmonary fibrosis, which often requires a lung transplant.
Family friend Jack Wishna confirmed the former Grammy winner was at Cedars-Sinai, but declined comment, other than "the family wishes to keep the information private for now."
Goulet became an international star in 1960 after appearing as Lancelot, opposite Richard Burton, Julie Andrews and Roddy McDowall, in Lerner and Loewe's hit Broadway musical, "Camelot."
Among his admirers was Frank Sinatra, who said Goulet's booming baritone voice was "as wide as Sophie Tucker's" backside.
Goulet was a longtime headliner in Las Vegas, where he has lived for decades next door to Wayne Newton. When Goulet married Vera Novak in 1982, Newton was the best man at their wedding.
Goulet survived a prostate cancer scare in the early 1990s. He returned to Broadway in 2005 and won accolades for his role as Georges in "La Cage aux Folles."
THE SCENE AND HEARD
Criss Angel launches his NBC show "Phenomenon" live on Wednesday and begins pre-production on the fourth season of "Mindfreak" this week. He has been vacationing in Cabo San Lucas and New York for three weeks. …
Las Vegan Annee Nounna is back from Paris, where she spent time with longtime friend Line Renaud, the ageless entertainment wonder. Renaud, who starred as the lead singer of Casino de Paris at the Moulin Rouge in Paris and at the Dunes, was a Las Vegas Walk of Stars honoree two years ago. She is now starring in the play "Fugueuses" (The Runaways) at the Varietes Theatre in Paris. …
Jean-David and Lee Ann Daudet recently purchased Pamplemousse le Restaurant, 400 E. Sahara Ave., a Las Vegas institution since the 1970s. It was sold by Georges LaForge, who opened it and named it Pamplemousse, French for grapefruit, in honor of his friend, singer Bobby Darin, who loved the name and suggested the two team up as co-owners of a French restaurant.
SIGHTINGS
Hollywood couple Sarah Michelle Gellar and Freddie Prinze Jr., dining Friday at N9NE steakhouse (Palms). They had a suite in the Palms Fantasy Tower over the weekend. Also dining at N9NE in separate parties: comedian Carlos Mencia, who was celebrating his 40th birthday with a group of 36 people, and actress Jordana Brewster. … Mirage headliner Danny Gans, joining 1,000 runners and walkers who turned out Saturday for the 5th Annual Danny Gans Run for Children's Charities at Boca Park. Gans kicked off the event by running the first lap with Niko Giordano, who overcame several brain tumors. At age 8, Giordano had to learn to walk and talk again. The event raised more than $120,000 for the Nevada Childhood Cancer Foundation, Lili Claire Foundation and Make a Wish. … Celebrity blogger Perez Hilton, serving as the evening's host Friday at Jet nightclub (Mirage) with his mother joining him. … Tapping the ceremonial keg at the Hofbrauhaus on Friday: "Defending the Caveman" star Kevin Burke of the Golden Nugget and Karsten Kaie, who does the show in Europe. In a first, Kaie performed the show in German on Saturday at the Golden Nugget.
THE PUNCH LINE
"President Bush met with the Dalai Lama at the White House. One awkward moment: When the Dalai Lama walked into the Oval Office wearing the traditional robe, Bush started chanting, 'Toga! Toga!'" — Jay Leno
Norm Clarke can be reached at (702) 383-0244 or norm@reviewjournal.com. Find additional sightings and more online at www.normclarke.com.
NORM CLARKEMORE COLUMNS