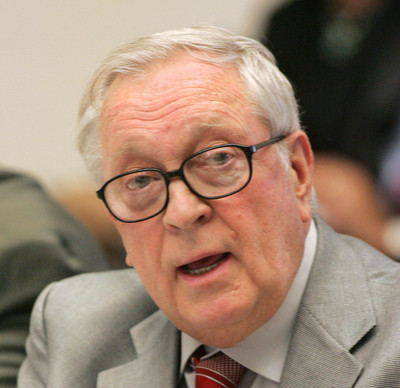 Chancellor Jim Rogers confirmed Monday that he has bladder cancer, but he said the disease won't force him to step down as head of the state's university system.
Rogers, 69, said he learned about the cancer during a routine medical checkup in the past month. He said he's in good health, the cancer hasn't spread, and he fully expects to recover.
Rogers is scheduled for surgery to remove his bladder at the University of Southern California's University Hospital in Los Angeles on Feb. 13.
After the surgery, Rogers said he probably will work from home while he recovers, a time period he expects to last between four weeks and six weeks.
"I can work from home with most of the things I do," Rogers said. "I don't anticipate any problems."
According to the Nevada Cancer Institute's Web site, there were 67,160 new cases of bladder cancer nationwide in 2007.
The mortality rate for white men who had the cancer was between four and five for every 100,000 cases in 2004, according to the most recent mortality data available.
Rogers, owner of Sunbelt Communications, which manages the local NBC affiliate, KVBC-TV, was appointed chancellor in May 2005.
Since his appointment, he has been a lightning rod for controversy. In the spring, Regents Bret Whipple and James Dean Leavitt asked Rogers to resign because of disagreements over his management style. Rogers resigned but then changed his mind.
Rogers most recently sparred with Gov. Jim Gibbons, who had asked the university system to trim its budget by 8 percent. Rogers successfully lobbied against that steep of a reduction, with the cutback knocked down to 4.5 percent, or $57 million.
The university system includes two universities, four community colleges, one state college and the Desert Research Institute.
Although Rogers has been diagnosed with cancer, he said that he has had no ill effects from the disease and that it won't keep him down for long after surgery.
He likened his recovery at home to a vacation.
"It's kind of like a long vacation, but I'd rather be spending it in the Caribbean," Rogers said.
Contact reporter Antonio Planas at aplanas@reviewjournal.com or (702) 383-4638.