Romney campaign bus draws mixed response in Las Vegas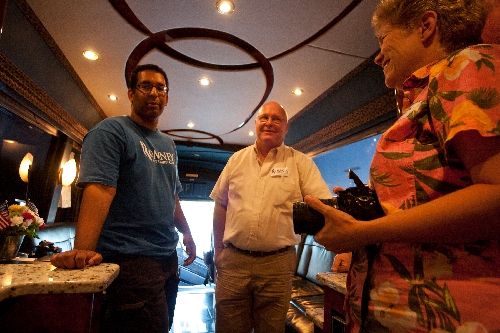 When Mitt Romney's presidential campaign bus pulled up Monday morning in front of the iconic "Welcome to Fabulous Las Vegas" sign, locals and tourists ambled over to take photos in front of the "Romney" bus logo.
"I was just thrilled to death when I saw the bus," said Gigi Scott of Las Vegas after posing in front of the vehicle with her visiting grandchildren from Texas. "I think he's the best person to turn the country around."
An hour later, it was a different story outside a Cardenas supermarket in a heavily Hispanic neighborhood in east Las Vegas where Romney's rolling campaign office parked in the lot and not one person stopped by. Instead, GOP campaign workers stood outside the market doors to chat up customers as they came and went with groceries.
Among Hispanics, President Barack Obama has a big edge over Romney, who is trying to win Latino voters by arguing he can fix the economy, create jobs and cut the double-digit unemployment rate in Nevada.
"I personally think Obama is trying to raise up the middle class. And we are the middle class," said Noemi Jimenez, a 17-year-old who was wandering the parking lot with a colleague promoting her family's new health food business. "I really think it's going to be difficult for him (Romney) to reach Hispanics."
Reaching voters one at a time was the point of the weeklong Romney campaign bus tour through Nevada, mostly traveling the lonely highways and main streets of Republican-leaning rural counties that don't get much attention.
The GOP presidential candidate himself was not on the bus – one of two traveling the country to promote him – but several surrogates jumped on board to help open new campaign offices and rally voters across the state.
Starting Thursday, the bus toured Carson City, Minden, Battle Mountain, Winnemucca, Lovelock, Fernley, Reno, Hawthorne and Tonopah. After its string of a half-dozen Las Vegas stops on Monday, the bus will finish its Nevada tour in Pahrump today.
Texas Gov. Rick Perry on Friday joined the traveling Romney campaign and helped open a GOP campaign office in Elko along with U.S. Rep. Mark Amodei, R-Nev., a congressman who represents Northern Nevada.
Monday evening, U.S. Rep. Joe Heck, R-Nev., joined the bus tour on his Southern Nevada turf, meeting with supporters at the "Team Nevada" headquarters where Romney and the Republican National Committee have set up shop.
Heck, a longtime Romney supporter, said the Republican can win Nevada if he stays on message and reminds voters Obama hasn't done enough to revive the economy.
"We've got to get our economy kick-started and get people back to work," Heck said.
As for winning the Latino vote, it will take the personal touch, Heck added. The congressman has held town hall meetings at Cardenas markets to reach out to Hispanics, he said.
"That's part of debunking the myth" that the Obama economy is working for Latinos, said Heck who is running for re-election against Democratic Assembly Speaker John Oceguera.
At the Team Nevada office in Las Vegas, the Romney campaign let supporters tour the bus. Inside, the walls are lined with photos from the campaign trail, memorabilia and pictures of Romney's father, George, when he ran for president in 1968.
A Romney bobble-head doll sits on a table, a sponge hand mitt lies on the kitchen counter and a signed picture of Romney is posted above the commode.
A sketched Valentine's Day note from Romney to his wife, Ann, on one wall lends a personal touch. "I love Ann," it says inside a heart. "Miss you. See you soon. Love you!" says the note, written Feb. 14 when the couple just missed one another on the bus because of a late plane.
Adriana Toscano brought her two children, ages 19 and 9, onto the bus to tell them about the man she wants to see in the White House. Originally from Mexico, Toscano said she believes Romney would do a better job for Hispanics and the country.
"I believe in him," she said. "These years with Obama we see not too many changes. Everybody has a right to have soup on the table. We should give him (Romney) the opportunity."
Darren Littell, a spokesman for Team Nevada who rode the Romney bus across rural Nevada, said it operated as a "moving campaign headquarters," signing up voters and volunteers and running mobile phone banks along the way. He estimated more than 800 Nevadans got involved during the bus tour.
"It's a way for us to take the campaign to folks," Littell said. "Because in some of the rural areas, it's easier to connect with them when we bring the campaign to them."
The Romney bus was a photo-op hit at the "Welcome to Fabulous Las Vegas" sign on the southern end of Las Vegas Boulevard. Picture-happy locals with guests in tow and tourists with cameras and smart phones in hand were posing for funny souvenir shots under the sign when the bus pulled up around 9: 30 a.m.
A newlywed couple from North Carolina got a tour of the bus after they posed in front of the Las Vegas sign with the man holding his wife in his arms. Gigi Scott and her family were getting ready to drive off when the Romney bus arrived, advertising the candidate on the side of the vehicle as: "Conservative. Businessman. Leader."
"We turned around and said, 'We've got to get a picture with the bus,'" Scott said. "We need a businessman."
Not everyone was as effusive in their support.
Buddy Coan of Leighton, Ala., after posing with half a dozen relatives and friends in front of the Romney bus, said he'd most likely vote for the Republican on Nov. 6 because "in Alabama we're not too happy with Obama."
"Well, I got to vote for somebody," Coan said when asked why he would pick Romney. "I'll probably vote for the man because I'm so ashamed of the White House right now. It's just all bloopers and blunders. It's pitiful."
The Nevada Democratic Party dismissed the Romney bus tour of the state and pivoted to an attack against Romney's leadership of Bain Capital.
"As Mitt Romney's campaign does a photo-op in Las Vegas, perhaps they can explain to Nevadans why he isn't responsible for what happened at Bain Capital after February 1999 despite remaining its CEO, president, and chairman," said Zach Hudson, spokesman for the Nevada Democratic Party. "Mounting evidence indicates that Romney was in charge of Bain when its companies bankrupted companies, laid off workers, and shipped jobs overseas."
Romney has said he left day-to-day management of Bain in 1999 to rescue the Salt Lake City Olympics. But financial paperwork shows he remained as its sole owner until 2002 during a time the company was linked to outsourcing of jobs.
"Regardless of whatever spin Romney's campaign gives about his record at Bain, it won't change the clear choice Nevadans have between President Obama, who wants to bring jobs back to the United States, and Mitt Romney, who wants to protect taxpayer giveaways to Wall Street corporations shipping American jobs overseas," Hudson said.
Contact Laura Myers at lmyers@reviewjournal.com or 702-387-2919. Follow @lmyerslvrj on Twitter.