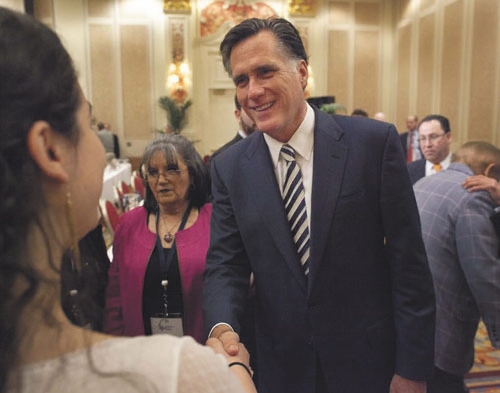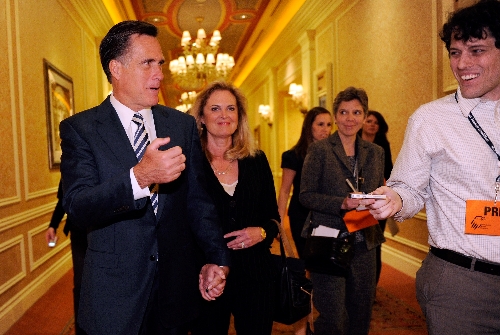 Former Massachusetts Gov. Mitt Romney on Saturday criticized President Barack Obama's foreign policy in the Middle East, addressing a friendly GOP audience in Las Vegas in the run-up to his expected bid for the White House.
Romney said Obama hasn't been tough enough on Iran and its suspected nuclear weapons program. And he said he was surprised Secretary of State Hillary Clinton called Syrian President Bashar Assad "a reformer" even as he puts down protests.
"Obama is either unwilling or incapable of dealing with this," Romney said, speaking about Iran and turmoil in the region at the Republican Jewish Coalition's winter meeting. "Israel's very existence may be at stake."
Yet Romney was silent on Libya, the newest and stickiest military and U.S. policy problem as the United States and its NATO allies enforce a no-fly zone to help rebels oust Libyan leader Moammar Gadhafi.
After his speech, Romney refused to take questions from reporters about his position on Libya. Instead, he and his wife, Ann, fled down a hallway and escaped up an escalator at The Venetian, where the event was held.
"I've got a lot of positions on a lot of topics, but walking down the hall probably isn't the best place to describe all those," Romney said, deflecting a Libya query as he walked quickly with half a dozen journalists trailing him.
The Republican is expected to announce his second run for president later this month. In 2008, he won the GOP caucus in Nevada, thanks to backing from fellow Mormons and because few Republicans competed. In 2012, the situation will be different. Nevada will award delegates based on proportional support instead of winner-take-all, giving Republicans more reason to compete in what will be the third contest in the 2012 cycle, following the Iowa caucus and the New Hampshire primary.
As the presumptive front-runner, Romney has kept a low profile, focusing instead on fundraising for a campaign that will cost tens of millions of dollars. His two-day Las Vegas trip was his first public event in a month. His strategy relies on winning Nevada and New Hampshire, but not South Carolina or Iowa, where his hopes were dashed in 2008. From there, insiders say he'll concentrate on Michigan and Florida, two key states in the White House sweepstakes.
Romney said he understands that once he announces, he'll have to take difficult questions and not run from them.
"You sure do," he said as he left The Venetian. "But you typically do it in a good setting where you get a chance to do that."
His refusal to take reporters' questions echoed the 2010 U.S. Senate campaign in Nevada. The GOP nominee, Sharron Angle, often ran from the media, preferring to speak to friendly groups and hold choreographed events as a way to avoid scrutiny, missteps and control her message. In the end, it hurt her campaign and she lost to Sen. Harry Reid.
On Friday, Romney did take a few questions from national reporters following him as he toured a North Las Vegas neighborhood hit by home foreclosures. It was a photo opportunity, showing him in jeans and casual shirt with a local couple. Questions focused on his White House hopes and unemployment, 13.6 percent in Nevada, highest in the nation.
During his half-hour speech Saturday, Romney said Obama is weak on both foreign and domestic policy because he lacks executive experience. Obama was in his first U.S. Senate term when he won the White House.
"The consequences of seeing someone learn on the job has not been pretty," Romney said.
He said Obama's efforts to engage Iran and North Korea have "not worked out terribly well."
"I don't think he understands that not all the leaders of the world have common interests or all the people in the world have common interests," Romney said, explaining that some leaders kill, exploit and repress their people. "We are not like them, and we don't have common interests with them. We have common interests with people who seek and love freedom."
In response to an audience member's question, Romney defended his health care reform in Massachusetts.
He scoffed at the notion that Obama patterned federal reform after Romney's state plan, which conservatives have criticized.
"If that's the case, why didn't you call me?" Romney joked, referring to Obama.
He said if he were president he would repeal "ObamaCare," and grant states waivers so people aren't forced to buy health insurance.
In contrast to Romney's caution, U.S. Sen. John Thune, R-S.D., delivered a rousing address to the roughly 200 attendees at the Jewish GOP meeting that more directly struck at Obama's policies.
Thune said Obama shouldn't put Americans in harm's way unless he can answer "how exactly will Gadhafi be removed?" Thune also said the United States should recall its ambassador from Damascus to protest Syria's deadly crackdown. Earlier this year, Thune was weighing a presidential run but then said he's no longer interested in a 2012 campaign.
Unlike Romney, Thune mingled with supporters and took questions following his speech.
In an interview, Thune said a Republican can defeat Obama, but only by getting the "rank-and-file people" behind him, particularly nonpartisan voters disappointed in the president's spending policies that have led to record debt and deficits. He said the Republican takeover of the House in 2010 shows progress.
"We've got to get those independents back in the Republican column," said Thune, who in 2008 backed U.S. Sen. John McCain, the eventual GOP nominee, over Romney.
Contact Laura Myers at lmyers@reviewjournal.com or 702-387-2919.