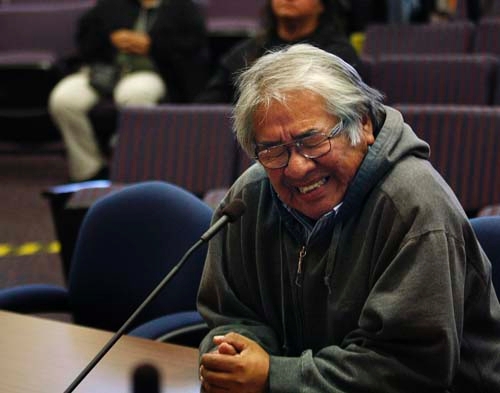 Dozens of American Indians and rural residents told the state engineer Friday that their culture and way of life will end if he approves the Southern Nevada Water Authority's request to pump water from eastern Nevada valleys.
Opponents attacked the multibillion dollar pipeline project as prohibitively expensive, unnecessary and potentially destructive in a way that authority officials and regulators can't — or won't — fix.
"We were put here, including Las Vegas people, by the creator to take care of this Earth, not to abuse it," said Ed Naranjo, administrator of the Confederated Tribes of the Goshute Reservation. "We need to have you listen to us. Think of all the little people, the people not yet born."
"Without water there won't be anything here," added a sobbing Kathy Cole Hiatt, testifying via teleconference from Caliente. "Before my dad died he said, 'I don't know if there's heaven or if I'll be able to go there if there is, but for the last 84 years, I have been in heaven.' This land is our heritage and our souls."
They testified against the Southern Nevada Water Authority plan to build a pipeline network across more than 300 miles of eastern Nevada and pump as much as 126,000 acre-feet of groundwater to Las Vegas. That is enough, when stretched through reuse, to supply more than 425,000 homes.
The hearing on the water authority's request for unappropriated water began on Sept. 26 and is expected to conclude Nov. 18.
State Engineer Jason King will make a decision on the request by March.
Friday was the only day set aside for testimony by members of the public, and at least 90 percent of the nearly 100 people who spoke were against the project, including about one-third of the people who testified from Las Vegas.
One surprising critic was Assemblyman Joe Hogan, D-Las Vegas.
"It would be a disastrous blunder to proceed with this," Hogan said.
John Hiatt from the Southern Nevada chapter of the Audubon Society said that "the past history of water exportation is not a pretty one" and that the basins of eastern Nevada face a similar fate, regardless of any precautions taken by the state engineer.
Several people warned that once the water starts flowing and Las Vegas comes to depend on it, the spigot will never be turned off, no matter the damage.
To stop pumping, rural residents and small Nevada communities would need to file lawsuits, but they lack the money to pay for legal cases that might last for decades.
As fourth-generation Lincoln County resident and former County Commissioner Ronda Hornbeck put it: "Why is it OK to destroy one community to save another?"
Linda Johnson from the Salt Lake City League of Women Voters testified by video link from Ely, where she questioned the water authority's promises to "mitigate" any harm it might cause.
"To them, mitigation means to pay off and buy out," she said. "That's not mitigation. That's destruction."
Johnson and other Utah residents worry that large-scale groundwater pumping will dry valleys in Nevada and send dust and lingering fallout from nuclear tests blowing east as far as the Wasatch Front.
But state AFL-CIO Secretary-Treasurer Danny Thompson made a passionate plea for King to approve the project.
Without a reliable water supply, he said from Carson City, Southern Nevada will not be able to recover from the economic crash, let alone flourish again.
"This is about more than an inter-basin transfer of water," Thompson said. "The economic viability of the state is at stake here."
About a dozen people dressed in day-glow orange T-shirts from the Laborers' International Union of North America showed up at the Las Vegas public input site to back the water project.
Representatives from the Las Vegas Chamber of Commerce, homebuilders association and the resort industry offered statements of support.
Helen Foley of Pardee Homes said her family has roots in Lincoln County that stretch back to the 1860s, but she defended the authority's plan to tap a resource that is "unused and unclaimed" for the good of Southern Nevada and the state as a whole.
"It is vitally important that we be able to claim some of that water," Foley said.
But longtime White Pine County businesswoman Denys Koyle tried to turn that argument on its head. Considering how lousy and unstable its economy is, she said, "maybe Vegas isn't worth the gamble" involved in a pipeline that could wind up costing as much as $15 billion to build and finance.
"That's an Apollo moonshot, and it's going to be paid for by us ratepayers," Las Vegas environmental advocate Launce Rake said. "I call it the no-banker-left-behind act."
Longtime Baker resident Jo Anne Garrett argued that in a world with mounting food problems, it seems "obscene" to take water from working farms and ranches in eastern Nevada.
"When I hear Las Vegas referred to as the economic engine of Nevada, I'm a little disappointed," Garrett said. "I would like to be in the care of something a little bit more intelligent than an engine."
The unique aspect of Friday's input session was the presence of more than 40 Indians, many from Ibapah, Utah, and Ely, who traveled by bus for seven hours to Carson City.
During a lunch break, three Indians drummed and sang a native song that honors water.
Rather than talking about the effects of water on the economy or people, several Indian speakers pleaded with King to consider the effect of the project on animals, plants and the Earth.
Tribal member Delaine Spilsbury noted that state law directs the engineer to grant the right to use unappropriated water to the first requester.
"I think being here for 10,000 years that we ought to be first," she said.
In an interview, Southern Nevada Water Authority spokesman J.C. Davis said none of the areas where the water wholesaler wants to pump is close to Indian reservations in Nevada or Utah.
But Naranjo contended waters flow from the Snake Valley east of Great Basin National Park into the watersheds on his reservation on the Utah-Nevada line.
He and Spilsbury added the U.S. Geological Survey began a study on the inter-basin movement of water, but before it was completed stopped looking at valleys where the Goshute live.
The Goshute include Paiutes and member of the Western Shoshone tribes.
The state will accept written comments on the water authority's groundwater applications until 5 p.m. Dec. 2.
They should be addressed to Susan Joseph-Taylor, Chief Hearing Officer, Office of the State Engineer, 901 S. Stewart St., Suite 2002, Carson City, NV 89701.
No email submissions will be considered.
Contact reporter Henry Brean at hbrean@reviewjournal .com or 702-383-0350.
On the Web
You can watch the hearing live over the Internet:
Documents and other information on the hearing are available.